The Axholme Joint Railway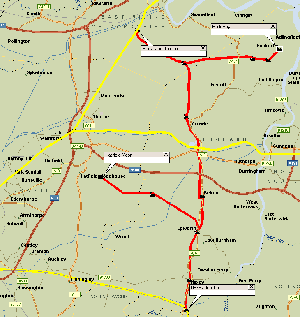 Click for detailed map
The Axholme Joint Railway (AJR) was both a joint line and also a light railway. The Isle of Axholme is an area in the extreme north west of the old county on Lincolnshire (Part of Lindsey). The name derives from the fact that originally it was surrounded by water - the rivers Ouse, Trent, Don and Idle. Work on drainage and diversion of some of the waterways meant that the area was no longer an isle but the name was retained. It is very much an agricultural area; apart from farming, one of the few industries was peat extraction. To the north of the Isle, was the Marshlands district, which the railway also served. This was a very flat area near the River Ouse and was similarly agricultural.
The railway was jointly owned by the Lancashire and Yorkshire Railway (L&YR) and the North Eastern Railway (NER). This resulted in it being shared by the LNER and the LMS during the Grouping period (1923-1947). The "mainline" ran from Marshlands Junction near Goole to Haxey Junction near Gainsborough, on the Great Northern & Great Eastern Joint Railway; a total of 19.5 miles. The total length of the line, including the branches was nearly 28 miles.
Locomotives and other Rolling Stock
Acknowledgements
Thank you to Richard Barron for the above information.