The Cheshire Lines Committee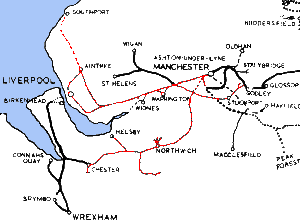 Click for detailed map
Arguably, the Cheshire Lines Committee (CLC) was Britain's premier joint railway. Although the route mileage was not as great as the Midland & Great Northern Railway, other measures, such as volume of traffic, put the CLC to the fore.
The CLC was jointly owned in equal shares by the Great Northern Railway (GNR), Manchester, Sheffield & Lincolnshire Railway (MS&LR, later the GCR), and the Midland Railway (MR) companies. Thus, at the grouping in 1923, the LMS had a one third share and the LNER a two thirds share. Edward Watkin of the MS&LR was the driving force behind the creation and development of the CLC and certainly the MS&LR / GCR benefited from the arrangement more than the other two partners.
Initially, the railway linked rural Cheshire with the Manchester area but a quickly instigated and ambitious building programme resulted in a much more robust company with a prime inter-city route and major freight operations.
Acknowledgements
Thank you to Richard Barron for the above information.