Coaches of the GER
The GER was slow to convert its rolling stock to bogie vehicles. Right up to the end of the GER's independent existence there were still many 6-wheeled non-corridor coaches in use on mainline trains. The suburban trains used 4-wheel coaches for much longer than most other contemporary companies.
The first bogie stock was introduced in 1897 and in 1904 the first complete corridor train set was produced but even this had some 6-wheelers in its formation. These new sets were for use in the boat trains.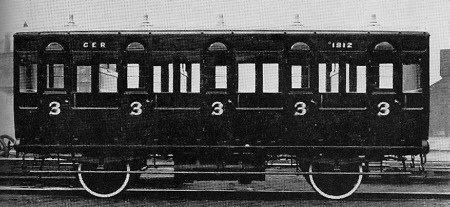 In 1899, the new suburban stock was produced seating 6-a-side (third class) in five compartments on 4 wheels. Some older stock was widened to provide 6 a side seating by splitting the old coaches along the length and inserting a new section, evidently there was no obvious signs that the coaches had been treated in such a drastic way. Apart from one curious suburban set which comprised mainly of 6 wheel bogie vehicles, built in 1899, there were no bogie suburban coaches built until SD Holden's tenure of office. The reason being the short length of fouling and locking bars in many locations which could not accommodate the length of a bogie coach. AJ Hill finally disposed of the old 4 wheelers by placing two of the old four wheeled bodies on a bogie underframe and putting a moulding over the centre to cover up the join, the short locking and fouling bars having been replaced by that time. Some of the vehicles so dealt with had previously been those that had been widened by James Holden.
Rather strangely, in 1918 the coaching livery was changed from varnished teak to crimson, the livery reverted to teak with the Grouping in 1923.
Acknowledgements
Thank you to Richard Barron for the above information.