GER Liveries
19th Century liveries are often open to conjecture. It is also notoriously difficult to reproduce accurate colours on a computer screen, so this has not been attempted. Accurate matches should be taken from preserved vehicles, museums, or historical societies.
Locomotives
Early locomotives were painted in green with black and vermilion lining, although some were painted in a yellow ochre colour and hence acquired the nickname of 'canaries'. William Adams introduced a black livery which lasted until 1882.
The GER's famous blue livery was introduced on all locomotives in 1882. The finish consisted of a 'French' grey undercoat, four coats of ultramarine blue, and several coats of blue. Some sources note that this combination resulted in a colour that was purer and brighter than the locomotives owned by the National Railway Museum today. Lining was black with vermilion edging. Wheel tyres and axle ends were black with vermilion edges. The frames were black, although the 'Claud Hamiltons' and a few other express types used blue above the footplate. Cab roofs appeared white in official photographs, but were probably grey in regular use.
From 1890, goods locomotives were painted in unlined black, although some shunting engines also received vermilion lining.
The GER switched to a 'French grey' colour for all locomotives.
Coaching Stock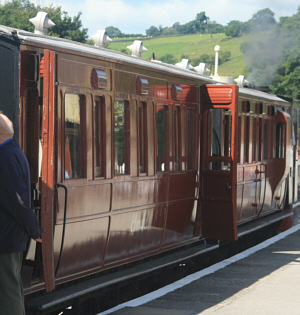 Coaches were finished with a simple varnished teak finish with no lining. Solebars were painted teak with th metalwork painted brown. The footboards were probably varnished wood. Below the solebars were entirely black, although the wooden centres on the Mansell wheels were varnished.
From 1919, a crimson lake livery was introduced. The solebars and Mansell wooden centres were painted crimson, but bogie vehicles were painted with black underframes.
Coach roofs were white or various shades of grey, throughout the GER's existence. Grey dominated after 1918.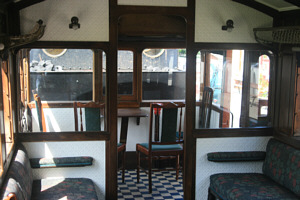 The photos are of Stephen Middleton's six wheel GER coaches, with a "painted teak" finish. No. 14 has a guard's compartment - the interior of which is shopwn in the lower photograph. No. 37 (in the foreground in the top photograph) may have been the private saloon of Princess Alice. Both coaches carry names for 'Thomas' events.
Wagons
| | |
| --- | --- |
| Type | Colour |
| General | Slate grey body and solebars + white lettering |
| Ventilated vans | French grey sides + black lettering |
| Ventilated vans, automatic brakes | Red end panels |
| Brake vans | Vermillion buffer beams & ? body ends |