GER Trivia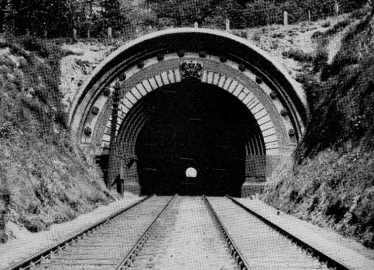 Lord Braybrooke, owner of the Audley End estate, insisted that the tunnel portals on the line through his property were in keeping with the rest of the estate, resulting in, possibly, the most ornate portals in the UK.
From its opening, the Norwich & Yarmouth Railway used the electric telegraph to provide a form of block signaling, the first in the UK.
The Newmarket Railway had a policy of naming their locomotives after racehorses thus anticipating the LNER naming policy by about 75 years!
Several locomotive superintendents of the GER or one of its ancestors went on to greater achievements elsewhere:
Lord Cranbourne was appointed as a Chairman of the GER in 1868, he soon inherited the title of the Marquis of Salisbury and later became Prime Minister, a unique occurrence.
The GER utilised "slip" coaches, up to 26 per day being "slipped".
The 1920 suburban service became the World's most intensive service to be operated by steam.
The 1920 suburban service became known locally as the "Jazz" service reflecting the current popular music trend.
The Jazz service coaching stock had different coloured stripes over compartments to indicate class; yellow for first, blue for second. This pre-dated the BR scheme by over forty years.
The last locomotive to be built at Stratford was an N7, number 999, in 1924.
The AJ Hill 0-4-0 dock tank class B74 (LNER Y4), was the most powerful locomotive of that wheel arrangement to work on any UK mainline company.
Surviving Locomotives (LNER classifications)
| | | | |
| --- | --- | --- | --- |
| B12 | 4-6-0 | LNER No. 8572 | North Norfolk Railway |
| E4 | 2-4-0 | GER No. 490 | National Collection; Bressingham |
| J15 | 0-6-0 | GER No. 564 | North Norfolk Railway |
| J17 | 0-6-0 | GER No. 8217 | National Collection; NRM York |
| J69 | 0-6-0T | GER No. 87 | National Collection; NRM York |
| N7 | 0-6-2T | LNER No. 7999 | North Norfolk Railway |
| Y5 | 0-4-0T | GER No. 229 | North Woolwich Old Station Museum |
Acknowledgements
Thank you to Richard Barron for the above information.