The Great Northern Railway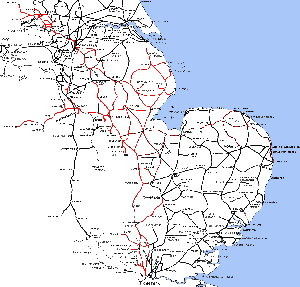 Click for detailed map
The very existence and ultimate success of the Great Northern Railway (GNR) can be very much attributable to the determination and persistence of one man - Edmund Denison. The company's formation proved to be extremely troublesome because of the protectionist manipulations of other railway companies.
The railway, once complete, extended from its base in London, Kings Cross to Yorkshire; into much of Lincolnshire with extensive and important lines in Nottinghamshire and Derbyshire and further into Staffordshire and through its third share of the Cheshire lines, into that county and Lancashire. The company's first objective was to provide the shortest and quickest route from the capital to Yorkshire, the legacy of which is still very much apparent to this day. As well as high speed passenger services, it was noted for the extensive coal traffic carried from the Yorkshire-Nottinghamshire coal field to London.
Articles
Acknowledgements
Thank you to Richard Barron for most of the above information.