The North British Railway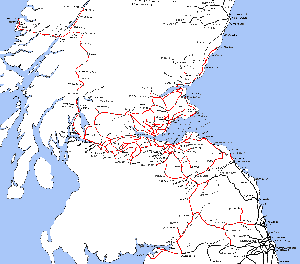 Click for detailed map
At Grouping (1923), the North British Railway had the highest route mileage in Scotland and the fifth largest in Britain. Centred on Edinburgh, the North British Railway included the northern section of the East Coast main line as well as lines that reached as far afield as Mallaig in north-west Scotland, Aberdeen in the north-east, Silloth in Cumberland and Berwick on Tweed in Northumberland. A notable legacy of the NBR is the iconic Forth Bridge.
Bibliography and Further Reading
Acknowledgements
Thank you to Richard Barron for the above introduction.