Moderators: 52D, Rlangham, Atlantic 3279, Blink Bonny, Saint Johnstoun, richard, Tom F
---
LNER A4 4-6-2 'Streak'
Posts: 3568
Joined: Wed Oct 25, 2006 8:46 am
---
LNER A3 4-6-2
Posts: 1366
Joined: Sat Nov 13, 2010 9:33 pm
Location: Centre of the known universe York
I use them, very good and they bend without breaking.
Nice wagons by the way.
---
LNER A4 4-6-2 'Streak'
Posts: 3568
Joined: Wed Oct 25, 2006 8:46 am
Hah. So much for modelling - I've spent most of the last two weeks nursing a virus and feeling sorry for myself. What a waste of the time off. I hope everyone else had a better festive break. I'm on the mend now, just about in time to go back to work.
It is, of course, this time of year so there's been a wave of foreign motive power across the bench for servicing when I've felt up to it.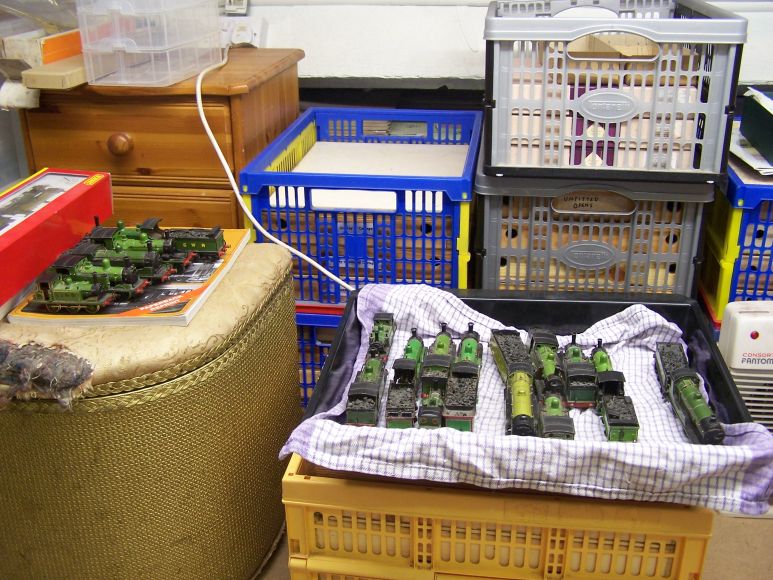 Before I started feeling really bad I had dismantled and rebuilt this D & S Howlden. Dave will remember me collecting this at Expo Spoons in May. It had been nicely built and painted, but had no bogies, was glued together and the glue was starting to fail. It had to come apart and has now been built properly.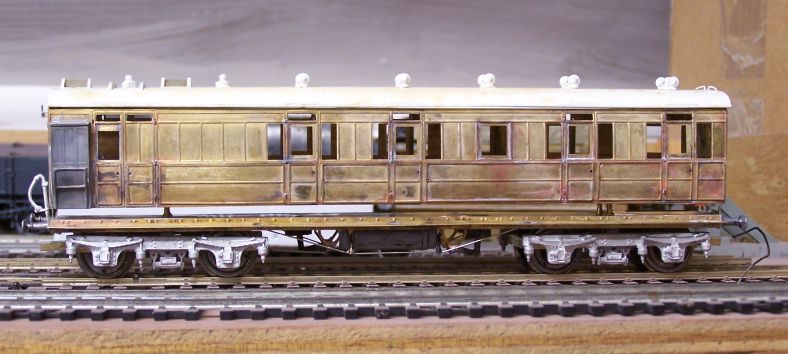 It needs a final clean and the roof reattaching then it'll be ready for paint.
I have forced myself to get on with this year's Christmas project - usually I decide I'll try to build something and then end up spending the time on something completely different. Given the way I've coughed and spluttered over it for the last 10 days or so it's probably the most unhygienic piece of rolling stock I've built, but built it (largely) is.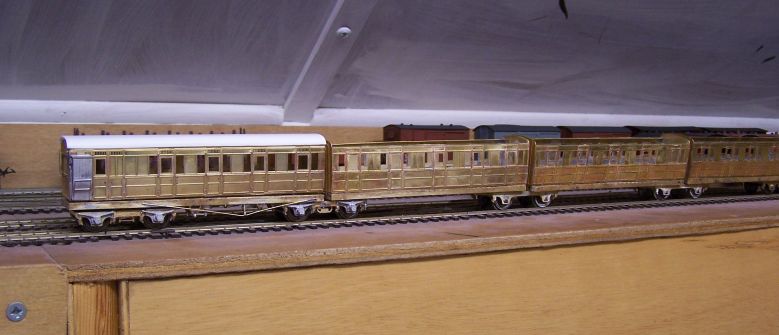 GNR D 218H quad set, BT(4) - C - C - BT(4). This is a candidate for use on
Grantham
, although I don't expect to have it ready for Southampton. It may well come with us for testing. I'm on the second pass down the vehicles adding detail, so progress seems slow again but we're getting there.
---
The 218H is looking good.

Several are needed on Clayton, along with the 2 Howlden Quints.

I hope you are feeling better soon.

Happy New Year to the Wealleans's.

John
---
Ditto JW from me too , thanks for your help with the Vans Decals this year too.
---
LNER A4 4-6-2 'Streak'
Posts: 3264
Joined: Sun May 24, 2009 12:56 am
Location: Booborowie. S. Aust
G'Day Gents
Couple of fabulous pieces of rolling stock, hopefully now that you've got them 75% finished, Hornby will announce them in this years New Builds..
Get well soon.
manna
EDGWARE GN, Steam in the Suburbs.
---
LNER A4 4-6-2 'Streak'
Posts: 3568
Joined: Wed Oct 25, 2006 8:46 am
Well, cheers, Terry. Happy New Year to you too. Tell Scott Morrison I've got half a dozen fire extinguishers I can lend him if he's collecting.....

Indeed a happy new year to all our readers. Please keep the midnight bombardment to a minimum as I'll be getting an early night with some Paracetamol, but I look forward to stepping over you face down in a gutter early tomorrow morning.
Last edited by
jwealleans
on Tue Dec 31, 2019 8:10 pm, edited 1 time in total.
---
LNER A3 4-6-2
Posts: 1366
Joined: Sat Nov 13, 2010 9:33 pm
Location: Centre of the known universe York
Sorry to hear you were I'll, I was too, never eaten or drunk so little over Christmas before.
Carriages coming on well, good to see them.
Happy New Year to you and your family, xx
---
LNER A4 4-6-2 'Streak'
Posts: 3568
Joined: Wed Oct 25, 2006 8:46 am
Small update to close the year; I did some repairs and odd jobs today. First up, a Hornby A3 from Ormesby. This is the kind of thing which happens when you have different people with different skill levels operating and using stock. No-one ever knows how it happens or admits to it, but it happens anyway. In this case it's either been dropped or picked up wrongly and the slidebar has either bent or the crosshead has popped out. I suspect the real damage was done trying to either straighten the slidebars or reinstate the crosshead. Luckily we have Peters Spares on the doorstep.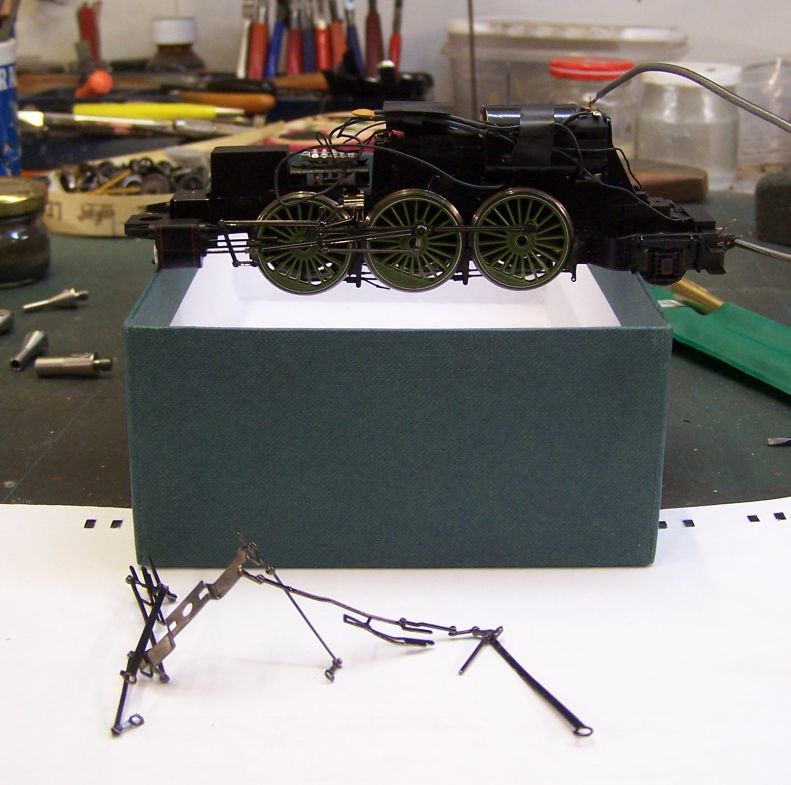 This Parkside coal wagon from the Grantham stock had a plastic W iron which has weakened and was allowing the wheelset to drop out. I can't recall now whether I built this one or it was acquired built. I suspect the latter as the other end W iron had already been replaced. I've fitted a rocking unit to this end, which has meant a hole in the floor and a new floor on top of the Parkside one to sit the wagon level. It will have to run loaded. Here I'm using the Brassmasters axle jig to keep the refitted wheelset square.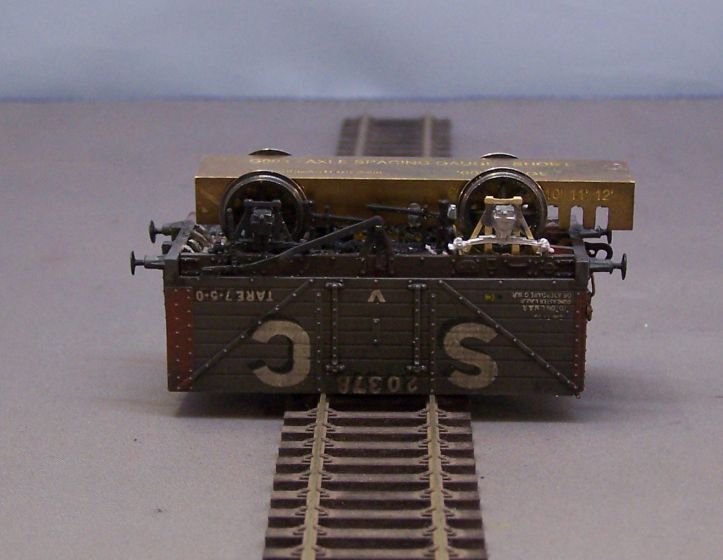 Finally a trio of LMS vans - but two of them are Doncaster products. These are D2079 vans, built during the war for the LMS and remaining in their stock after 1948. Bachmann bodies on Parkside PA16 underframes. I did wonder about using RCH axleguards instead of the LMS/BR pattern, but two of the 3 photos I had showed these, so I went with the majority. This was another build I started as part of a demonstration.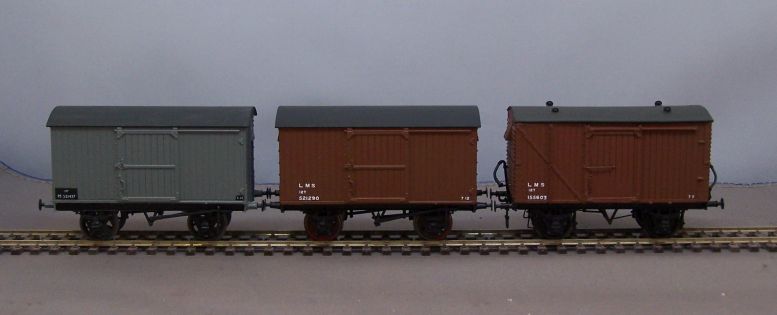 ---
Sorry you have had 'the bug'. My version has lasted six weeks. Hope you young and fit people get rid of yours earlier.
2020 is the year for getting my railway operational.
Happy New Year!
---
LNER A4 4-6-2 'Streak'
Posts: 3568
Joined: Wed Oct 25, 2006 8:46 am
I'm afraid I didn't get rid of that bug before I picked up another, but I do seem to be on the mend now. Just as well as we have a long trip before us...
Grantham
is appearing at Southampton this approaching weekend, so it was time to reacquaint myself with the stock.
A day cleaning wheels isn't the most exciting subject for photography, but I also had the fault list to attend to. It's not often you have the time or facilities to fix things at a show and in the stygian gloom of Spalding it was even less likely, so there were a few items on the list.
In no real order except that in which I found them in the boxes, here they are.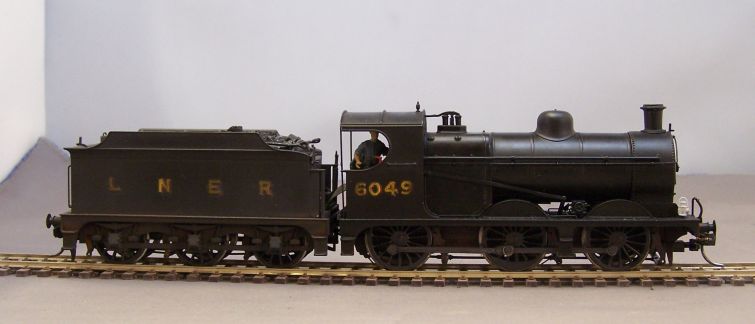 I had a report that the Kadee on 6049 might be low. These can droop - Hornby tender locos are quite prone to this but a piece of 20 thou strip jammed into the NEM pocket usually cures it. I'm not convinced 6049 was the culprit here, but it's been treated anyway. The bodyshell on this loco is still weeping oil, so it will have to be reweathered at some future date.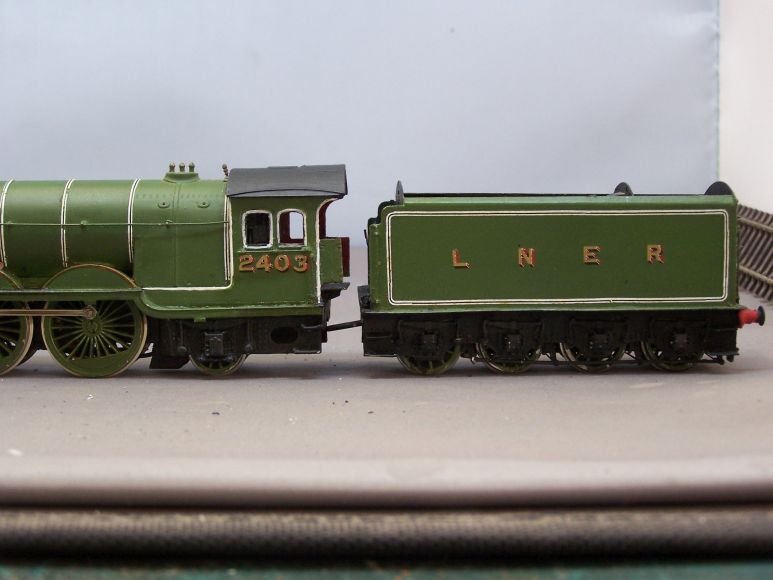 2403, I was told, had leapt into the air and stopped half way down a ladder of points at the north end and been immediately taken off. The culprit here was the leading tender brake shoe and rigging which had become unsoldered and found their way outside the frames, there to foul something trackside. Repairing this reminded me of the downside of securing nuts with huge blobs of Araldite - no matter how carefully you clean the thread before removing, there's always enough left to bind the thread and snap the bolt. I might add that it wasn't me who created the problem. I've been saying for several years that I will repaint this loco and substitute the NER tender which I have already built and painted. Maybe this will be the time.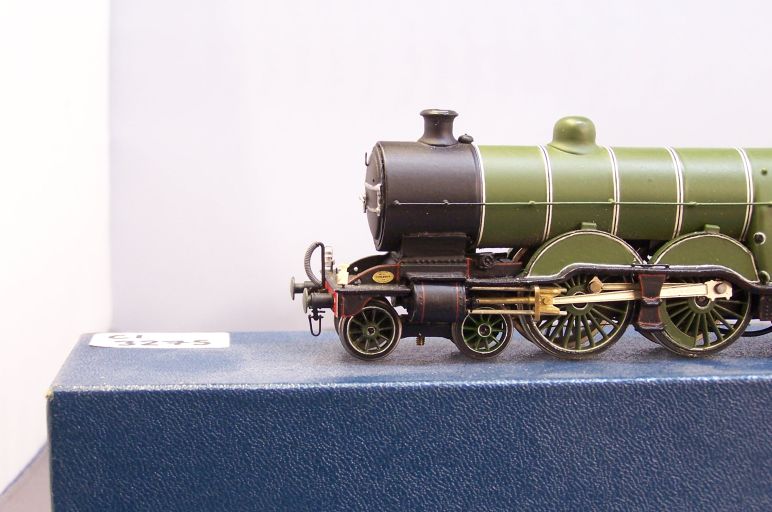 3275 was arcing off the bogie wheels intermittently. Examination shows that the (Comet) bogie had shed one of the fore and aft wires which retains the axles, so I assume it was able to move excessively and contact frames or cylinders. It has been restrained and we'll see how it gets on.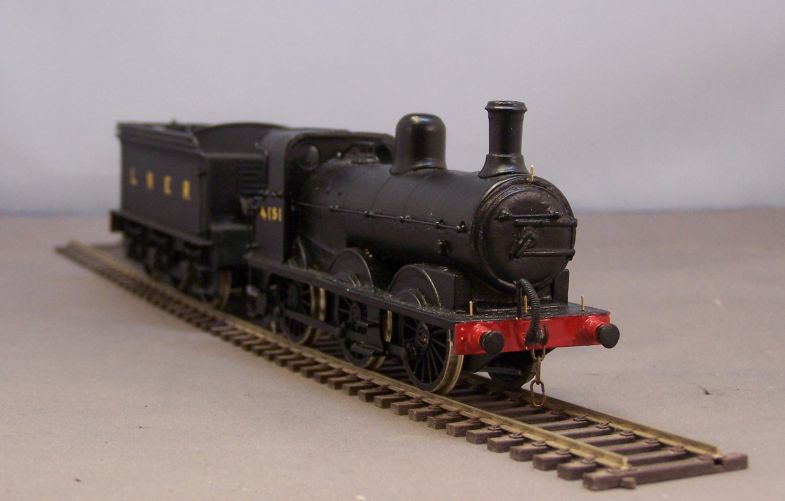 4151 didn't have anything wrong with it, but when I was cleaning the wheels I noticed that the lamp irons I've been fitting since the very first show in 2013 still weren't there. Today has been the day and by the end of the week there should be a proper coal load and maybe even fire irons as well.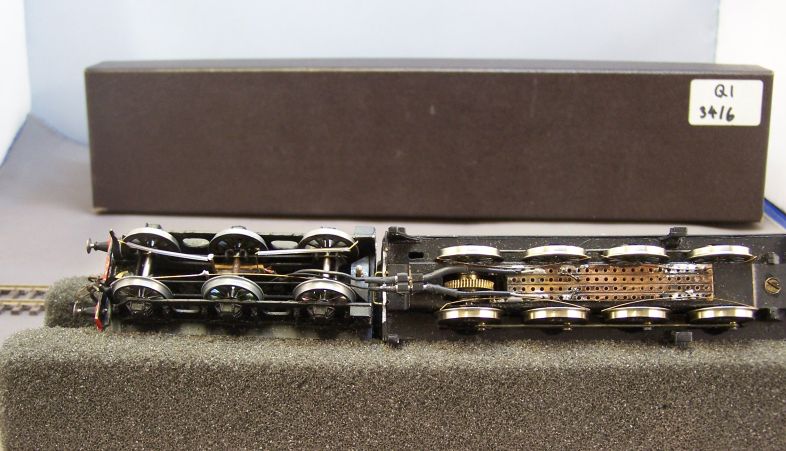 This is Long Tom 3416 which has a history of wrapping the tender pickups around things. They are long and vulnerable - the latest attempt is in a more rigid wire which may be less prone to catching. Again, time and use will tell.
The South End boys complained that this Lowmac (D & S with a scratchbuilt load) was too light and hard to shunt. It's had some strategically applied lead flashing which has since been painted. I don't like uncovered lead on vehicles.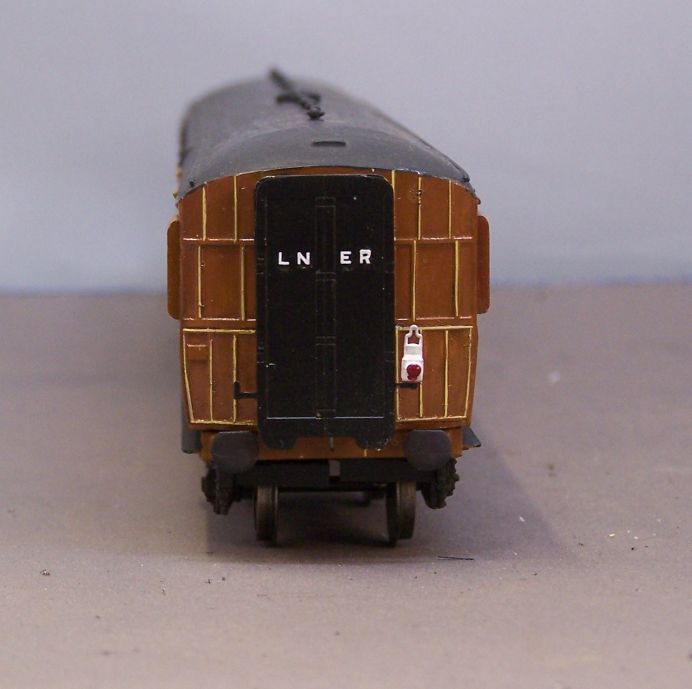 This is the GNR D96 BFK which runs at the rear of Set 5. I had a note that the tail lamp was missing, but the end door cover had been knocked off as well. Both were in the box and easily reapplied. The cover is the MJT etch, the lamp one of John Marsh's lovely 3D prints (which may now be in the ModelU range).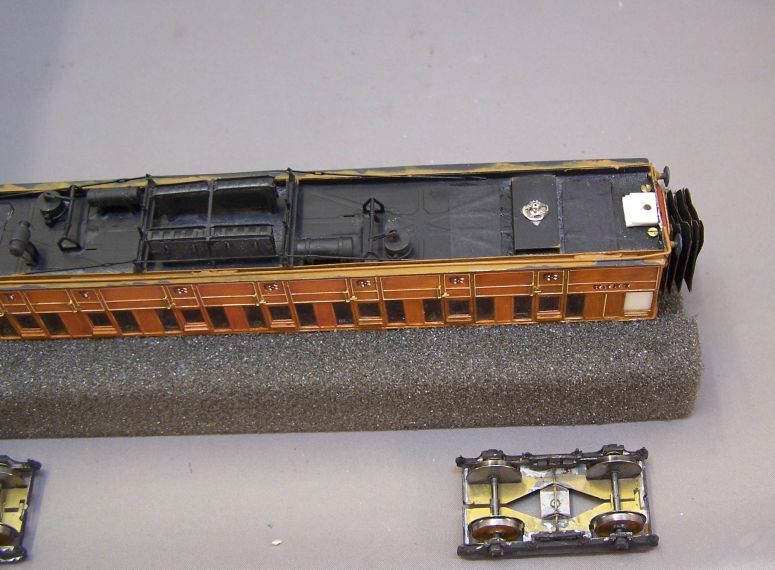 This was a more involved problem. We had noticed that we seemed to have an intermittent short on Set 5 in one configuration and by leaving vehicles out had narrowed it down to the last two in the set. This is a D7 CK, from a Bill Bedford kit. Examining the underside it was at once apparent that the MJT bogie had gone past the stops and jammed. For those who aren't familiar with them, the two halves of the bogie can move about the central wire, giving excellent running and roadholding. There are tabs to prevent them going too far (more or less behind the axles in the picture) and the bogies can force their way past these and jam. This had happened, but the displacement wasn't enough to stop the carriage running. What it almost certainly did, though, was jam one wheel from each side against the brass floor, so completing a circuit and impeding the running. There were score marks on the floor where the wheels had rubbed before, so some black paper has been stuck over the contact areas to prevent future conductivity.
I hope some readers will be able to make Southampton - please make yourself known if you do, but remember that we do have to run the layout and can't always spare the time to chat there and then.
---