The Raven Class B16 (NER Class S3) 4-6-0s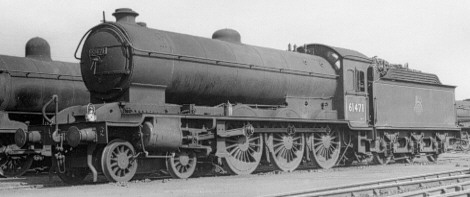 Vincent Raven's Class S3 (LNER B16) was a culmination of the North Eastern Railway's (NER) development of the 4-6-0 wheel arrangement started by Wilson Worsdell's Class S (LNER B13). When they first appeared in 1919, the B16s were described as "fast goods" locomotives, but this was later changed to the more appropriate "mixed traffic" description. Although the NER was actively planning to electrify much of its section of the East Coast Main Line (ECML), it was expected that there would be plenty of traffic for these locomotives on secondary main routes. In the event, the electrification did not occur until the 1980s, so they also worked ECML traffic.
With the success of the three cylinder superheated Class Z (LNER C7) Atlantics, the B16s were designed with three cylinders, superheated boilers, and piston valves; sharing many of these parts with the recent Class T3 (LNER Q7) 0-8-0 mineral locomotive. The sharing of parts is thought to have been a deliberate attempt to meet many of the proposals of the ARLE (Association of Railway Locomotive Engineers) wartime standardisation plans. These proposals may have also influenced the coupled wheel size of 5ft 8ins. In contrast to Gresley's famous conjugated gear, Raven used Stephenson valve gear all three cylinders.
The first order for ten B16s was placed in November 1918, but orders for twenty five more were placed before these were delivered. A total of 70 B16s were built in six batches from 1919 to 1924, at Darlington Works.
The original boilers had 109 tubes, but seven of these had stays and had no heating effect. From 1933 the stays were discard, resulting in an increased heating surface from 102 to 109 tubes. At about the same time, other changes were made to make the B16s more suitable for the faster services that they were now hauling. The driving wheel axleboxes were replaced by solid bronze axleboxes with cast steel horn guides and forged steel horn stays. A new design of laminated spring was fitted, and an additional mechanical lubricator was fitted. New crankshafts and modified couple rods were also fitted.
In 1937, Gresley rebuilt No. 2364 with Walschaerts valve gear on the outside cylinders, and his conjugated valve gear on the central cylinder. To do this, the front bogie had to be moved forward 9 inches. This required a lengthening of the frames, so the opportunity was taken raise the running plate over the driving wheels and to fit a new cab. This was classified B16/2, and six more B16s were rebuilt with Gresley's conjugated gear.
In 1944, Thompson authorised further rebuilds, but with his favoured layout of having separate Walschaerts valve gear on all three cylinders. These rebuilds were known as B16/3, and a total of seventeen B16s were converted between 1944 and 1949.
Initially the B16s were allocated in and around the ECML for mixed traffic duties. In 1925, some were allocated to Dairycoates to replace the Hull & Barnsley Q10 0-8-0s which were proving to be insufficient for NER duties.
By 1930, they were being regularly used to haul heavy excursion traffic to the Yorkshire coast, as well as football specials. Extra coaches would often be added to these services at very short notice, and the B16s coped with this heavy traffic. On multiple occasions, over thirty different B16s were sighted at Scarborough on the same summer Saturday.
By 1935, the B16s were concentrated at Darlington, York, Dairycoates, Neville Hill, Scarborough, Tyne Dock, and Blaydon. During World War 2 and afterwards, the B16s tended to wander further south and often worked on the Great Central main line to places such as Woodford Halse and Banbury. For a while, a York B16 was allocated to the Marylebone parcels train. After World War 2, they were also seen south of Peterborough, often as a replacement for a V2 2-6-2 or a Thompson B1. In 1949, the York B16s were dispersed to Neville Hill and Dairycoates.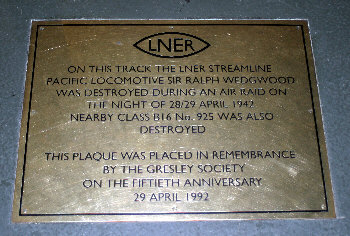 One B16 (No. 925) was destroyed at York Shed during the same air raid as A4 No. 4469 Sir Ralph Wedgwood. The remaining B16s survived intact until 1958 when withdrawals began due to their age and the introduction of diesels. The last B16/1 was withdrawn in 1961, and the last rebuilt B16 was withdrawn in 1964.
Technical Details
| | | |
| --- | --- | --- |
| Cylinders: | (3x) | 18.5x26in. |
| Motion: | Gear: | Stephenson |
| | Valves: | 8.75in piston |
| Boiler: | Max. Diameter: | 5ft 6in |
| | Pressure: | 180psi |
| | Diagram No.: | 49 |
| Heating Surface: | Total: | 1958 sq.ft. |
| | Firebox: | 166 sq.ft. |
| | Tubes: | 866 sq.ft. (102x 2in dia) |
| | Superheater: | 392 sq.ft. (24x 1.1in dia) |
| | Flues: | 534 sq.ft. (24x 5.25in dia) |
| Grate Area: | | 27 sq.ft. |
| Wheels: | Leading: | 3ft 1in |
| | Coupled: | 5ft 8in |
| | Tender: | 3ft 9.25in |
| Tractive Effort: | (@ 85%) | 30,312lb |
| Wheelbase: | Total: | 52ft 5.8in |
| | Engine: | 27ft 8in |
| | Tender: | 12ft 8in |
| Weight (full): | Total: | 124 tons 6cwt |
| | Engine: | 77 tons 14cwt |
| | Tender: | 46 tons 12cwt |
| Max. Axle Load: | | 20 tons |
Preservation
The last B16 was scrapped in 1964, and none of the B16s survived into preservation.
Models
The 3mm Society produce a kit of the B16 for 3mm scale.
DJH sell OO gauge (4mm scale) kits of the B16/1, B16/2 and B16/3. The B16/2 version is also available in 4mm scale from Nu-Cast. London Road Models are also planning to produce a 4mm scale etched kit in the near future (2013).
Haywood Loco Kits sell an O gauge (7mm scale) kit of the B16.
Acknowledgements
Thank you to the P.H. Groom collection for permission to use the above photograph of BR No. 61471 at Newport.