The Thompson B2 4-6-0s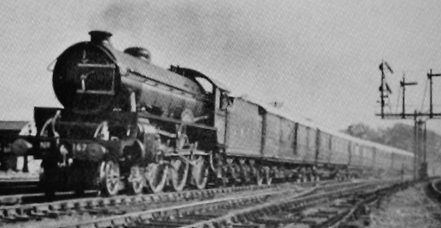 On Thompson's succession to Gresley in 1941, he quickly initiated a wide-ranging standardisation plan. His initial plans for 4-6-0 locomotives was to introduce his Class B 4-6-0 (later Class B1), keep the B16 (then being rebuilt), and to also keep the B12 as a special case due to their light axle loading. This plan was amended to include rebuilds of the B7 and B17 classes. The B7s would never be rebuilt, but ten members of the three-cylinder B17 'Sandringham' Class would be rebuilt as two-cylinder Thompson B2s.
In 1942, initial plans for these rebuilds kept the Gresley appearance but increased the boiler pressure to 220psi. Rebuilds did not start until 1945, by which time the cylinders had been repositioned slightly. This resulted in the bogie moving forward by 5in. The boiler pressure was raised slightly to 225psi and was of the Diagram 100A type from the Thompson B1 design. This was developed from the original B17, so it made a good standardised choice.
No. 2871 Manchester City was the first to be rebuilt, due to it entering Darlington Works in need of major repair after a connecting rod failure in November 1944. Rebuilding would be delayed due to higher priority O7 'Austerity' rebuilds, resulting in No. 2871 not re-entering service until August 1945. Eight more B17s would be rebuilt before Nationalisation in 1948, and a tenth B17 was rebuilt in 1949.
No. 2871 kept its original 4,200 gallon tender, but the other locomotives had their Great Eastern (GER) type tenders replaced with larger tenders from other locomotives. Two (Nos. 2815 & 1632) received the old tenders from the two withdrawn P1 Mineral Mikado locomotives, whilst the others received tenders from withdrawn C7 4-4-2 locomotives.
When No. 2871 Manchester City re-entered service, it participated in a number trials against B17/1 No. 2827 Aske Hall. These trials showed a 10 percent improvement in efficiency over the B17 due to the increased boiler pressure. The riding was said to be hard but without the usual oscillations which the B17s were known for. In 1947, further trials compared a B17/6 (with a Diagram 100A boiler) and a Thompson B2. These showed that the B17/6 ran more efficiently and was freer running when compared to a standard B17. Indeed, it was even deemed slightly superior to the Thompson B2 with coal and water economy of 6 percent and 10 percent greater power.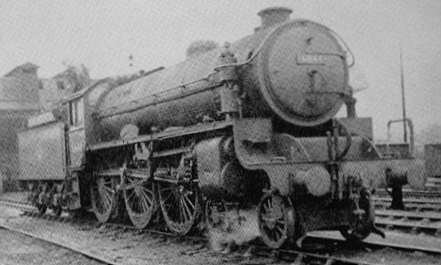 By this time, the wisdom of rebuilding B17s as B2s was questionable. The Thompson B1 fitted the LNER's mixed traffic needs better. With the fitting of Diagram 100A boilers to the remaining B17s, the B2's advantage of having a higher boiler pressure was removed. Also, the Thompson B1 met the LNER's mixed traffic needs much better than the B2. Hence, no further rebuilds were authorised.
The B2s worked passenger services in the GER district, typically into Liverpool Street. From 1956, all of the B2s were based at Cambridge and worked all the main line services from Cambridge, sometimes venturing as far as Sheffield and Manchester.
Withdrawal of the Thompson B2s started in 1958, and was completed in 1959.
Technical Details
Tender details are for the LNER tenders. The B2s were also fitted with NER tenders and ex-P1 tenders.
| | | |
| --- | --- | --- |
| Cylinders (x2): | | 20x26in. |
| Motion: | Walschaerts | 10in piston valves |
| Boiler: | Max. Diameter: | 5ft 6in |
| | Pressure: | 225psi |
| | Diagram No.: | 100A |
| Heating Surface: | Total: | 2005 sq.ft. |
| | Firebox: | 168 sq.ft. |
| | Superheater: | 344 sq.ft. (24x 1.344in) |
| | Tubes: | 1033 sq.ft. (121x 2.25in) |
| | Flues: | 460 sq.ft. (24x 1.244in) |
| Grate Area: | | 27.9 sq.ft. |
| Wheels: | Leading: | 3ft 2in |
| | Coupled: | 6ft 8in |
| | Tender: | 3ft 9in |
| Tractive Effort: | (@ 85% pressure) | 24,863lb |
| Wheelbase: | Total: | 51ft 5in |
| | Engine: | 28ft 2in |
| | Tender: | 13ft 6in |
| Weight (full): | Total: | 125 tons 10cwt |
| | Engine: | 73 tons 10cwt |
| | Tender: | 52 tons 0cwt |
| Max. Axle Load: | | 18 tons 12cwt |
Preservation
The last Thompson B2s were withdrawn in 1959, and none survived into preservation.
Models
Langley Models sell an N gauge kit of the B2.
DMR sell kits of the B2 for both OO gauge (4mm scale) and O guage (7mm scale).
Locomotives
Most of the B2s were rebuilt at about the same time as the 1946 Thompson renumbering, hence they had a mixture of pre-1946 and post-1946 numbers when rebuilt. No. 2844 was actually rebuilt after Nationalisation and was given its BR number (61644) at the same time as the rebuild.
No. 1671 (BR No. 61671) was renamed Royal Sovereign in April 1946. Following its withdrawal in September 1958, No. 61632 was renamed Royal Sovereign in October of the same year. These locomotives were the official Royal engines during the periods that they bore this name.
| | | | | | |
| --- | --- | --- | --- | --- | --- |
| Original LNER No. | No. when rebuilt | Rebuild date | BR No. | Disposal Date | Name |
| 2803 | 1603 | 10/1946 | 61603 | 9/1958 | Framlingham |
| 2807 | 1607 | 5/1947 | 61607 | 12/1959 | Blickling |
| 2814 | 2814 | 11/1946 | 61614 | 6/1959 | Castle Hedingham |
| 2815 | 2815 | 4/1946 | 61615 | 2/1959 | Culford Hall |
| 2816 | 2816 | 11/1945 | 61616 | 9/1959 | Fallodon |
| 2817 | 1617 | 12/1946 | 61617 | 8/1958 | Ford Castle |
| 2832 | 1632 | 7/1946 | 61632 | 2/1959 | Belvoir Castle |
| 2839 | 2839 | 1/1946 | 61639 | 5/1959 | Norwich City |
| 2844 | 61644 | 3/1949 | 61644 | 11/1959 | Earlham Hall |
| 2871 | 2871 | 8/1945 | 61671 | 9/1958 | Manchester City |