The Reid C15 (NBR Class M) Atlantic Tank Engines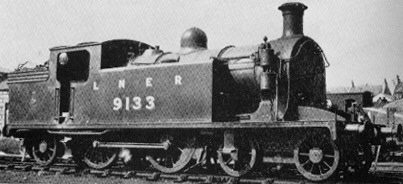 Although Drummond introduced the leading bogie to the North British Railway (NBR) with his D50 and D51 4-4-0Ts, his successors Holmes and Reid reverted to designs without leading bogies. This arrangement continued up to the introduction of Reid's G9 0-4-4T design in 1909. Reid eventually re-introduced the leading bogie with his Class M (LNER Class C15) design in 1911. A G9 boiler was used, but a radial trailing axle was added to greatly increase the coal and water capacity. A total of thirty locomotives were ordered - an unusually large number for an NBR passenger type. Also, the order was unusual because it was placed with the Yorkshire Engine Company - a company which had had few business dealings with the NBR. This led to the C15s being known officially as the "Yorkshire Tanks", or colloquially the "Yorkies".
The initial order of thirty locomotives was delivered in three batches between 1911 and 1913. Initially, they were put to work hauling suburban services to Edinburgh and Glasgow. They also hauled services along the Clyde Coast and stopping trains on the main line between Edinburgh and Glasgow.
New standardised boilers were fitted from 1921, using a design shared with the G9, J36, N14 and N15 classes. None of the C15s ever received superheating.
By Grouping (1923), the C15s were tending to work the shorter services and the heavier suburban services. Displaced by N2 0-6-2T and V1 2-6-2T types, the C15s were gradually scattered across the N.B. Section. From 1936, No. 9131 made it to Tweedmouth and technically was a member of the North Eastern Area.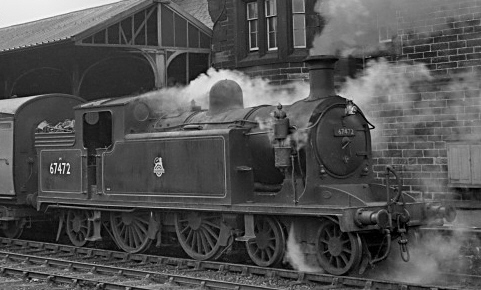 From 1935 to 1937, five of the C15s were fitted with drop gates to aid engine cleaning at Eastfield Shed.
In 1940, no. 9135 was fitted for push-pull working over the Craigendoran and Arrochar. In 1950, No. 67475 was also fitted as a back-up. This was scrapped in 1954, so No. 67474 was fitted as a replacement. The push-pull mechanism was of the vacuum type.
After Nationalisation in 1948, many of the C15s were put into storage or converted for use as stationary boilers. Withdrawals started in 1953. In 1960, the two push-pull C15s working the Craigendoran and Arrochar branch were the last to be withdrawn when they were replaced by diesel railbuses.
Technical Details
| | | |
| --- | --- | --- |
| Cylinders (x2): | (inside) | 18x26in. |
| Motion: | | Stephenson (slide valves) |
| Boiler: | Max. Diameter: | 4ft 8.125in |
| | Pressure: | 175psi |
| | Diagram No.: | 81 |
| Heating Surface: | Total: | 1309 sq.ft. |
| | Firebox: | 95 sq.ft. |
| | Tubes: | 1214 sq.ft. (252x 1.75in) |
| Grate Area: | | 16.6 sq.ft. |
| Wheels: | Leading: | 3ft 6in |
| | Coupled: | 5ft 9in |
| | Trailing: | 3ft 9in |
| Tractive Effort: | (@ 85%) | 18,160lb |
| Total Wheelbase: | | 28ft 10in |
| Engine Weight: | (full) | 68 tons 16cwt |
| Max. Axle Load: | | 19 tons 7cwt |
| Coal Capacity: | | 4 tons 0cwt |
| Water Capacity: | | 1990 gallons |
Preservation
None of the C15 Atlantics survived into preservation.
Models
An etched nickel silver 4mm kit of the C15 is available from 52F Models.
Connoisseur Models sell an etched brass kit of the C15 for 7mm scale (O gauge).
Acknowledgments
Thank you to the Mike Morant Collection for the photograph of BR No. 67472.