The Reid C16 (NBR Class L) Atlantic Tank Engines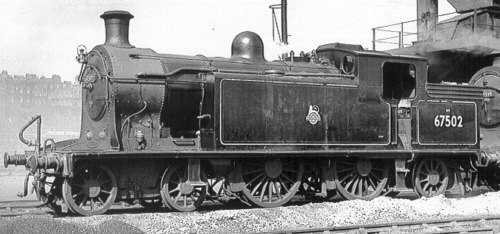 The North British Railway (NBR) was relatively slow in adopting superheating for its locomotives. Hence, the first 4-4-2T (LNER C15) locomotives were all built with saturated boilers. By 1915 when the next batch was required, the Robinson superheater had been adopted as an NBR standard and was incorporated into the design. The design also included piston valves, but was otherwise very similar to that of the C15s.
The Atlas Works of the North British Locomotive Co. built two batches. Fifteen were built between 1915 and 1916, and a final batch of six were built in 1921. The first ten replaced the C15s on the heaviest loads in the Glasgow area. Later C16s also tended to displace C15s from their heavier duties. Other early allocations included North Berwick, St. Margaret's, and Dunbar.
Five C16s had special holes drilled in the buffer beams in 1917 for snowplough working the Peebles line to Galashiels. Superheater pyrometers were fitted to the smokebox, but these were removed shortly after Grouping (1923). The original location of these pyrometers was often marked by a 'stump' on the smokebox. Drop gates were fitted to five locomotives between 1935 and 1936, to aid cleaning.
Although they would be fitted with new boilers during their lives, all would remain superheated with one exception. No. 9439 had a new saturated boiler fitted in March 1943. This reverted to superheating with its next boiler change in February 1947. The saturated boiler was passed to C15 No. 7472. The reason for the fitting of a saturated boiler is not documented, but may have been due to a wartime shortage.
In 1951, two C16s were fitted with spark arrestors for working near the Rosslyn Castle gunpowder works, after the neighbouring spark tunnel fell in to disrepair.
By the late 1940s and early 1950s, some of the C16s had wandered to places such as Dundee, Dunfermline, and Aberdeen. Allocations started to replace C15 as they were withdrawn from service. With the movement of V1 2-6-2T locomotives into the area in the 1950s, the C16s were rarely used to their full potential. Withdrawals started in 1954 and were completed in 1961, eventually surviving the C15s by less than a year.
During these twilight years, two C16s achieved a small amount of fame. In September 1954, No. 67488 was used during the filming of "Geordie", near Gartmore on the Aberfoyle branch. A few short shots survived the cutting room and were included in the final production. After being withdrawn in November 1955, No. 67499 was tipped over on its side at Eastfield shed for a demonstration of a German hydraulic re-railing apparatus. British Railways Scottish Region would later purchase three sets of this apparatus.
Technical Details
| | | |
| --- | --- | --- |
| Cylinders (x2): | (inside) | 19x26in. |
| Motion: | | Stephenson (slide valves) |
| Boiler: | Max. Diameter: | 4ft 8.125in |
| | Pressure: | 165psi |
| | Diagram No.: | 81 |
| Heating Surface: | Total: | 1229 sq.ft. |
| | Firebox: | 95 sq.ft. |
| | Tubes: | 666.5 sq.ft. (139x 1.75in) |
| | Superheater: | 220.0 sq.ft. (18x 1.06in) |
| | Flues: | 247.5 sq.ft. (18x 5in) |
| Grate Area: | | 16.6 sq.ft. |
| Wheels: | Leading: | 3ft 6in |
| | Coupled: | 5ft 9in |
| | Trailing: | 3ft 9in |
| Tractive Effort: | (@ 85%) | 19,078lb |
| Total Wheelbase: | | 28ft 11.5in |
| Engine Weight: | (full) | 72 tons |
| Max. Axle Load: | | 19 tons 16cwt |
| Coal Capacity: | | 4 tons 10cwt |
| Water Capacity: | | 1990 gallons |
Preservation
None of the C16 Atlantics survived into preservation.
Models
Nu-Cast sell a whitemetal kit of the C16 for OO gauge (4mm scale). In the past, Cotswold have also produced a 4mm scale kit, but it is no longer available. However an etched nickel silver 4mm kit is now available from 52F Models.
62C Models of Dunfermline are developing a 7mm scale (O gauge) kit of the C16.
Acknowledgements
Thank you to Malcolm Peirson for the photograph of BR No. 67502.