The Robinson Class D10 (GCR Class 11E) 'Directors' 4-4-0 Locomotives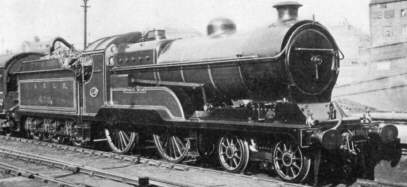 After realising that his 11B (LNER D9) locomotives were too small for the Great Central Railway's (GCR) growing requirements, Robinson built his B1 4-6-0 and C4 4-4-2 locomotives as a comparative test. The C4 proved successful and was built in larger numbers. When further engines were required, Robinson reverted back to the 4-6-0 design with his B2 'Sir Sam Fay' locomotives. Although the 'Sir Sam Fay' locomotives looked powerful, the design was a disappointment and Robinson quickly produced his Class 11E 'Director' design (LNER D10). The 4-4-0 design allowed a larger space for the firebox between the driving axles (10ft) compared to the rear axles of the B2 (8ft 3in). The D10's firebox had a steep back so that it extended over the rear axle slightly. With a shorter boiler and smaller diameter cylinders (20in), the new D10 design represented a good balance between steam generating capacity, and ability to use this steam.
The D10s were built with 10in diameter piston valves with the unusual feature of outside admission. The exact reason for this unknown, but it could have been a combination of economy, and the need for a quick replacement for the B2s.
A total of ten D10s were built in 1913, and quickly proved to be a great success. A second order was place in 1916, but this was postponed until after World War 1. When the order was re-issued in 1919 it included a number of alterations. The alterations were deemed sufficient for a new class, and they became the Class 11F (LNER D11) 'Improved Directors'.

The original boilers fitted to the D10s had 175 tubes. These were replaced with 157 tube boilers that had short loop superheating elements. Records have not survived, but most of the replacements were probably completed before Grouping (1923). This new boiler was designed for the L1 2-6-4Ts, but was already being used on the D11 'Improved Directors'.
The footplate was raised over the driving wheels. All but the first locomotive (No. 429) had valences fitted below the footplate. This valence covered the connecting rods, and they were moved for accessibility in 1925-6.
Initially Wakefield mechanical lubricators were fitted. Robinson is reported to have disliked mechanical lubrication, so he developed his Intensifore sight feed system. This was fitted to the D10s after 1916, but was removed by the LNER. LNER replacements were either Detroit or Wakefield Eureka lubricators.
Other early replacements included the replacement of Ramsbottom safety valves with Ross pop valves during the early 1920s.
During the 1930s, a number of D10s were experimentally fitted with Trofinoff Automatic By-pass (T.A.B.) piston valves. When pressurised with steam, these valves acted like conventional piston valves. When the steam was shut off, the heads were free to drift. This was to avoid the compression of air when coasting, and to allow for freer running. The former GCR main line over the Pennines was noted for its long gradients, so these locomotives were a good choice for the experiment. Six D10s were fitted with the T.A.B. valves between 1935 and 1938. The trials appear to have been a success, but they were interrupted by World War 2.
GCR frames tended to be weak, and an extra stay was fitted behind the firebox to both the D10s and D11s. This proved insufficient, and six D10s had to have new rear frames between 1937 and 1939. A completely new frame was given to No. 5437 in 1927 after a collision with a former Lancashire & Yorkshire 2-4-2T at Penistone.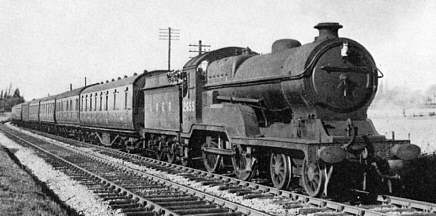 After their initial two month running-in period at Gorton, nine of the D10s were allocated to Neasden to replace C4 4-4-2s. The tenth (No. 438) remained at Gorton for a year, before moving to Neasden. Despite the outbreak of World War 1, the D10s quickly proved themselves as one of Robinson's most outstanding designs, with 90mph being record on at least one occasion.
Between 1919 and 1922, most of the D10s were displaced by the D11 'Improved Directors' from Neasden to Sheffield and Woodford. After this dispersal, the D10s could be found along the entire length of the Great Central's main line. Three of the D10s had a short spell at Annesley during this period, but Annesley could not provide sufficiently demanding work for these capable engines and they quickly left. By 1925, the D10s were allocated to Neasden (6) and Gorton (4), and often appeared as stand-ins for the D11s.
During the 1930s, the D10s started to be seen further afield, including Sheffield, Liverpool, and Copley Hill (Leeds). By 1934, the D10s were allocated to Gorton (3), Neasden (3), Sheffield (2), and Copley Hill (2).
As with many other locomotive classes, the D10s were seen much further afield during World War 2. Goods workings to Newcastle and Edinburgh became common, and three D10s were allocated to Langwith to haul workers' trains to the Royal Ordnance Factory at Ranskill. Between 1943 and 1947, all ten D10s were allocated to Sheffield. The D10s then moved to Brunswick, Trafford Park, and Northwich to haul services on the Cheshire Lines.
After Nationalisation (1948), the London Midland Region took control of the Cheshire Lines and slowly replaced the D10s with former LMS types. Withdrawals started in 1953, and were completed by 1955.
Technical Details
| | | |
| --- | --- | --- |
| Cylinders (x2): | (inside) | 20x26in. |
| Motion: | | Stephenson |
| Valves: | | 10in piston |
| Boiler: | Max. Diameter: | 5ft 3in |
| | Pressure: | 180psi |
| | Diagram No.: | 14 |
| Heating Surface: | Total: | 1752 sq.ft. |
| | Firebox: | 155 sq.ft. |
| | Superheater: | 209 sq.ft. (24x1.06in) |
| | Tubes: | 972 sq.ft. (157x 1.88in) |
| | Flues: | 416 sq.ft. (24x 5.25in) |
| Grate Area: | | 26.5 sq.ft. |
| Wheels: | Leading: | 3ft 6in |
| | Coupled: | 6ft 9in |
| | Tender: | 4ft 4in |
| Tractive Effort: | (@ 85% boiler pressure) | 19,644 lb |
| Wheelbase: | Total: | 48ft 8.5in |
| | Engine: | 25ft 3in |
| | Tender: | 13ft 0in |
| Weight (full): | Total: | 109 tons 6cwt |
| | Engine: | 61 tons 0cwt |
| | Tender: | 48 tons 6cwt |
| Max. Axle Load: | | 19 tons 16cwt |
Preservation
The last D10 was withdrawn in 1955, and none survived into preservation.
Models
Little Engines sell a whitemetal 4mm scale (OO gauge) kit of the D10. Kemp Models have also produced a 4mm scale kit, but this is no longer available.
Gladiator produce a kit for O gauge (7mm scale).
Locomotives
Initially all of the D10 locomotives were named after post-1900 GCR Directors and Chairmen. Two were later renamed with non-GCR names. No. 5429 was originally named Sir Alexander Henderson until 1917 when it was named Sir Douglas Haig until about 1920. No. 5437 was originally named Charles Stuart Wortley until about 1920.
| | | | | | | |
| --- | --- | --- | --- | --- | --- | --- |
| Build Date | GCR No. | LNER No. | 1946 No. | BR No. | Disposal Date | Name |
| 8/1913 | 429 | 5429 | 2650 | 62650 | 2/54 | Prince Henry |
| 9/1913 | 430 | 5430 | 2651 | 62651 | 3/53 | Purdon Viccars |
| 10/1913 | 431 | 5431 | 2652 | 62652 | 5/54 | Edwin A. Beazley |
| 10/1913 | 432 | 5432 | 2653 | 62653 | 10/55 | Sir Edward Fraser |
| 10/1913 | 433 | 5433 | 2654 | 62654 | 8/53 | Walter Burgh Gair |
| 11/1913 | 434 | 5434 | 2655 | 62655 | 8/53 | The Earl of Kerry |
| 11/1913 | 435 | 5435 | 2656 | 62656 | 1/55 | Sir Clement Royds |
| 11/1913 | 436 | 5436 | 2657 | 62657 | 3/53 | Sir Berkeley Sheffield |
| 11/1913 | 437 | 5437 | 2658 | 62658 | 8/55 | Prince George |
| 12/1913 | 438 | 5438 | 2659 | 62659 | 11/54 | Worsley Taylor |