The W.Worsdell Class D21 (NER Class R1) 4-4-0 Locomotives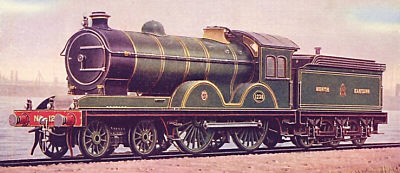 Wilson Worsdell's Class R (LNER D20) was introduced on the North Eastern Railway (NER) in 1899. It proved to be an extremely capable locomotive, but by 1907 there was a need locomotives of greater power to handle the increasing train loads. The NER already had a number of more powerful designs, but these were better suited to more onerous duties. The larger Class S1 (LNER B14) engines were not entirely successful. So Wilson Worsdell's choice was between building more of his Class V (LNER C6) Atlantics, or designing a larger version of the successful D20. The C6 had not been an unqualified success, so he chose the modify the D20. The new design, NER Class R1 (LNER D21) attempted to combine the wheels and cylinders of the D20 with a larger boiler based on the C6's boiler. In order to use the larger boiler, the D20 boiler was extended by 2ft at the rear. The boiler pressure was also increased to 225psi, and the grate area was increased from 20 to 27sq.ft. The final locomotive had a high adhesive weight of almost 21 tons, reflecting its intended use on the heaviest expresses, rather than the high speed light trains.
The D21s definitely looked impressive with their large boilers, but they turned out to be not quite as good as either the D20s or the C6s. Hence only one batch was built in 1908-9 at Darlington.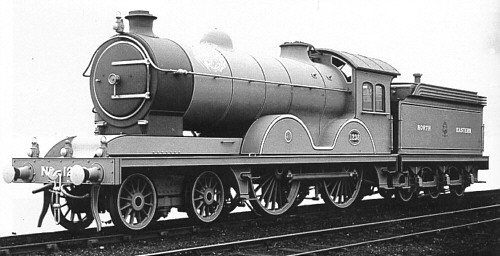 The NER had started superheating trials before the D21s were built, but it would take NER management a number of years to become convinced of the benefits. However, as soon as they were convinced, they acted quickly and all of the D21s received superheaters between 1912 and 1915. Most of the D21s received Schmidt superheaters, but at least two of the spare boilers were fitted with Robinson superheaters instead. The working pressure had already been reduced to 180psi, and was further reduced to 160psi with the fitting of the superheaters. This followed standard NER practice, but the working pressure was increased back up to 175psi before Grouping (1923).
All of the original boilers were built with Ramsbottom safety valves. The replacement boilers and two spares built in 1930, were all built with Ross pop safety valves.
The first two D21s were initially allocated to Neville Hill (Leeds) to work the Glasgow services as far as Newcastle. The remaining eight D21s were allocated to York to haul main line services to Newcastle. After a short interval, they were also used on services to Edinburgh. During this period, the D21s are on record as performing some fast runs from York to Darlington and Newcastle with heavy passenger expresses. However, with continuously increasing train loads and the introduction of more powerful locomotive types, the D21s were quickly displaced from the best express services.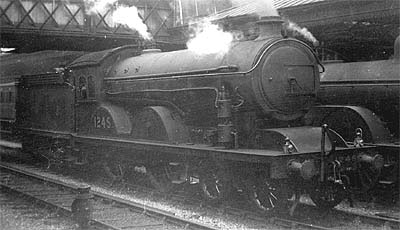 At Grouping (1923), the D21s were allocated to York (7), Neville Hill (2), and Starbeck (1). In 1924, the allocation of Gresley A1 Pacifics to the area, displaced the C7 Atlantics into many of the D21 duties. This led to the D21s being moved to secondary duties and York lost its entire allocation. Many of York's D21s were moved to Hull Botanic Gardens where they were used for Hull's heavier passenger services. The D21s could also be found on a variety of excursion services at this time.
The LNER's introduction of the D49 Hunt/Shires in the late 1920s displaced the D21s from their more important secondary duties. During the 1930s, the D21s were rarely used for anything beyond semi-fast passenger work and the occasional summer excursion. They could often be seen on services from Leeds to Hull, Scarborough, or West Hartlepool. During the 1930s, the D21s managed to clock up some relatively high mileages between general repairs. This was probably because they were being used for lighter and slower trains than for which they were designed.
The combination of secondary duties and a unique boiler design, meant that the D21's days would be numbered. Withdrawals began in December 1942, and were completed by February 1946.
Technical Details
| | | |
| --- | --- | --- |
| Cylinders (x2): | (inside) | 19x26in. |
| Motion: | | Stephenson |
| Valves: | | 10in piston |
| Boiler: | Max. Diameter: | 5ft 6in |
| | Pressure: | 175psi |
| | Diagram No.: | 60 |
| Heating Surface: | Total: | 1316.88 sq.ft. |
| | Firebox: | 158 sq.ft. |
| | Superheater: | 258 sq.ft. (24x 1.1") |
| | Tubes: | 529.88 sq.ft. (90x 2in) |
| | Flues: | 371 sq.ft. (24x 5.25in) |
| Grate Area: | | 27 sq.ft. |
| Wheels: | Leading: | 3ft 7.25in |
| | Coupled: | 6ft 10in |
| | Tender: | 3ft 9.25in |
| Tractive Effort: | (@ 85% boiler pressure) | 17,026lb |
| Wheelbase: | Total: | 47ft 11.75in |
| | Engine: | 23ft 9in |
| | Tender: | 12ft 8in |
| Weight (full): | Total: | 105 tons 2cwt |
| | Engine: | 59 tons 0cwt |
| | Tender: | 46 tons 2cwt |
| Max. Axle Load: | | 20 tons 16cwt |
Preservation
None of the D21s survived into preservation. No. 1241 had a life of sorts after withdrawal. In March 1943 it was sold to the Air Ministry, who used it on the former Pembroke & Fishguard Railway to test new types of armour piercing shell! No. 1241 returned to Darlington in July 1943 reportedly full of holes. It was finally broken up in January 1944.
Models
Gem have produced a 4mm scale (OO gauge) body kit of the D21, but this is no longer available.
Acknowledgements
Thank you to Mike Morant Collection for the colour illustration of NER Class D21 No. 1238.
Thank you Malcolm Peirson for the photograph of No. 1238.
Thank you to the Rosewarne family for the photograph of LNER No. 1245.