The M. Stirling Class D24 (H&BR Class J) 4-4-0 Locomotives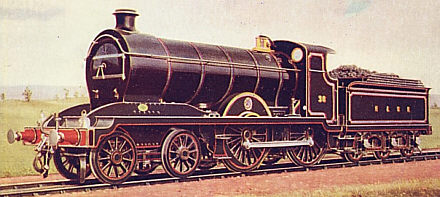 Although the Hull & Barnsley Railway (H&BR) was built primarily to carry coal, it also attempted to generate passenger traffic. In October 1905, this resulted in the Midland Railway granting the H&BR running powers between Cudworth and the Midland's Sheffield station. The H&BR initially operated this service using its existing ten 2-4-0 passenger locomotives. However, these engines were nearing the end of their economic life, so Matthew Stirling designed the more powerful Class J (LNER Class D24) 4-4-0 engines as replacements. These were built by Kitson & Co, and were delivered in December 1910. The new locomotives had 6ft 6in coupled wheels and a 5ft diameter domeless boiler that was similar to the one used on the H&BR J28 0-6-0 locomotives.
The original boilers were in need of replacement in 1929. By this point, the passenger service had been cut back, so it would have been natural for the LNER to have withdrawn such a small class. Instead, they replaced the old boilers with new boilers to the new Diagram 58B design. The Diagram 58B boilers were also used on the J28 and had a dome but no superheater. These new boilers had Ross pop safety valves, in contrast with the Ramsbottom valves used on the original boilers.
As well as the Hull (Cannon Street) to Sheffield (Midland) services for which they were designed, the D24s were also used for football excursions over other companies' lines. These football excursions often included services over the Lancashire & Yorkshire Railway's Hensall spur to Leeds and Bradford. In their early years, the D24s also hauled employee excursions to Blackpool, Morecambe, and Llandudno.

World War 1 led to the service being cut back from Sheffield to Cudworth in 1917.
The LNER found the H&BR's Cannon Street to be inconveniently located, and closed it in 1924. From July 1924, H&BR services terminated at Hull Paragon, and the D24s were moved from Springhead shed to Botanic Gardens.
The D24s continued to haul the Hull to Cudworth services until 1932 when the passenger service was cut back to South Howden. This shorter service was now within reach of the more economic small tank locomotives and Sentinel steam railcars, which took over. This was only three years after the new boilers were fitted, so attempts were made to use the D24s on other secondary passenger services from Hull. These included duties to Doncaster, Scarborough, and York; as well as cheap excursions to Bridlington. However, the D24s spent much of the next two years in storage, and all five were withdrawn between 1933 and 1934.
All five of the boilers found new uses after the D24s were withdrawn. Four were used as stationary boilers, with two each at Springhead and Stratford. The fifth boiler (from No. 2428) was fitted to J28 No. 2416 between February 1934 and October 1938. It was then used as a stationary boiler.
Technical Details
| | | |
| --- | --- | --- |
| Cylinders (x2): | (inside) | 18.5x26in. |
| Motion: | | Stephenson |
| Valves: | | slide |
| Boiler: | Max. Diameter: | 5ft |
| | Pressure: | 170psi |
| | Diagram No.: | 58A |
| Heating Surface: | Total: | 1398 sq.ft. |
| | Firebox: | 126 sq.ft. |
| | Tubes: | 1272 sq.ft. (245x 1.75in) |
| Grate Area: | | 19.4 sq.ft. |
| Wheels: | Leading: | 3ft 9in |
| | Coupled: | 6ft 6in |
| | Tender: | 3ft 9in |
| Tractive Effort: | (@ 85% boiler pressure) | 16,485lb |
| Wheelbase: | Total: | 43ft 9in |
| | Engine: | 23ft 0in |
| | Tender: | 12ft 0in |
| Weight (full): | Total: | 95 tons 12cwt |
| | Engine: | 55 tons 2cwt |
| | Tender: | 40 tons 10cwt |
| Max. Axle Load: | | 18 tons |
Preservation
None of the D24s survived into preservation.
Models
I am not aware of any models of the D24 locomotives in any scale.
Acknowledgements
Thank you to Mike Morant Collection for the colour illustration of H&BR No. 38.