The Ivatt Class D3 and D4 (GNR D3 and D2) 4-4-0 Locomotives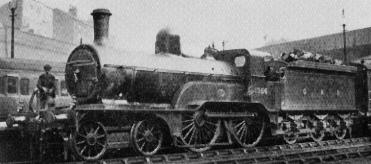 Within a year of taking office with the Great Northern Railway (GNR), Ivatt introduced the GNR's first 4-4-0 design. This design closely resembled the GNR's final series of 2-4-0s (LNER Class E1), although the first of the new 4-4-0s was built first. Classified "Class D2" by the GNR, they were also known as the "400" class after the prototype, and would be reclassified as D4 by the LNER. No. 400 was built in 1896 and was followed by fifty more D2s in five batches over the next three years.
The D2s used Ivatt's standard 4ft 5in diameter boiler, as used on many of his locomotives and Gresley's J50 0-6-0Ts. In 1898, Ivatt introduced a larger boiler on his new GNR Class D1 (LNER D2) locomotives. This boiler had a diameter 3in larger and a firebox casing that was 10in longer. The extended length of the firebox casing meant that it could not be easily fitted to the D2s unless extensive frame modifications were made at the cab end. By Grouping (1923), only two D2s had been modified in this way. In 1912 Gresley introduced a new boiler that had a 4ft 8in diameter but a shorter firebox allowing it to be fitted to the D2s. These were gradually fitted to both the D2s and J3s. The D2s with the new boilers were classified "D3" by both the GNR and LNER.
The D2 (LNER D4) boilers were modified by Ivatt in 1901 to include a 3in wide water space around the firebox. This was to avoid scale accumulations around the foundation ring, and was actually a reversion to earlier GNR practice. This led to a small reduction in the grate area. No. 400 was built with helical springs on all of the coupled wheels. The remaining D2s were built with laminated springs on the trailing wheels, and No. 400 was converted before Grouping. The last batch of ten D2s were built with the running plate raised above the coupling rods, to match the style of the first Atlantic (C2 No. 990) which was being built at the same time.
The first six rebuilds to Class D3 occurred in 1912-3. The new wider boilers were pitched higher, and new short chimneys made them appear to be pitched even higher. By Grouping (1923), only six D4s had not been rebuilt. These were rebuilt as D3s by 1928, but by this time the LNER had rebuilt two D3s as D2s leaving a total of 49 D3s. Robinson superheaters were ordered for D3s in both 1919 and 1929, but on both occasions the orders were cancelled. Ramsbottom safety valves were originally fitted as standard, but many were replaced with Ross pop safety valves after 1926.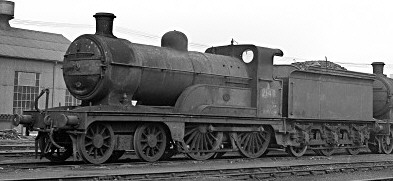 The D4s experienced a series of recurring bogie fractures , and strengthening measures were undertaken from 1909. Existing bogies were strengthened with extra plating. Between 1909 and 1921, replacement bogie frames were built with extra plates and were 2.5in deeper. From 1921, the frames were thickened and the extra plates dispensed with.
These locomotives were intended for secondary duties, and they spent much of their lives performing this kind of work. Around 1900, a lot of their work involved piloting Stirling single-wheelers with their heaviest trains. By 1912, they were allocated to Kings Cross (6), Peterborough (5), Grantham (4), Colwick (13), Retford (7), Lincoln (1), Doncaster (8), Leeds(3), and Bradford (4). By this time, their duties consisted of stopping passenger services and some light expresses.
During the 1920s, the D3s moved further afield and could be found operating many of the country services in Nottinghamshire and Lincolnshire. In about 1930, Darlington received six D3s for stopping trains to places like Saltburn, Barnard Castle, and Bishop Auckland.
When the first withdrawals start in 1935, the allocation was Hitchin (4), Peterborough (1), Grantham (1), Boston (8), Louth (4), Lincoln (3), Retford (2), Colwick (11), Copley Hill (1), Immingham (1), Botanic Gardens (5), York (2), Darlington (1), Barnard Castle (2), Middleton-in-Teesdale (1), Kirkby Stephen (1), and Penrith (1). Many D3s entered storage in 1936. With World War 2 looming, withdrawals ceased at the end of 1937, and with one exception did not restart until 1946. The last D3 (No. 62000) was withdrawn in October 1951, and this was also the last GNR 4-4-0 to be withdrawn.
Technical Details
| | | | |
| --- | --- | --- | --- |
| | | D3 | D4 |
| Cylinders: | (x2 inside) | 17.5x26in | 17.5x26in |
| Motion: | | Stephenson | Stephenson |
| Valves: | | slide | slide |
| Boiler: | Max. Diameter: | 4ft 8in | 4ft 5in |
| | Pressure: | 175psi | 175psi |
| | Diagram No.: | 8 | 11 |
| Heating Surface: | Total: | 1235 sq.ft. | 1119 sq.ft. |
| | Firebox: | 105 sq.ft. | 103 sq.ft. |
| | Tubes: | 1130 sq.ft. (238x 1.75in) | 1016 sq.ft. (213x 1.75in) |
| Grate Area: | | 16.25 sq.ft. | 16.25 sq.ft. |
| Wheels: | Leading: | 3ft 8in | 3ft 8in |
| | Coupled: | 6ft 8in | 6ft 8in |
| | Tender: | 4ft 2in | 4ft 2in |
| Tractive Effort: | (@ 85%) | 14,085lb | 14,085lb |
| Wheelbase: | Total: | 42ft 10in | 42ft 10in |
| | Engine: | 21ft 3in | 21ft 3in |
| | Tender: | 13ft 0in | 13ft 0in |
| Weight (full): | Total: | 84 tons 4cwt | 82 tons 17cwt |
| | Engine: | 45 tons 14cwt | 44 tons 7cwt |
| | Tender: | 38 tons 10cwt | 38 tons 10cwt |
| Max. Axle Load: | | 15 tons 14cwt | 14 tons 9cwt |
Preservation
All of the D4s were rebuilt as D3s by 1928. The last remaining D3 was withdrawn in 1951, and none survived into preservation.
Models
Alan Gibson produces a 4mm scale (OO gauge) kit of the D3.
London Road Models sell a 4mm scale kit oo the D4.
Acknowledgements
Thank you to the Mike Morant Collection for the photograph of D3 No. E2140 at Doncaster.