The Cowan D47 (GNSR Classes K & L) 4-4-0 Locomotives
The LNER used the D47 classification to cover two distinct Great North of Scotland Railway (GNSR) classes. Originally GNSR Class L was to become LNER Class D47. No provision had been made for the obsolete Class K, and three engines still survived at the end of 1924 when revised diagram books were issued. Hence Class K became LNER Class D47/2.
LNER Class D47/2 (GNSR Class K)

Cowan designed the six Class K to handle the extra traffic due to the opening of the Fraserburgh branch. They were eventually built in 1866 by Neilson & Co.
The Class K engines were all rebuilt between 1889 and 1891 by Manson. Slightly larger boilers were fitted, and some of the Cowan beading and decoration was removed. The dome was moved forward from the firebox to the boiler barrel, but continued to retain the decorative polished brass cover. Unusually for a Manson rebuild, the Salter spring-balance safety valves were retained on the dome.
Roscoe lubricators were fitted to the side of the smokebox. Later, the GNSR added additional lubricators in the form of Furness lubricators mounted on the running plate. Both types were still in use at Grouping (1923).
Three class K engines were withdrawn in 1921 and did not enter LNER ownership. The remaining three were withdrawn in 1925.
LNER Class D47/1 (GNSR Class L)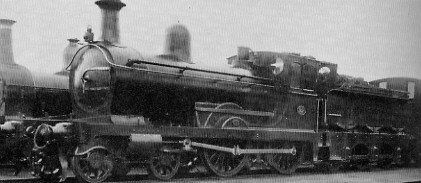 The building of the Class K engines was followed by a long period of strict economy on the GNSR, and no further locomotives were ordered until October 1873. Delivery was delayed, in-part due to confusion over the number of locomotives authorised and ordered. Eventually six new Class L locomotives were built by Neilson & Co in 1876. These engines had slightly larger boilers and cylinders compared to their Class K predecessors.
Pickersgill rebuilt all six Class L engines between 1897 and 1901, using boilers of similar proportions as the originals. In contrast to the Class K engines, the rebuilds replaced the dome-mounted Salter spring-balance safety valves with Ramsbottom safety valves with seat and column casings fitted to the firebox. Generally speaking, the Class L engines kept less of their original Cowan decoration and beading than the Class K engines.
The Class L engines had a mixture of Roscoe and Furness lubricators fitted before the rebuilds. The rebuilds standardised on just the Furness lubricators. By Grouping (1923), these had often been replaced by sight feed lubricators.
All six Class L engines survived into LNER ownership, although four were already marked for imminent withdrawal. Five were withdrawn in 1924, and the sixth engine (No. 52A) was withdrawn in 1926.
Allocation and Work
Both the Class K and Class L locomotives performed similar work and duties. In common with most of the GNSR 4-4-0s, they were regarded as mixed traffic locomotives and they were used on both main line and the larger branch line services. They were often seen on the Buchan section, the Deeside line, the Speyside line, the Lossiemouth branch, and at Old Meldrum.
By Grouping (1923), the D47s had been displaced from these duties, and they were mainly allocated to Kittybrewster for light duties. By this point they were hauling very few passenger services. No. 48A was noted hauling ballast trains. No. 45A was repainted in GNSR green and took part in the Stockton & Darlington Centenary celebrations. It was withdrawn on 31st July 1925 shortly after its return. There was some talk of preservation, and it was temporarily employed as a shunter at the Inverurie Works. However, this was not to be, and No. 45A was scrapped soon afterwards.
Technical Details
| | | | |
| --- | --- | --- | --- |
| | | D47/1 | D47/2 |
| Cylinders (x2): | (outside) | 17x24in. | 16x24in. |
| Motion: | | Stephenson | Stephenson |
| Valves: | | slide | slide |
| Boiler: | Max. Diameter: | 4ft 6in | 4ft 4in |
| Boiler: | Pressure: | 150psi | 140psi |
| Heating Surface: | Total: | 1118.5 sq.ft. | 1046 sq.ft. |
| | Firebox: | 100 sq.ft. | 82.5 sq.ft. |
| | Tubes: | 1018.5 sq.ft. (215x 1.75in) | 963.5 sq.ft. (194x 1.75in) |
| Grate Area: | | 15.64 sq.ft. | 14.07 sq.ft. |
| Wheels: | Leading: | 3ft | 3ft 9.5in |
| | Coupled: | 5ft 6.5in | 5ft 6.5in |
| | Tender: | 3ft 7.5in | 3ft 7.51in |
| Tractive Effort: | (@ 85% boiler pressure) | 13,298 lb | 10,994 lb |
| Wheelbase: | Total: | 39ft 0.5in | 38ft 11.5in |
| | Engine: | 20ft 6in | 20ft 6in |
| | Tender: | 11ft 0in | 11ft 0in |
| Weight (full): | Total: | 69 tons 3cwt | 64 tons 5cwt |
| | Engine: | 41 tons 3cwt | 37 tons 5cwt |
| | Tender: | 28 tons 0cwt | 27 tons 0cwt |
| Adhesive Weight: | | 27 tons 7cwt | 24 tons 8cwt |
| Max. Axle Load: | | 14 tons 7cwt | 12 tons 5cwt |
Preservation
The last D47 was withdrawn in 1926, and none have survived into preservation.
Models
I am not aware of any models of the D47 in any scale.