The Parker Class D7 (GCR Classes 2 & 2A) 4-4-0 Locomotives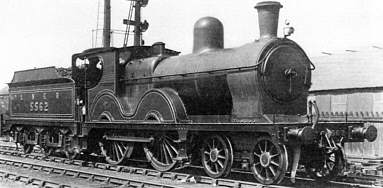 The origins of this class of locomotive are a little unclear, but the class appears to date back to an exhibition in Manchester in 1887. The Manchester Sheffield & Lincolnshire Railway (MS&LR, later GCR) had prepared E2 No. 79 for the exhibition. Kitson & Co. were also keen to exhibit, but there was a lack of space for both companies. This was solved with an agreement that Kitsons would build a 4-4-0 locomotive for the exhibition, and that this would be used by the MS&LR. The new locomotive was numbered 561, and entered service in 1887. The locomotive's designer is unclear, although it is partially credited to Parker. Unlike existing Gorton designs which still had double frames, No. 561 had single frames. The MS&LR's new Locomotive Superintendent, Parker, had already expressed his belief in the superiority of the single framed locomotives. However, Stephenson valve gear was used, and Parker is known to have preferred Joy valve gear.
After No. 561 there was a delay building further locomotives, whilst three Class 6DB (LNER D8) locomotives were built. Further D7s were built between 1890 and 1894 in four batches. All were built by Gorton, with the exception of a batch of twelve D7s which were built by Kitson & Co in 1892. These later engines were built with slightly deeper frames. The last (1894) batch had coil springs instead of leaf springs. The MS&LR classified the leaf spring locomotives as Class 2, and the coil spring locomotives as 2A. The LNER classified them all as D7.
Parker re-used the same boiler design on a number of his later locomotive classes, including the F1 2-4-2Ts, F9 2-4-2Ts, J10 0-6-0s, J13 0-6-0s, and N4 0-6-2Ts.
The only significant modification concerned the firebox design. The original fireboxes were round-topped. After 1909, the boilers were replaced with new Belpaire firebox boilers. All of the D7s were converted before Grouping (1923).
No. 561 was fitted with a stovepipe chimney with elaborate beading. This was adopted for use on the other D7s, and was also used on all future locomotives by both Parker and Pollitt. Robinson fitted his own chimney design to many of the D7s, and extended the smokeboxes at the same time. The remaining stovepipe chimneys were replaced when the Belpaire fireboxes were fitted. After Grouping (1923), the Robinson chimneys were quickly replaced by LNER flowerpot chimneys.
When initially built, the D7s were on the MS&LR's main express trains. They regularly hauled the Manchester to King's Cross expresses to and from Grantham. Early records suggest that they were very economical locomotives during this period.
The introduction of the Pollitt D6 and Robinson D9 locomotives in 1895 and 1901 respectively, displaced the D7s to stopping and secondary services. During this initial period of secondary work, allocations included Sheffield, Lincoln, and Mexborough. It should be noted that there are no records of D7s ever being stationed at any of the London Extension sheds.
By 1921, they were allocated to Lincoln (10), Immingham (10), Retford (4), Mexborough (3), and Northwich (4). During the early years of the LNER (before 1928), the D7s qualified for the LNER's green passenger locomotive. This led to the Immingham D7s acquired the nickname of 'Green Bogies'.
Withdrawals started in 1926 and progressed slowly. By 1933, only three D7s were allocated to Mexborough. The rest were distributed amongst various Lincolnshire sheds. The last D7 was withdrawn in 1939.
Technical Details
| | | |
| --- | --- | --- |
| Cylinders (x2): | (inside) | 18x26in. |
| Motion: | Stephenson | slide-valves |
| Boiler: | Max. Diameter: | 4ft 4in |
| | Pressure: | 160psi |
| | Diagram No.: | 21 |
| Heating Surface: | Total: | 1063 sq.ft. |
| | Firebox: | 99 sq.ft. |
| | Tubes: | 964 sq.ft. (190x 1.75in) |
| Grate Area: | | 18.3 sq.ft. |
| Wheels: | Leading: | 3ft 6in |
| | Coupled: | 6ft 9in |
| | Tender: | 3ft 9in |
| Tractive Effort: | 14,144lb | (@ 85% boiler pressure) |
| Wheelbase: | Total: | 44ft 3in |
| | Engine: | 21ft 9in |
| | Tender: | 13ft 0in |
| Weight (full): | Total: | 83 tons 6cwt |
| | Engine: | 46 tons 0cwt |
| | Tender: | 37 tons 6cwt |
| Max. Axle Load: | | 16 tons |
Preservation
The last D7 was withdrawn in 1939, and none have survived into preservation. However, the Great Central Railway Rolling Stock Trust have a D7 New Build Project. This is projected to take about ten years, although they have already sourced a number of major components.
Models
Garth Patrick of GP Models produces an O gauge (7mm scale) kit of the D7.