The Stirling & Ivatt Class E1 2-4-0 Locomotives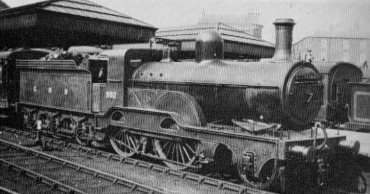 The Great Northern Railway's (GNR) Class E1 2-4-0s were the final version of a design created by Patrick Stirling in 1867. Amongst the first locomotives Stirling designed for the GNR, the GNR Class E3 2-4-0s were designed to haul slow passenger, fast parcel, and special goods traffic. With the GNR facing steadily increasing traffic, these new engines boasted 17in x 24in cylinders - a significant improvement over existing GNR types. Another departure was the use of double frames. The inside frames carried the coupled wheels, and the outside frames carried the leading wheels. Twenty two E3s were built between 1867-71, and the last was withdrawn in 1912.
The E3 design was modified in 1874 to incorporate larger 17.5in x 26 in cylinders. These larger cylinders required longer frames, and the smokebox was also extended to match. In 1880, the boiler diameter was also increased by 2in to 4ft 2.5in. These new locomotives were given the classification of E2, and a total of 117 were built between 1874 and 1895 in 19 batches of varying sizes. Most were built at Doncaster, but two batches (total: 15 engines) were built by Kitson & Co. in 1883-4.
With construction of the E2s spanning two decades, the design was modified over time. As well as the use of slightly larger boilers, the inside frames were strengthened. From 1882, the valve spindles were supported by guides instead of links. None of the E2s that used links were modified. From 1884, the quoted coupled wheel diameter increased from 6ft 7in to 6ft 7.5in due to the introduction of new steel tyres. The leading wheel diameter also increased to 4ft 1.5in. From 1884, the driving axle boxes had their laminated springs replaced with Timmis helical springs.
Stirling died in 1895, and was succeeded by H.A. Ivatt. Ivatt modified the E2 design to produce his GNR Class E1. Ten E1s were built in 1897. There were a number of detail differences between the E1s and E2s, but the most significant difference was the use of an Ivatt standard domed boiler. The new boilers were 4ft 5in in diameter, and represented an increase in boiler pressure from 160psi to 170psi. From 1898, a total of 73 E2s were re-boilered as E1s. Twenty six of these rebuilds, and eight of the new build E1s survived into LNER ownership to become LNER Class E1.
The E1 engines were also fitted with continuous splashers, unlike the individual splashers used on the E2s and E3s. The E1s also had Ivatt-style cabs, although many of the rebuilt E2s kept their Stirling-style cabs.
Another curious combination was the continued use of Stirling-pattern brass trumpet cases for the Ramsbottom safety valves. Combined with the domed boiler, this was an unusual feature of the E1s.
The GNR 2-4-0s were used throughout the GNR network for most of their lives, and typically hauled slow and branch passenger traffic, parcels, and fast goods. In their early days they would sometimes haul light expresses if a Stirling Single was not available. By 1900, the E1s and E2s were increasingly being used for pilot work. With a system-wide shortage of goods engines, they were also being used for goods work.
In 1913, the South Eastern & Chatham Railway (SE&CR) was experiencing an extreme shortage of locomotives and borrowed fifteen E1s from the GNR. All fifteen returned in 1915 when the SE&CR introduced its new Class L 4-4-0 locomotives.
By 1918, withdrawals were beginning to take their toll. By this time E1s were usually only found working country branch services.
Only 34 E1s survived into Grouping (1923). These were allocated to Lincoln (9), Boston (7), Grantham (7), Colwick (5), Copley Hill (2), Retford (2), Hitchin (1), and New England (1). All were working local passenger services. The LNER was quick to withdraw most of these survivors, and only seven survived to see 1925. Five of these were withdrawn in 1925, leaving the last two to be withdrawn in 1927. The last, No. 3814, was withdrawn from Boston where it had spent its last few years working the quiet Lincolnshire branch lines.
Technical Details
| | | |
| --- | --- | --- |
| Cylinders (x2): | (inside) | 17.5x26in. |
| Motion: | | Stephenson |
| Valves: | | slide |
| Boiler: | Max. Diameter: | 4ft 5in |
| | Pressure: | 170psi |
| | Diagram No.: | 11 |
| Heating Surface: | Total: | 1119 sq.ft. |
| | Firebox: | 103 sq.ft. |
| | Tubes: | 1016 sq.ft. (213x 1.75in) |
| Grate Area: | | 16.25 sq.ft. |
| Wheels: | Leading: | 4ft 2in |
| | Coupled: | 6ft 8in |
| | Tender: | 4ft 2in |
| Tractive Effort: | (@ 85% boiler pressure) | 14,382lb |
| Wheelbase: | Total: | 39ft 6in |
| | Engine: | 17ft 11in |
| | Tender: | 13ft 0in |
| Weight (full): | Total: | 80 tons 0cwt |
| | Engine: | 41 tons 10cwt |
| | Tender: | 38 tons 10cwt |
| Max. Axle Load: | | 15 tons |
Preservation
None of the E1s survived into preservation.
Models
I am not aware of any models of the E1 locomotives.