The Wheatley E7 (NBR Class P) 2-4-0 Locomotives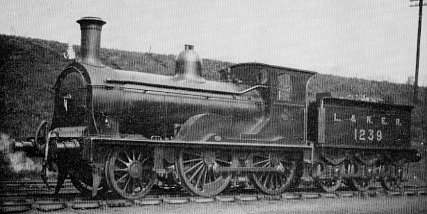 Although Wheatley pioneered the use of inside cylinder 4-4-0 locomotives for express passenger work in the British Isles, all of these locomotives were withdrawn before Grouping (1923). In fact, the six Class E7 2-4-0s were his only North British Railway (NBR) express designs to survive into LNER ownership. This was probably due to them being rebuilt twice during their lives.
A total of eight of Wheatley's Class P 2-4-0s were built in 1873 at Cowlairs. These engines were originally built with 16in x 22in cylinders. During Drummond's tenure, the Class Ps received a number of detail modifications and variations, including the addition of smokebox wingplates. At least one (No. 428) received a round cab, and five received names (see below).
The first rebuilds occurred during 1890-1, when all eight Class P locomotives received standard Holmes boilers and cabs. These new boilers had a working pressure of 140psi and a total heating surface of 1039.9 sq.ft. Other details were also brought into line with current NBR practice. The cylinders were increased in size to 17in x 24in.
Six of the Class Ps were rebuilt a second time in 1915. Standard Reid boilers were fitted with a working pressure of 150psi and a total heating surface of 1016 sq.ft. These were the last NBR boilers to be built with safety valves fitted to the dome. Side window cabs, and dual (Westinghouse and air) brakes were also fitted. These rebuilt engines also received steam heaters during Reid's tenure. Nos. 419 and 427 (later Nos. 1240 and 1248) were not rebuilt, and they were withdrawn in 1914 and 1918 respectively.
The Class P engines were initially used on main line passenger duties. Even though there were only eight Class Ps and they were typically hauling stopping services, they could be seen on all of the NBR's major trunk routes. A twelve hour work day was being worked at the time. This combined with a wide distribution, led to some long daily rosters. A typical example would be from Galashiels to Edinburgh, Edinburgh to Dundee, and then returning by the same route.
From about 1914, the Class Ps were moved to local passenger services and pilot work. At Grouping (1923), three were allocated to the Berwickshire branch (to St. Boswells), and the other three hauled local passenger services in Fife. Withdrawals started in 1925, and No. 10247 (NBR No. 426, later No. 1247) was the last to be withdrawn in 1927. No. 10247 spent the last year or so of its life working on the Morningside branch from Bathgate.
Technical Details
| | | |
| --- | --- | --- |
| Cylinders (x2): | (inside) | 17x24in. |
| Motion: | | Stephenson |
| Valves: | | slide |
| Boiler: | Max. Diameter: | 4ft 5in |
| | Pressure: | 150psi |
| Heating Surface: | Total: | 1061 sq.ft. |
| | Firebox: | 102 sq.ft. |
| | Tubes: | 959 sq.ft. (202x 1.75in) |
| Grate Area: | | 16.5 sq.ft. |
| Wheels: | Leading: | 4ft 2.5in |
| | Coupled: | 6ft 1in |
| | Tender: | 3ft 6in |
| Tractive Effort: | (@ 85% boiler pressure) | 12,114lb |
| Wheelbase: | Total: | 32ft 4.5in |
| | Engine: | 15ft 0in |
| | Tender: | 9ft 4in |
| Weight (full): | Total: | 63 tons 4cwt |
| | Engine: | 37 tons 2cwt |
| | Tender: | 26 tons 2cwt |
| Max. Axle Load: | | 14 tons 15cwt |
Preservation
None of the E7s survived into preservation.
Models
I am not aware of any models of the E7 locomotives.
Locomotives
Five of the Class Ps received names during Drummond's tenure.
| | |
| --- | --- |
| NBR No. | Name |
| 418 | Bonnybridge |
| 419 | Gogar |
| 424 | Dunfermline |
| 427 | Linlithgow |
| 428 | Ratho |