The Fletcher NER '901' 2-4-0 Locomotives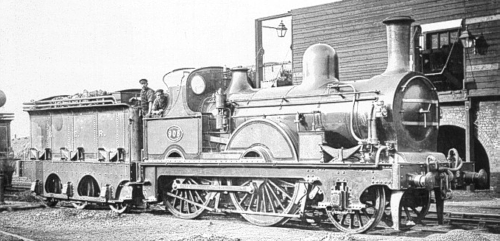 Fletcher's '901' class was his final express passenger design for the North Eastern Railway (NER). The '901' Class was created in 1872 to provide new more powerful express locomotives to replace the 16in cylinder locomotives still being used by the NER for express work. The first two locomotives, Nos. 901/2, were built at Gateshead in 1872. Whilst these were being built, two batches of ten each were ordered from Beyer, Peacock & Co and Neilson & Co. These twenty engines were built and delivered in 1873. A further 33 were built at Gateshead between 1873 and 1882 in four batches. All of these engines were built to the same overall specification, but the contractors were allowed a lot of latitude in the choice and design of the detail fittings. The most distinctive were probably the Beyer Peacock locomotives with their distinctive angular cab designs with flat side sheets and a relatively flat roof.
The first 39 engines were built with 17in cylinders, but the last three batches from Gateshead (built 1880-2) were built with 17.5in cylinders and larger tenders. Although the first engines had lap-jointed boilers, butt-jointed boilers had become standard on the NER by the time these last sixteen locomotives were built. The change was prompted by a series of lap-jointed boiler explosions on the NER, but the exact date of change-over for the '901' class is unknown.
Despite the wide variety of different fittings, all of the '901's were built with Salter spring valves on the dome, and the Fletcher's later plain chimney design. Naylor safety valves were also fitted on all of the Beyer Peacock and some of the Neilson locomotives. McDonnell introduced Ramsbottom safety valves to the class, although full standardisation did not occur until boiler replacements started after his departure.
The first rebuilds started in 1884, when ten of the earlier locomotives were rebuilt with 17.5in cylinders. New boilers started to be fitted from 1885. These boilers had slightly larger fireboxes, but they were also slightly smaller and had less tubes.
From 1885, rebuilds also included 18in cylinders. Eventually all but two of the '901's would receive these larger cylinders. During the 1890s, W.Worsdell fitted a new steel boiler design. In the interests of standardisation, Worsdell used the same boiler design on a number of NER classes. The Worsdell boiler design initially had 206 tubes, but this was later reduced to 205 tubes. All of the '901's that survived into LNER ownership had 18in cylinders and 205 tube Worsdell boilers.
The '901' class were initially allocated to the East Coast main line to haul the express trains for which they were designed. Initial allocations were to Gateshead and York, although there were later allocations to Leeds. Express passenger trains continued to grow in weight, and after 1885 they were often working in pairs or double-headed with an E5 'Tennant'. By 1887, they started to be displaced to secondary lines and lesser main line services. These duties included Saltburn to Tebay; the Leeds Northern line between West Hartlepool and Leeds; and station pilot at York, Darlington, and Newcastle.
Withdrawals started in about 1912, and 26 had been withdrawn before World War 1. The war slowed withdrawals, but a further 19 were withdrawn before Grouping (1923). This left ten to survive into LNER ownership, and they were allocated to Darlington (4), Barnard Castle (3), Kirkby Stephen (2), and York (1). Most of these spent their final years working on the easier services over Stainmore summit. The York locomotive (No. 910) was used on slow trains to Darlington and Scarborough. The LNER continued the withdrawal process, and withdrew the last '901' class, No. 367 in July 1925. No. 910 was exhibited in the Stockton & Darlington Centenary Procession in 1925, and then preserved by the LNER.
Technical Details
| | | |
| --- | --- | --- |
| Cylinders (x2): | (inside) | 18x24in. |
| Motion: | | Stephenson |
| Valves: | | slide |
| Boiler: | Max. Diameter: | 4ft 3in |
| | Pressure: | 160psi |
| Heating Surface: | Total: | 1093 sq.ft. |
| | Firebox: | 98 sq.ft. |
| | Tubes: | 995 sq.ft. (205x 1.75in) |
| Grate Area: | | 15.6 sq.ft. |
| Wheels: | Leading: | 4ft 6in |
| | Coupled: | 7ft |
| | Tender: | 3ft 8in |
| Tractive Effort: | (@ 85% boiler pressure) | 12,590lb |
| Wheelbase: | Total: | 37ft 1in |
| | Engine: | 16ft 1in |
| | Tender: | 12ft 3in |
| Weight (full): | Total: | 69 tons 12cwt |
| | Engine: | 39 tons 14cwt |
| | Tender: | 29 tons 8cwt |
| Max. Axle Load: | | 14 tons |
Preservation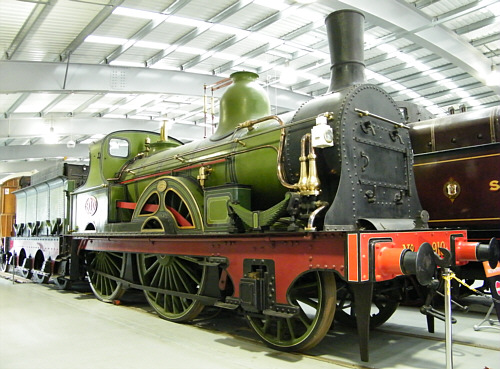 One of the '901' locomotives has survived into preservation. Preserved by the LNER after the Stockton & Darlington celebrations, No. 910 is now a part of the National Collection and is currently located at the Shildon Locomotion.
Models
I am not aware of any models of the NER '901' locomotives.
Acknowledgements
Thank you to Malcolm Peirson for the photograph of No. 908 in original condition.
Thank you to Robert Langham for the photograph of the preserved No. 910 at Shildon 'Locomotion'.