The NER Electric Bo-Bo Class EF1 & EB1 Locomotives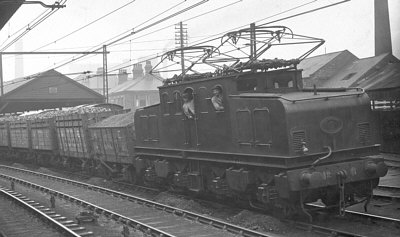 Sir Vincent Raven was convinced of the advantages of the main line electrification, and in 1913 the North Eastern Railway (NER) Board gave him permission to demonstrate his ideas on a relatively self-contained route. The 18 mile route from Shildon Yard to Newport Yard was chosen because it carried a large quantity of mineral traffic. The Shildon Yard was a collecting point for coal from the surrounding coal fields, and Newport was a distribution point for coal to docks, blast furnaces, and iron works in the Stockton-Newport area. This traffic was very old, and was the principal reason for building the original Stockton & Darlington Railway. It had also been very profitable for both the S&D and later NER - by the early 20th century, stretches of the mineral line had already been expanded to four tracks.
Electrification using the new 1500V DC overhead system began in 1914. The first stage opened on 1st July 1915, and the entire line was operational by 10th January 1916. Instead of being particularly innovative, the infrastructure was designed with simplicity and economy in mind. Luckily the public power system was sufficiently developed that it could supply the power. In fact, the power company contracted to supply the sub-stations as well as the actual traction current.
Ten freight 0-4+4-0 (Bo-Bo) locomotives (Nos. 3-12) were built between 1914 and 1919. Nine were actually completed by December 1914, but the tenth (No. 12) stood on a siding lacking both motors and pantographs until December 1919.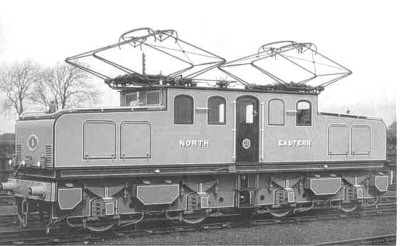 The locomotives were designed by Raven and built by Darlington Works. Electrical equipment was supplied by Siemens Bros. With four 275hp motors, the new locomotives were considerably more powerful than the existing Nos. 1&2 (LNER Class ES1). The new locomotives were designed to start a 1,400 ton train and haul it on the level at a minimum speed of 25mph.
Twin pantographs were fitted to the top of the central cab roof. The pantographs were raised with compressed air. A hand-pump was provided as a back-up - eg. if there was insufficient air when starting. High-tension electrical equipment was housed in the end compartments. The comparments could only be opened using a special key which also controlled the air supply to the pantographs. When opening the compartments, the air supply was exhausted and the pantographs dropped. The motors were permanently connected in series, and connected to the axles with 4.1:1 gearing. Bufferbeams and drawgear were both mounted directly on the bogies.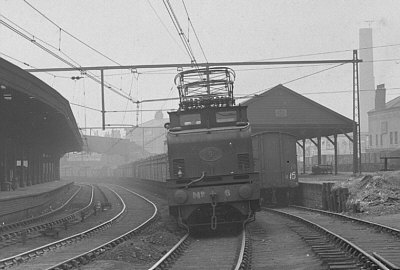 No. 3 roundhouse at Shildon was converted to house all ten locomotives. Initially, loads were limited to 1000 tons, but this was increased to 1400 tons or 70 wagons in November 1922. One month later, No. 6 was involved in a collision with J26 0-6-0 No. 1208 after it was unable to stop at a signal at Carlton. This was on a 4.5 mile down gradient at 1:230. Fortunately No. 6 had managed to slow to 3mph when the collision occurred, and severe damage was avoided. The accident was considered exceptional because the electric locomotives had already proved that they were capable of stopping heavier trains. The driver had been mis-informed as to his train length, resulting in a significant under-estimate of its weight.
The Shildon electric locomotives generally performed well, and were considered to have a slight advantage over the Q6 0-8-0 mineral engines.
Even in the opening years, there was insufficient traffic for all ten locomotives. Initially this was due to restrictions on coal shipments in World War 1, but continued in the 1920s when the coal trade continued to be depressed.
By July 1928, it was clear that there would never be sufficient traffic for all ten locomotives, and Gresley proposed that one locomotive should be rebuilt as a diesel-electric for the Peterborough to London coal traffic. The proposal kept the original bogies and motors, but included a new superstructure with end cabs. This would have housed a Beardmore 1000hp diesel engine running at 900rpm, and an English Electric generator with a 1500V output. An order was placed with English Electric Co., but the project was cancelled when Beardmore expressed doubts as to whether their engine would have been suitable.
The Depression of the 1930s hit hard, and traffic continued to drop. By the mid-1930s, it was necessary to replace much of the overhead equipment. Unfortunately the much reduced traffic levels could not warrant the expenditure, and it was decided to dismantle the overhead lines and revert to steam haulage. The Shildon yards closed on 7th January 1935, and all ten locomotives entered storage at Darlington.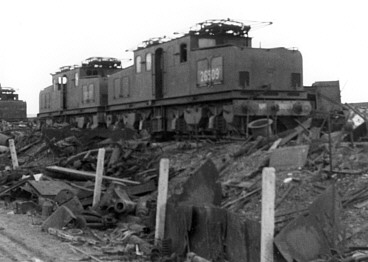 As a part of the Manchester-Sheffield-Wath electrification (see Class EM1), it was proposed to convert the Shildon locomotives into banking engines. English Electric Co. visited Darlington in September 1936 in order to assess their suitability. In 1941, No. 11 was moved to Doncaster Works for modification as a banking locomotive. Alterations included a more powerful set of motors giving a one hour rating of 1,256hp and a total tractive effort of 37,600lb. Additional sandboxes and electric lights were fitted, and one central pantograph replaced the previous two. In October 1945, all ten locomotives were classified as Class EB1 ("Electric Banking 1"), although only one was in fact a banking engine at this point. Before road testing could be started, No. 11 was re-united with the nine un-modified locomotives in 1947 when they were all moved to South Gosforth car sheds and stored alongside Class EE1 No. 13.
Nos. 3-12 were renumbered as Nos. 6490-9 in the LNER's 1946 renumbering scheme. After Nationalisation (1948), they were renumbered as 26502-11. A year later in 1949, it was decided not to convert the remaining nine locomotives as banking engines, and these were reclassified as Class EF1 ("Electric Freight 1"). In 1949, EB1 No. 26510 was transferred to Ilford to perform shunting duties at the new electric carriage sheds built for the Liverpool Street to Shenfield electrification.
In 1950, one of the EF1 locomotives was tested on the Quayside branch as a possible replacement for the ES1 locomotives. This was not to be, and all nine EF1s were officially withdrawn in August 1950. No. 26504 survived slightly longer to 1951 when it was broken up to provide spare bogies for EB1 No. 26510.
In January 1959, No. 26510 was renumbered as Departmental No. 100. By this point it had already acquired the nickname of "Denis" after Denis Dodridge, Technical Assistant at Ilford, who also looked after it. No. 100 (ex-26510) last ran on 4th November 1960 when the Shenfield line was converted to modern AC operation. It was decided not to convert No. 100 to AC operation, and it was finally withdrawn in April 1964.
Technical Details
| | |
| --- | --- |
| Type: | 0-4+4-0 (Bo-Bo) Freight |
| Voltage: | 1500V DC |
| System: | Overhead |
| Motors: | 4x 275 hp |
| Power (1hr rating): | 1,100 hp |
| Power (continuous): | 635 hp |
| Drive: | Straight; Twin gear |
| Gear Ratio: | 4.5:1 |
| Wheel diameter: | 4ft 0in |
| Wheelbase: | 27ft 0in |
| Length over buffers: | 39ft 4in |
| Weight: | 74 tons 8cwt |
| Max. Axle Load: | 18 tons 12cwt |
Preservation
The last EB1 was condemned in April 1964, and none have survived into preservation.
Models
Judith Edge Kits sell etched brass kits of both the EF1 and EB1 for OO gauge, and etched body kits for 2mm scale. Bill Bedford also sells a kit for the EF1 in 4mm scale.
Acknowledgements
Thanks to Kyle Nicholas and Bill Donald for the above information.
Thanks also to Bill Donald for supplying the above black & white photographs of the EF1 / EB1 locomotives at work, from the Bill Donald Collection.
Thank you Malcolm Peirson for the works photograph of No. 3 in NER livery.