The T.W.Worsdell F8 (NER Class A) 2-4-2T Locomotives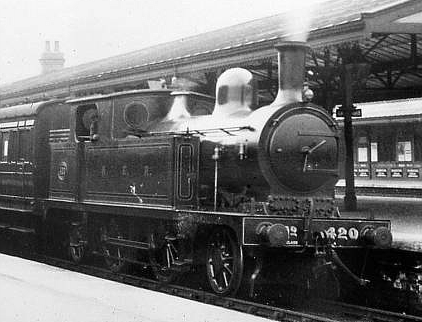 T.W.Worsdell quickly produced five new designs after being appointed the Locomotive Superintendent of the North Eastern Railway (NER) in 1885. These designs incorporated a number of new features which gave NER locomotives their characteristic look, and would continue to be used in NER designs all the way to Grouping in 1923. These features included a tapered chimney, brass covers for the safety valves, and a large protective cab. One of these designs was for the 2-4-2T Class A (LNER F8) which was intended to replace the "Bogie Tank Passenger" G6 0-4-4T as the current NER passenger tank locomotive. The F8 had radial tanks, and was really a slightly larger version of the F4s which he had previously designed for the Great Eastern Railway (GER).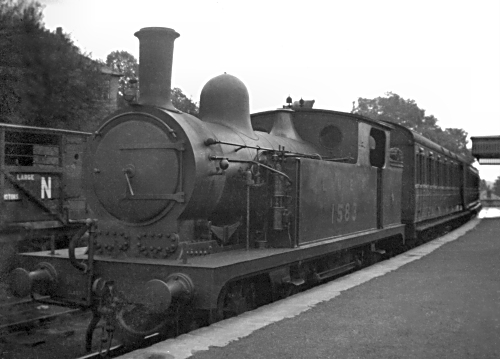 A total of sixty F8s were built between 1886 and 1892, in a total of six batches. The last of these two batches were built under Wilson Worsdell's tenure before he reverted back to the 0-4-4T arrangement with his G5 class. The first twenty were built with 17in diameter cylinders, whilst the remaining forty were built with 18in diameter cylinders. The first twenty were brought into line with these, between 1900 and 1920.
As they were designed for the same kind of work, the F8s usually worked alongside the G5s and G6s on branch line work and heavier suburban work. After Grouping in 1923, they were mainly used on the lighter suburban services as well as branch lines around Whitby, Northallerton, and Hawes.
With the introduction of railcars, withdrawals of the F8s started in 1928 and finished in 1938. Both the younger G5s and the older G6s had longer working lives than the F8.
Technical Details
| | | |
| --- | --- | --- |
| Cylinders (x2): | | 18x24in. |
| Motion: | Joy | slide valves |
| Boiler: | Max. Diameter: | 4ft 3in |
| | Pressure: | 160psi |
| | Diagram No.: | 69 |
| Heating Surface: | Total: | 1093 sq.ft. |
| | Firebox: | 98 sq.ft. |
| | Tubes: | 995 sq.ft. (205x 1.75in) |
| Grate Area: | | 15.6 sq.ft. |
| Wheels: | Leading: | 3ft 9.25in |
| | Coupled: | 5ft 7.25in |
| | Trailing: | 3ft 9.25in |
| Tractive Effort: | 15,725lb | (@ 85% boiler pressure) |
| Total Wheelbase: | | 23ft 1.5in |
| Engine Weight: | 53 tons 16cwt | (full) |
| Max. Axle Load: | | 16 tons 6cwt |
| Coal Capacity: | | 2 tons 0cwt |
| Water Capacity: | | 1241 gallons |
Preservation
The last F8s were withdrawn in 1937, and none survived into preservation.
Models
Falcon Brassworks sell a 4mm kit of the F8.
Slaters also have a brass kit of the F8 for 7mm scale (O gauge), made by Rising Star Models. Furness Railway Wagon Co have a 7mm (O gauge) model of the J24 in development.
Acknowledgements
Thank you to the Mike Morant Collection for the photograph of F8 No. 1583 at Rothbury.
Thank you to Malcolm Peirson for the photograph of NER No. 420 at Church Fenton.