The Armstrong-Whitworth Diesel-Electric 0-6-0 Shunting Locomotive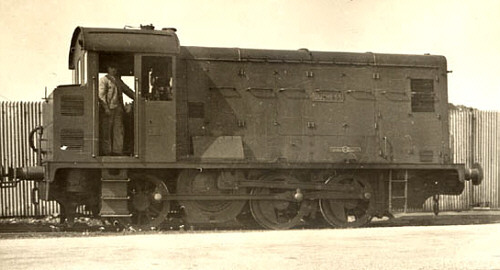 During 1932 Armstrong Whitworth Co. of Newcastle upon Tyne constructed what could be considered the joint precursor (with English Electric demonstrator 7079 of 1936) of a vast fleet of 0-6-0 diesel electric shunters for British Rail. This locomotive entered service during July 1932 and was fitted with the same equipment that went into the Armstrong Whitworth railcars. The loco did not have an immediate buyer and spent much of 1932-1933 working several LNER goods yards in the Newcastle area. Initially it was based at Forth goods yard, spending most of its time there apart from a short stint at Blaydon. Loads at the Forth yard were up to forty wagons totaling 600 tons, whilst the gradients at Blaydon permitted a maximum load of 750 tons. After one month at Blaydon it moved to Heaton yard where it was challenged by taking 800 ton loads up the 1 in 150 Benton Bank. Fuel consumption with this type of working was about 2.5 gallons per hour.
The LNER again showed no interest at this point in time, and after a brief period under trial on the Southern Region it was bought by the Preston Corporation for use at the Ribble Docks. Its works number was D8 and it later gained the name 'Duchess'. This loco was still working during the 1960s and was finally withdrawn in the winter of 1968.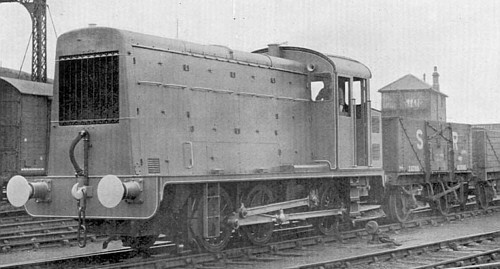 It should be noted, however, that the LMS considered it a success and purchased ten similar locomotives from Armstrong Whitworth that were delivered during 1935-1936.
Technical Details
| | | |
| --- | --- | --- |
| Engine: | Type: | Armstrong Sulzer 6LV22 |
| | Cylinders: | 6 (220x280mm) |
| | Horsepower: | 250 hp at 775rpm |
| Traction Motors: | | GEC |
| Tractive Effort: | | 24,000lb |
| Weight: | | 40 tons 10cwt |
| Max. Speed: | | 30 mph |
| Wheel Diameter: | | 3ft 6in |
| Wheelbase: | | 13ft 0in |
| Length: | | 28ft 10in |
| Fuel Capacity: | | 570 gallons |
Preservation
The Armstrong Whitworth shunter was finally withdrawn by Preston Corporation in the winter of 1968, and was not preserved.
Models
I am not aware of any models of the Armstrong-Whitworth 0-6-0 diesel-electric shunter in any scale.
Acknowledgments
Thank you to Malcolm Peirson for the above information
Photographs and technical specifications, courtesy of Armstrong Whitworth / Diesel Railway Traction / IAL.