The J45 / DES1 Diesel Shunting Engines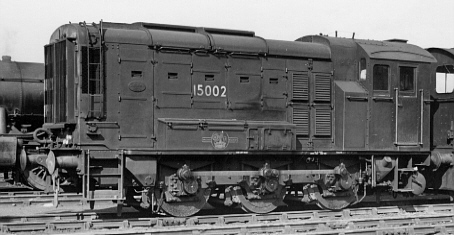 These were ordered at an Emergency Board Meeting on 19th February 1941, shortly before Gresley's death. These were built at the LNER's Doncaster works, with the diesel-electric system supplied by English Electric. The resulting engines were virtually identical to similar LMS engines, although some parts were substituted for LNER standard parts. In particular, they could act as mobile generators during power failures (eg. due to bombing).
Four locomotives (Nos. 8000-3) were built in 1944 and 1945, and were originally classified as J45. They were then reclassified as DES1 (Diesel Electric Shunting 1) in September 1945. A fifth engine was ordered in 1945 with Brush constructing the diesel-electric parts. This was classified as DES2. Further orders were placed after Nationalisation in 1948. The four DES1 were renumbered as Nos. 15000/3 between 1950 and 1952.
The four LNER DES1 engines spent most of their lives in Whitemoor Yard near March (Cambridgeshire), and all four were withdrawn by 1967.
The LNER engines had a 3in longer wheelbase than the LMS examples. They were equipped with two electric motors, each driving a single axle via gearing of ratio 27:7:1. They were particularly suited to hump shunting, due to their smooth running at speeds as low as 0.5mph. Their motors could also be disconnected for towing at speeds above their nominal maximum of 20mph. In later years, all four were fitted with radio equipment for shunting operations at Whitemoor.
Locomotive braking was from Westinghouse direct-acting brakes, whilst vacuum braking was available for train braking.
Technical Details
| | |
| --- | --- |
| Engine: | English Electric 6KT |
| Cylinders (x6): | 10in x 12in |
| Horse power: | 350hp at 680rpm |
| Generator: | English Electric 200kW Type 809 |
| Traction (x2): | English Electric Type 506 |
| Tractive Effort: | 32,000lb |
| Length: | 29ft 1in |
| Weight: | 51 tons |
| Wheels: | 4ft |
| Wheelbase: | 11ft 9in |
| Fuel Capacity: | 580 gallons |
Preservation
None of the DES1 diesel shunters survived into preservation, although a number of BR 0-6-0 diesel shunters with similar bodies and designs do survive.
Models
I am not aware of any specific ready to run models or kits available for the DES1, but it should be relatively easy to modify a Class 08 or similar shunter from a manufacturer such as Hornby or Graham Farish. Bedfordshire Model Engineering Scociety regularly operate a 7.25in gauge DES1 based on the Compass House 08.
Acknowledgements
Thank you to the P.H. Groom collection for permission to use the above photograph of BR No. 15002.