The NER Petrol Inspection Cars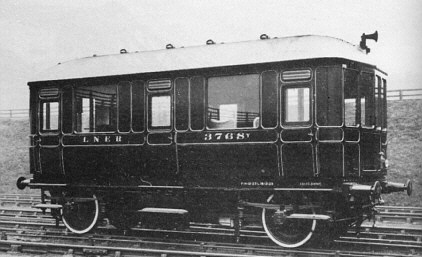 The first of these inspection cars was built by the York Carriage Shops in March 1908. It was intended for use by company officers on inspection journeys, and a central map table with six seats. The original engine is unknown, but is thought to have been capable of about 35-40bhp at 950rpm. Batteries were included for lighting, but an electric starter motor was not fitted. An emergency coupling was fitted incase it had to be towed in an emergency. It was based at Middlesbrough before moving to Darlington.
In 1911, Raven suggested two more cars should be ordered. A tender to the Wolseley Co. was considered too high, so they were eventually built by the NER using White & Poppe 6-cylinder engines rated at 75hp. These later cars were larger, and had seats for twelve passengers.
On 22nd October 1921, No. 3768 (of the second batch) was destroyed by fire at York. A replacement entered service in December 1923 as No. 3768Y. This replacement had a slightly longer body and the clerestory roof was replaced with a domed roof. An extra heating radiator was also included, along with a small folding washbasin.
By 1929, the two oldest inspection cars were beginning to show their age with 114,000 miles on the oldest (No. 3711), so both had new 80hp Leyland engines fitted.
In 1938, No. 3769 went to Gateshead for a broken axle to be repaired. This led to the economics of these cars being analysed. Although they were about 2d/mile cheaper to run than a steam engine and carriage, the latter could also be used for other duties. Hence, it was decided to scrap them. All three engines were withdrawn in February 1939.
Technical Details
Details are for 3768.
| | |
| --- | --- |
| Cylinders: | 6 |
| Length: | 27ft |
| Weight: | 13 tons 17c |
| Wheels: | 3ft 6in |
| Wheelbase: | 16ft |
Preservation
None of the NER Petrol Inspection Cars survived into preservation.
Models
Walsworth Models plan to produce the NER Petrol Inspection cars in both kit and ready-to-run form for 7mm scale (O gauge).