The M.Stirling J23 (H&BR Class B) 0-6-0 Locomotives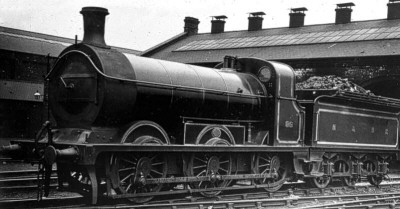 The Hull & Barnsley (H&BR) Class B (LNER J23) locomotives were Matthew Stirling's first locomotive design. From an initial order of eight in 1889, the class was multiplied to become the backbone of the H&BR's mineral locomotives. A total of fifty five were built in nine batches between 1889 and 1908, by Kitson & Co, Vulcan Foundry, and Yorkshire Engine Co. The general design followed the family Stirling tradition of domeless boilers, sparse cabs, and open Ramsbottom safety valves.
The first 27 engines were built with 4ft 3in diameter boilers. The next six were built with 4ft 9in boilers, and the remainder were built with 5ft diameter boilers. At the time of building, these latter locomotives had the largest boiler diameter of any British locomotive. Between 1905 and 1921, all of the earlier engines were rebuilt with 5ft boilers.
The H&BR experimental fitted superheaters to two of the class. No. 60 (LNER No. 2441) received a Schmidt superheater in 1912, and kept its superheater and accompanying extended smokebox until the LNER fitted a Diagram 64B boiler in 1925. No. 133 carried a Phoenix smokebox superheater between 1914 and 1919.
After Grouping (1923), the LNER fitted domed boilers to 33 of the class. The remaining 22 would keep their domeless boilers until withdrawal. The domed boilers were of two types: a 4ft 9in diameter superheated (Diagram 64B), and a 5ft diameter saturated (Diagram 64C). The superheated boiler was based on the H1 4-4-4T's boiler. This boiler had a diameter of 4ft 9in, and was fitted with 18-element Schmidt superheaters and Ross pop safety valves. Twenty J23s received the Diagram 64B boilers between 1923 and 1926. Initial trials were disappointing, but steaming was improved after modifications to the blast pipe and chimney.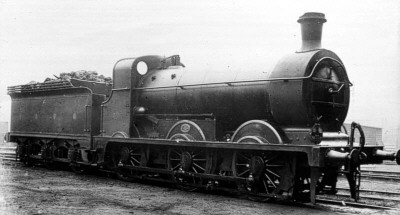 The Diagram 64C saturated boiler was introduced in 1926 and eventually fitted to twelve J23s. Two extra were built and these were eventually used as stationary boilers. Darlington had not previously built boilers of 5ft diameter, and had avoided them with the use of 4ft 9in diameter boilers for Diagram 64B. However, the H&BR J28 and D24 4-4-0 locomotives were in need of new boilers, and Darlington was forced to build new flanging blocks for the new diameter. This then allowed the building of replacement 5ft diameter saturated domed boilers for the J23s.
Although the domed boilers were built with LNER-standard Ross pop safety valves, the domeless boilers usually kept their Ramsbottom valves until withdrawal. At least one exception is known: No. 3085 had Ross pop valves fitted before Grouping (1923).
In 1928, the LNER introduced sub-classes for the J23s. J23/1 was used for the original domeless J23s. J23/2 was used for the superheated domed locomotives, and J23/3 was used for the saturated domed version.
As demonstrated by their initially slow introduction followed by a significant build-up in numbers, the J23s were a popular locomotive on the H&BR. Their performance was much better than the earlier Beyer, Peacock 0-6-0s on the mineral traffic for which they were designed.
Fifteen J23s were loaned to the South Eastern & Chatham Railway (SE&CR) in 1915. Matthew Stirling's brother, James, had already introduced an 0-6-0 on the SE&CR that bore a strong resemblance to the J23s. The J23s were returned in 1919, after the SE&CR had built sufficient locomotive power for its needs.
At Grouping (1923), the J23s were allocated to Springhead (34), and Cudworth (21). Two of the Cudworth J23s were usually stationed at Bullcroft and Denaby. These allocations barely changed during the early/mid 1920s. The first withdrawals started in 1925, but the allocations would not see a significant disruption until after the General Strike of 1926. The resulting coal strike seriously hit the Hull coal traffic. This coal traffic never fully recovered and by the late 1920s, many of the J23s had become surplus to requirements. Many of the J23s had new boilers, so the LNER chose to re-allocate the surplus engines rather than withdraw them from service. The first transfers were six J23s to York in March 1927. Allocations in 1929-30 included Shildon, Stockton, Darlington, Whitby, Scarborough, and Middleton-in-Teesdale. Many of these allocations replaced withdrawn J21s. The introduction of O4 2-8-0s at Springhead forced further transfers. At 1932, the J23s were allocated to Cudworth (13), Springhead (8), Malton (5), York (4), Darlington (3), Heaton (2), Shildon (1), and West Hartlepool (1). Also, Middlesbrough and Normanton both saw J23s during the early/mid 1930s. By this time, the J23s were hauling excursions and race specials as well as their traditional freight and mineral work. Often the J23s would be kept in store and only used for season excursion work as needed. It is interesting to note that although this class was designed for mineral work, most of their later duties were as low-grade passenger locomotives.
Mineral traffic continued to be depressed during the 1930s, and only eighteen J23s survived 1936. Sixteen were withdrawn in 1937, leaving Nos. 2460 & 2476 to be withdrawn from Whitby in November 1938.
Technical Details
The following details are from the final H&BR diagrams. Some of the J23s were fitted with domeless boilers.
| | | |
| --- | --- | --- |
| Cylinders (x2): | (inside) | 18x26in. |
| Motion: | | Stephenson |
| Valves: | | slide |
| Boiler: | Max. Diameter: | 5ft |
| Boiler: | Pressure: | 175psi |
| | Diagram No.: | 64A |
| Heating Surface: | Total: | 1246 sq.ft. |
| | Firebox: | 107 sq.ft. |
| | Tubes: | 1139 sq.ft. (241x 1.75in) |
| Grate Area: | | 15.9 sq.ft. |
| Wheels: | Coupled: | 5ft |
| | Tender: | 3ft 9in |
| Tractive Effort: | (@ 85% boiler pressure) | 20,877 lb |
| Wheelbase: | Total: | 35ft 11.1in |
| | Engine: | 15ft 6in |
| | Tender: | 12ft 0in |
| Weight (full): | Total: | 78 tons 7cwt |
| | Engine: | 42 tons 8cwt |
| | Tender: | 35 tons 19cwt |
| Max. Axle Load: | | 14 tons 10cwt |
Preservation
None of the J23s survived into preservation.
Models
Zenith Works produce a 4mm scale kit of the J23.
Acknowledgments
Thank you to Malcolm Peirson for the photographs of HBR Nos. 77 & 86.