The Wheatley J31 (NBR Class R) 0-6-0 Locomotives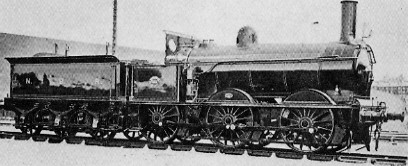 Wheatley became the North British Railway's (NBR) Locomotive Superintendent in February 1867, and found a railway experiencing increasing prosperity. The NBR had also completed a series of amalgamations, and had greatly increased in size. These changes resulted in an urgent need for larger mineral and freight locomotives. Wheatley quickly met this need with his new Class E (LNER J31) design. These locomotives were noted for being larger and more robust than the existing Hurst locomotives. To meet the urgent need, twenty six J31s were built between 1867 and 1869 by contractors (Neilson & Co. and Dubs & Co). These were followed by a total of sixty two engines built at Cowlairs in six batches between 1869 and 1875. The last of these batches was built under the tenure of Drummond before he introduced his NBR Class C (LNER J32) freight locomotives.
Holmes rebuilt all eighty eight J31s between 1883 and 1900. These rebuilds replaced the original 4ft 2in diameter boilers with 4ft 5in diameter boilers (LNER Diagram 84) as used on his J33 engines. The rebuilds also 'tidied up' the appearance of the J31s. The Cowlairs locomotives were particularly noted for a range of batch differences, and these were eliminated. Holmes rebuilt No. 57 twice.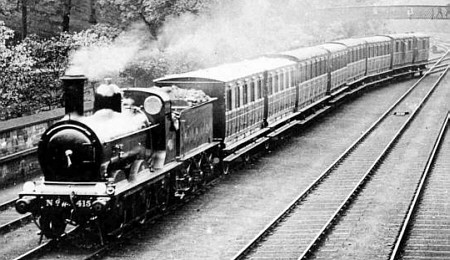 By 1909, the J31s were becoming quite old but their frames and motion were considered to be in good condition. Hence Reid started a second period of rebuilding. Nos. 7 & 340 were rebuilt to the earlier Holmes specification. In 1912-7, Reid rebuilt thirty two more J31s using a modern variant of the Diagram 84 boiler. This had combination injectors, and the safety valves were located on the firebox. Post-1913 boilers operated at 150psi, but earlier boilers operated at 140psi.
During their LNER days, the J31s were distinctive due to their outdated features such as quadruple slide bars and cottered big ends. Some of the J31s were built with cast iron wheels with T-section spokes, but it is thought that none of these survived into LNER ownership. The NBR strengthened cracked axles on ageing locomotives using hoops, of which at least one example (No. 1164) survived into LNER ownership.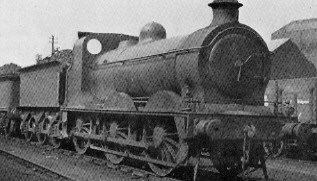 The J31s were built for main line goods and mineral work, and were initially allocated to the main sheds along the main lines. The introduction of later 0-6-0s (eg. the J32s and J33s) displaced the J31s from the longer and faster duties, to a range of other duties. They worked a lot of the coal traffic in the Lowland industrial belt; main line & branch line pick-up goods; and even local passenger trains around Edinburgh and Glasgow.
Withdrawals started in 1911, and the NBR withdrew fifty one J31s before Grouping (1923). Withdrawals overlapped rebuilding by about six years. The older locomotives tended to be the ones that were rebuilt a second time, hence these tended to last the longest.
By Grouping, the J31s were mainly being used for pilot work including yard shunting, short trip workings, and incline assistance. The allocation was concentrated at St. Margaret's (7), Hawick (6), Stirling (4), Dunfermline (4); with lesser allocations to a wide range of other sheds. The LNER continued the withdrawal programme until 1928 when only two J31s remained. These were the last pre-Drummond NBR locomotives still in service, and proved to be hardy engines. No. 10166 was withdrawn from St. Margaret's in 1932, and No. 10206 was withdrawn from Kipps in 1937. A number of ex-J31 boilers were kept for stationary use, and one was used as a spare for the J83 0-6-0ST engines between 1933 and 1955.
LNER No. 114 (NBR No. 381) was withdrawn in April 1925 and 'restored' for the Stockton & Darlington Centenary. Although it retained its modern boiler and fittings, the cab was replaced with a weatherboard, and a stovepipe chimney was fitted. It was painted in LNER green but lettered and numbered as NBR No. 381. This strange mixture of old and new was given its own engine diagram of "J31 No. 1" by Cowlairs. It was eventually scrapped and No. 381's green wheels were fitted to No. 10227. With the exception of its green wheels, No. 10227 carried a conventional lined black LNER livery.
Technical Details
| | | |
| --- | --- | --- |
| Cylinders (x2): | (inside) | 17x24in. |
| Motion: | | Stephenson |
| Valves: | | slide |
| Boiler: | Max. Diameter: | 4ft 5in |
| | Pressure: | 150psi |
| | Diagram No.: | 84 |
| Heating Surface: | Total: | 1059 sq.ft. |
| | Firebox: | 100 sq.ft. |
| | Tubes: | 959 sq.ft. (202x 1.75in) |
| Grate Area: | | 17 sq.ft. |
| Wheels: | Coupled: | 5ft 1.75in |
| | Tender: | 4ft |
| Tractive Effort: | (@ 85% boiler pressure) | 14,264lb |
| Wheelbase: | Total: | 32ft 4.5in |
| | Engine: | 15ft 0in |
| | Tender: | 10ft 4in |
| Weight (full): | Total: | 52 tons 14cwt |
| | Engine: | 31 tons 13cwt |
| | Tender: | 21 tons 1cwt |
| Max. Axle Load: | | 12 tons 8cwt |
Preservation
None of the J31s survived into preservation.
Models
I am not aware of any models of the J31s in any scale.
Acknowledgments
Thank you to Malcolm Peirson for the photograph of NBR No. 415.