The Drummond J32 (NBR Class C) 0-6-0 Locomotives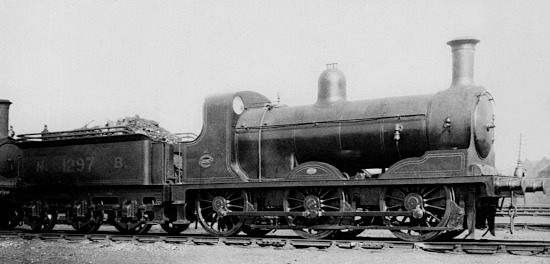 Wheatley had built over eighty goods 0-6-0s (LNER J31) for the North British Railway (NBR), but there continued to be a need for powerful goods locomotives when Drummond took over. Twelve new locomotives were ordered in 1875 to be constructed at Cowlairs. These were followed by two orders with Neilson & Co. for six and twenty locomotives. The final batch of twenty was cut to fourteen before construction began. All thirty two J32 locomotives were built between 1876 and 1877.
In common with other early Drummond designs, the J32s closely resembled an existing Stroudley design - in this case the London Brighton & South Coast (LB&SC) Railway's Class C 0-6-0. At the time of construction, the J32s were considered to be large locomotives with their 18in cylinders. Drummond reverted back to 17in cylinders for his later general goods locomotives (LNER J34). The J32s were not significantly exceeded in size or power on the NBR, until Reid introduced his 18.5in cylinder J35 design in 1906.
The J32s also borrowed Stroudley's condenser design which used exhaust steam to heat water in the tanks, and crosshead pumps to feed the boiler. In theory this was a very efficient arrangement, but unfortunately the pumps only worked when the locomotive was moving. One of the methods used to add water to the boiler when stationary, was to screw the hand brake down, oil the track, and to gently open the regulator! Clearly this was damaging to both the locomotive and the permanent way, and Drummond quickly replaced the condensers and pumps with conventional injectors.
The first J32 rebuild occurred after No. 465 exploded at Dunbar on 1st September 1882. The exact cause of the explosion was never determined, but it led to the entire class having their original lock-up safety valves replaced by Ramsbottom safety valves. No. 471 is also thought to have been rebuilt in 1889, but there is no official record of this. Both rebuilds were to essentially the same design as the other J32s.
In 1890, No. 153 was fitted with Morton's valve gear. Morton valve gear was considered to be an improvement over Joy valve gear, but it was only fitted to one other locomotive in the UK (Great Eastern Railway Class G14 2-4-0 No. 644). 19in cylinders were fitted at the same time. The valve gear and cylinders were replaced with Stephenson valve gear and 18in cylinders during No. 153's 1901 rebuild (see below).
Between 1898 and 1903, the J32s were rebuilt by Holmes to closely resemble his J36 design. New boilers of the same diameter as the originals were fitted, as well as round cabs. Other details were modified to bring the locomotives up to contemporary NBR standards, e.g.. the use of cast iron brake shoes. Stephenson valve gear was also fitted. The original boilers had sloping fire grates, but the new boilers had shorter fireboxes with level fire grates. This necessitated a small increase in separation between the rear two axles, from 7ft 9in to 8ft. Both before and after the rebuilding, the boilers are officially quoted as operating at 150psi, but they operated at 140psi during Holmes' tenure. All of the rebuilds were performed at Cowlairs, although both Neilson Reid and Sharp Stewart built a number of the new boilers.
The J32s were initially allocated to the principal terminal sheds for working the longer goods services. By all accounts they performed these duties very well, and it was not until Reid's tenure that they were demoted to cross-country mineral workings and main line pick-up goods.
Withdrawals started in April 1921 with No. 1303, and a total of thirteen had been withdrawn by Grouping (1932). At Grouping the J32s could be found at: St. Margaret's, Haymarket, Carlisle, Polmont, Kipps, Thornton, Parkhead, and Eastfield. Typically duties at this time were usually short-distance workings such as the "Coast Goods" on the East of Fife line to St. Andrews, and the Ratho Pilot duty for the shale mines in Broxburn. The LNER continued the steady withdrawals, and the last J32 was withdrawn in April 1925.
Technical Details
| | | |
| --- | --- | --- |
| Cylinders (x2): | (inside) | 18x26in. |
| Motion: | | Stephenson |
| Valves: | | slide |
| Boiler: | Max. Diameter: | 4ft 6.25in |
| | Pressure: | 150psi |
| Heating Surface: | Total: | 1235.13 sq.ft. |
| | Firebox: | 104.72 sq.ft. |
| | Tubes: | 1130.41 sq.ft. (236x 1.75in) |
| Grate Area: | | 17 sq.ft. |
| Wheels: | Coupled: | 5ft |
| | Tender: | 4ft |
| Tractive Effort: | (@ 85% boiler pressure) | 17,901lb |
| Wheelbase: | Total: | 36ft 5in |
| | Engine: | 15ft 6in |
| | Tender: | 12ft 0in |
| Weight (full): | Total: | 71 tons 10cwt |
| | Engine: | 39 tons 10cwt |
| | Tender: | 32 tons 0cwt |
| Max. Axle Load: | | 15 tons 10cwt |
Preservation
None of the J32s survived into preservation.
Models
62C Models produce a 7mm kit of the J32.
Acknowledgments
Thank you to the NBRSG Photo Archive and Hamish Stevenson for the photograph of No. 1297.