The Drummond J34 (NBR Class D) 0-6-0 Locomotives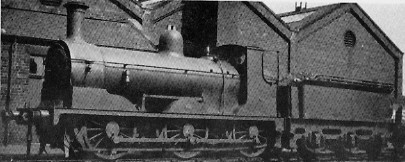 Drummond's 18in cylinder J32 proved to be a useful main line goods locomotive for the North British Railway (NBR). However, there was still a need for a smaller goods engine with greater route availability. This need was filled by the 17in cylinder NBR Class D (LNER J34) which was built between 1879 and 1883. The first batch of five were built by Dubs & Co in 1879, and they were followed by five more batches built at Cowlairs. A total of 101 J34s were built, and they were followed by the very similar Holmes J33.
The first twenty three J34s were built with 24in stroke cylinders. The remainder had 26in stroke cylinders, and most of the earlier locomotives were eventually brought into line with these. Seven J34s were withdrawn with their 24in stroke cylinders intact.
All of the J34s were rebuilt with new boilers between 1892 and 1908. The first to be rebuilt was No. 524 which had been involved in a head-on collision with J34 No. 501 on 28th November 1890. The collision occurred on the Bo'ness branch and resulted in serious damage to No. 524 due to a fall of about sixty feet off Todd's Mill Viaduct. This first rebuild received a Holmes cab, but the remaining J34s all retained their original Drummond cabs. The new boilers had level fire grates instead of the original sloping fire grates. The firebox was shorter, allowing the wheel spacing to remain unchanged. This boiler variant was also used in the second rebuild of the E7 2-4-0 locomotives. Four of the new boilers had steel fireboxes. This appears to have been a short experiment, and the NBR continued to use copper fireboxes until after World War 1.
The J34s proved to be very popular locomotives, and proved to be useful for a wide range of different duties. Although designed for goods workings, they were often used on everything from main line passenger work to yard shunting. Smaller than their J32 predecessors, they acquired the nickname of 'Wee Drummonds'. Despite this size difference, they did initially help with many of the more important main line workings. Of particular note were their 175 mile goods workings from Glasgow to Newcastle over the steeply graded Border Counties line. This long run tended to cause the J34's small firebox to fill with ash, forcing firemen to clean the fire whilst descending one of the many banks.
By Grouping (1923), the J34s were being mainly used on local trip workings from collieries to marshalling yards. The J34's relatively low axle loading proved to be an asset on the lightly-laid colliery lines.
Withdrawals started in April 1921, and a total of eight had been withdrawn by Grouping (1923). The LNER was quick to withdraw most of the remaining J34s and only eleven survived into 1926. These eleven were allocated to Bathgate (5), Thornton (3), Parkhead (1), Burntisland (1), and Polmont (1). The last two J34s were finally withdrawn on 11th January 1928.
Technical Details
The following details are for the J34s with 26in stroke cylinders. Eight J34s had cylinders with a stroke of 24in, resulting in a tractive effort of 14,739lb.
| | | |
| --- | --- | --- |
| Cylinders (x2): | (inside) | 17x26in. |
| Motion: | | Stephenson |
| Valves: | | slide |
| Boiler: | Max. Diameter: | 4ft 5in |
| | Pressure: | 150psi |
| Heating Surface: | Total: | 1061 sq.ft. |
| | Firebox: | 102 sq.ft. |
| | Tubes: | 959 sq.ft. (202x 1.75in) |
| Grate Area: | | 16.5 sq.ft. |
| Wheels: | Coupled: | 5ft |
| | Tender: | 4ft |
| Tractive Effort: | (@ 85% boiler pressure) | 15,967lb |
| Wheelbase: | Total: | 35ft 8in |
| | Engine: | 15ft 3in |
| | Tender: | 12ft 0in |
| Weight (full): | Total: | 69 tons 13cwt |
| | Engine: | 37 tons 13cwt |
| | Tender: | 32 tons 0cwt |
| Max. Axle Load: | | 15 tons 0cwt |
Preservation
None of the J34s survived into preservation.
Models
I am not aware of any models of the J34s in any scale.