The Stirling and Ivatt J3 & J4 (GNR Classes J4 & J5) 0-6-0 Locomotives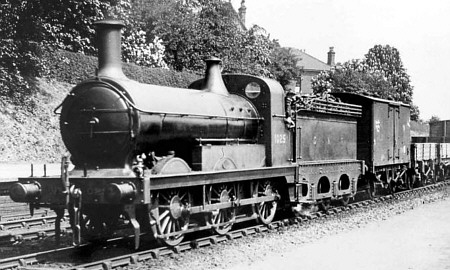 The history of the LNER J3 and J4 locomotives is complicated, and starts with Stirling's Great Northern Railway (GNR) Class J7. Thirty five J7s were built between 1867 and 1873. These had 4ft 0.5in domeless boilers, inside frames, and 17in 24in cylinders; and became the basis of GNR 0-6-0 "Standard Goods" development until 1901. All thirty five J7s were rebuilt with 4ft 5in diameter boilers and 24in stroke cylinders, to become GNR Class J8. All of these locomotives were withdrawn before Grouping (1923) and did not enter LNER ownership.
In 1873, the design was amended to have 4ft 2.5in diameter boilers and 26in stroke cylinders. The most prominent external change, was the addition of coupling rod splashers. This modified design became GNR Class J6, and 160 engines were built between 1873 and 1896. Immediately after Stirling's death, ten further locomotives were built in 1896 with 4ft 5in diameter domeless boilers. This was followed by Ivatt's final development of the design which used 4ft 5in diameter domed boilers. 133 of these domed engines were built in 1901. Both of the variants of 4ft 5in diameter boiler locomotive were classed as GNR Class J5. The domeless engines were rebuilt with domed boilers before Grouping (1923). Both boilers also represented an increase in grate area, due to an outward taper of the inner firebox.
Ivatt quickly started to rebuild the GNR J6 engines as GNR J5. Thirty five GNR J6s were withdrawn between 1903 and 1920, but the remaining 125 were all rebuilt as GNR Class J5. Some of these early rebuilds used domeless boilers, and some pre-Grouping boiler swaps involved domeless boilers. However, all were standardised with 4ft 5in domed boilers by Grouping (1923).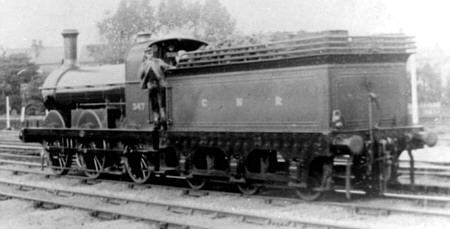 In 1912, Gresley started his own rebuilding programme of the GNR's "Standard Goods" design. These rebuilds fitted a larger 4ft 8in diameter domed boiler, and were given the GNR classification of Class J4. 153 rebuilds occurred between 1912 and 1929, with 71 being performed by the GNR and 82 by the LNER. The GNR Class J4 engines became LNER J3, and the remaining GNR J5s became LNER J4. A total of 157 GNR J5s entered LNER ownership.
The final batch of Ivatt GNR J5s was initially ordered as a batch of twenty five from Dubs & Co. Twenty five were built, but twelve were supplied to the Midland & Great Northern Joint Railway (M&GN) in 1900. Extended smokeboxes and spark arrestors were fitted in 1907. Melton Constable rebuilt these engines between 1920 and 1927 with Doncaster-supplied 4ft 8in diameter domed boilers. The M&GN classified the rebuilt engines as "Class DA Rebuild", and the LNER included them in Class J3 when they entered LNER ownership in 1936. After 1936, eight were quickly rebuilt with 4ft 5in diameter boilers to become LNER J4. These were the only engines to revert from Class J3 back to Class J4.
The GNR J7s and earliest GNR J6s were built with Smith's simple vacuum brake. From 1887, the Smith brake was replaced by automatic vacuum brakes. Eventually this replaced the Smith brake on previously built locomotives. Westinghouse brakes were fitted to two GNR J5s for testing duties of the dual-fitted East Coast Joint stock at Doncaster carriage works. This equipment is thought to have been removed in the 1928-30 time period.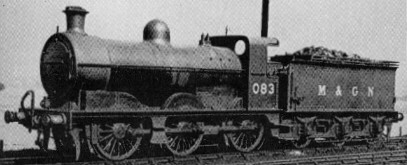 Gravity sanding was used on the earlier classes, but the GNR J5 introduced steam sanding. The GNR J5's rear sanders were also moved behind the rear driving wheels, so that all six wheels could benefit from sand when operating in reverse. Wheel balancing was also introduced at about this time.
The earlier J7s were built with spring balance safety valves, but all of the engines that survived into LNER ownership were built with Ramsbottom safety valves. The LNER J4s were later fitted with boilers designed for the J50 0-6-0Ts. These were almost identical, but they were constructed from one ring instead of two, and they were fitted with Ross pop safety valves. Ross pop safety valves also became standard on all LNER J3 boilers built after 1926.
The GNR allocated the "Standard Goods" engines throughout its network for both main line and local goods services. Due to an acute shortage of motive power in about 1900, double-headed workings were frequently used on coal trains from Peterborough to London. Although two "Standard Goods" locomotives were usually used together, they were often paired with E1 2-4-0, D3 or D4 4-4-0 locomotives. The GNR also used these engines on local passenger duties in the Nottingham and West Riding areas.
Twenty six GNR J5s were loaned to the ROD for use in France during World War 1 in 1917-8. These locomotives had condensing gear and a boiler feed pump fitted. This gear was later removed on their return to the GNR.
Over time, the "Standard Goods" were displaced to local trip working and yard shunting duties, and most were performing these types of duties at Grouping (1923). The 1923 allocation was: London District (eleven J3s, fifteen J4s); Retford (three J3s, twelve J4s); Peterborough (two J3s, fourteen J4s); Doncaster (seventeen J3s, nineteen J4s); Grantham (two J3s, eight J4s); West Riding District (five J3s, forty seven J4s); Boston (one J3, five J4s); Colwick (twenty six J3s, twenty eight J4s); and Lincoln (four J3s, nine J4s). With the exception of withdrawals, these allocations remained virtually unchanged until 1937.
Although they were mainly used for shunting, the J3s were occasionally used for short excursion work. For example, a J3 was often used to haul Sunday school excursions from the London suburban area to Southend-on-Sea.
Withdrawals of the earliest GNR "Standard Goods" 0-6-0s started in 1903, and continued until 1954. A small number were sold to collieries. An example are two GNR J6s which were sold to Seaton Delaval Coal Co. in 1921. These were recorded as still being used in 1946.
Sixty five J3s and J4s remained in service at 1939. The J3s tended to wander from their previous allocations during World War 2. They were often seen in the Tyneside area, and on one occasion J3 No. 4097 was sighted hauling a ballast train between Edinburgh and Glasgow. Withdrawals continued after the end of World War 2, and only 41 survived to Nationalisation (1948). By this time, they were only used on light work due to their age. The last two J4s were withdrawn in 1951, and the last seven J3s were withdrawn in 1953-4.
Technical Details
| | | | |
| --- | --- | --- | --- |
| | | J3 | J4 |
| Cylinders (x2): | (inside) | 17.5x26in. | 17.5x26in. |
| Motion: | | Stephenson | Stephenson |
| Valves: | | slide | slide |
| Boiler: | Max. Diameter: | 4ft 8in | 4ft 5in |
| Boiler: | Pressure: | 175psi | 170psi |
| | Diagram No.: | 8 | 11 |
| Heating Surface: | Total: | 1235 sq.ft. | 1119 sq.ft. |
| | Firebox: | 105 sq.ft. | 103 sq.ft. |
| | Tubes: | 1130 sq.ft. (238x 1.75in) | 1016 sq.ft. (213x 1.75in) |
| Grate Area: | | 16.25 sq.ft. | 16.25 sq.ft. |
| Wheels: | Coupled: | 5ft 2in | 5ft 2in |
| | Tender: | 4ft 2in | 4ft 2in |
| Tractive Effort: | (@ 85% boiler pressure) | 19,105 lb | 18,560 lb |
| Wheelbase: | Total: | 36ft 11.5in | 36ft 11.5in |
| | Engine: | 15ft 6in | 15ft 6in |
| | Tender: | 13ft 0in | 13ft 0in |
| Weight (full): | Total: | 81 tons 2cwt | 76 tons 3cwt |
| | Engine: | 42 tons 12cwt | 41 tons 5cwt |
| | Tender: | 38 tons 10cwt | 34 tons 18cwt |
| Max. Axle Load: | | 16 tons 0cwt | 15 tons 4cwt |
Preservation
None of the J3s or J4s survived into preservation.
Models
The 3mm Society produce a kit of the J3 for 3mm scale.
London Road Models sell etched 4mm kits of the J3s and J4s. Nu-Cast also produce a whitemetal 4mm scale kit of the J3. Ks Loco Kits have also produced a 4mm scale J3 kit, but this is no longer available.
Acknowledgments
Thank you to Malcolm Peirson for the photographs of GNR Nos. 347 & 1025.