The Holden J65 (GER Class E22) 0-6-0T Locomotives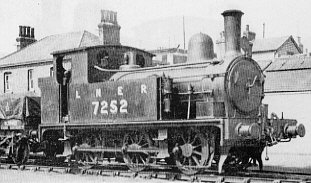 In 1889 James Holden designed his Class E22 (LNER J65) tank locomotive for light passenger duties. Similar to his earlier Class T18 (LNER J66) locomotives, the E22s were of lighter construction and had smaller cylinders. Smaller side tanks and a shorter cab were fitted. The frame was shortened by one foot at the rear, but the wheelbase remained the same. The first ten were built in 1889, and a second batch of ten were built in 1893.
The J65s were built with the same sized 140psi boilers as used on the J66s but with fewer tubes. Between 1899 and 1912, all twenty J65s were re-boilered with a 4ft 1in diameter telescopic boiler operating at 160psi. Initially built with 225 tubes, from 1908 the new boilers were built with 227 tubes. This boiler was fully interchangeable with Class J66 and J67 locomotives, and was described as 'Diagram 39' by the LNER. Ramsbottom safety valves were initially fitted, but the LNER gradually replaced these with Ross pop safety valves.
From an early stage, the J65s became associated with the Fenchurch Street to Blackwall line, and were soon operating a fifteen minute interval service along this line. The association with this line was so long that the J65s eventually became known as "Blackwall tanks". For the Blackwall duties, the J65s often ran with the front portion of the side rods removed to make a 2-4-0T arrangement. In 1918, a total of ten J65s were running like this.
The J65s also ran several of the smaller branch lines in East Anglia. In 1902, Ipswich, Cambridge, and King's Lynn were all recorded with J65 allocations.
By Grouping (1923), several of the J65s were allocated to Parkeston for quay shunting and hauling the local passenger services to Harwich. During the mid-1920s, several J65s were allocated to the Colne Valley & Halstead Railway (CV&HR) after withdrawal of the line's original locomotives (CV&HR No. 1, F9 2-4-2Ts, and N18 0-6-2T No. 5 ).
Withdrawals started in 1930 when a number of the lighter East Anglian branches started to close. The CV&HR finally had its track upgraded in the 1930s, and in 1934 the J65s were replaced by J15s. This hastened the withdrawal process, and only five J65s were left by 1937. These five engines were allocated to Ipswich and Parkeston. During the 1940s, two were moved amongst the Immingham, Lincoln, Frodingham, Barnsley, and New England sheds for short allocations. In 1947-9 the three remaining Mid-Suffolk J65s were withdrawn.
Only two J65s served for more than a year with British Railways. No. 68211 worked in the dock area at Ipswich until withdrawal at the end of 1953. The last J65 (No. 68214) was allocated to Yarmouth Beach as a spare locomotive for the quay, before being finally withdrawn in 1956.
Technical Details
| | | |
| --- | --- | --- |
| Cylinders (x2): | (inside) | 14x20in. |
| Motion: | | Stephenson |
| Valves: | | Slide |
| Boiler: | Diameter (max): | 4ft 2in |
| | Length: | 9ft 1in |
| | Boiler Pressure: | 160psi |
| | Diagram No: | 39 |
| Heating Surface: | Total: | 987.4 sq.ft. |
| | Firebox: | 78 sq.ft. |
| | Tubes: | 909.4 sq.ft. (227x 1.63in dia.) |
| Grate Area: | | 12.4 sq.ft. |
| Wheels: | | 4ft |
| Total Wheelbase: | | 13ft 4in |
| Tractive Effort: | (at 85%) | 11,106 lb |
| Length: | | 27ft 2in |
| Weight: | | 36t 11cwt |
| Max. Axle Load: | | 13t 3cwt |
| Water Capacity: | | 650 gallons |
| Coal Capacity: | | 2t 10cwt |
Preservation
None of the J65s survived into preservation. However, the CV&HR has re-opened as a preserved railway.
Models
Finney and Smith produce a 3mm scale kit of the J65.
London Road Models sell a 4mm scale kit of the J65.
ACE Products and Connoisseur both sell kits of the J65 for 7mm scale (O gauge).