The Holden J67 & J69
(GER Class R24, R24 Rebuilt, & S56) 0-6-0T Locomotives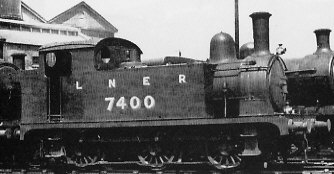 Following the success of James Holden's Class T18 (LNER J66), further variations were built. The Class R24 was built between 1890 and 1901, and had a 6in longer wheelbase but a 6in shorter frame. The cab was slightly smaller and the side tanks were moved further forward. A total of 140 R24 locomotives were built, of which 100 were intended for passenger duties and were fitted with screw reverse gear and Westinghouse brakes.
From 1899, a standardised boiler was introduced for the R24 class. These operated at 160psi and were interchangeable with the boilers on the J65 and J66 locomotives.
With the advent of heavier rolling stock in 1902, a total of 95 R24s were rebuilt with 180 psi boilers between 1902 and 1921. Referred to as "R24 Rebuilt", these locomotives had longer fireboxes with larger grates, and greater capacity side tanks.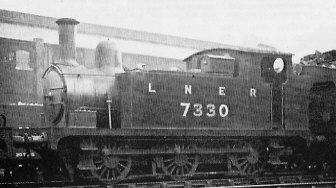 In 1904, twenty Class S56 locomotives were built. These were intended for passenger work and were built with a 180psi boiler and high capacity side tanks.
As well as a Westinghouse brake, the passenger locomotives were fitted with screw reverse gear, balanced ten-spoke cast-steel wheels, and screw couplings. Most were also fitted with condensing gear. The shunting locomotives were fitted with a hand brake, lever reverse, unbalanced fifteen-spoke cast iron wheels, and three-link couplings. The hand brakes were later replaced with steam brakes.
At Grouping (1923), the LNER classified the 160psi locomotives as Class J67. Class J69 was used for the R24 Rebuilt and S56 locomotives.
During the 1920s, the LNER converted 59 of the J69s to be shunting locomotives by removing the condensing gear (if any), and fitting lever reverse gear. Steam brakes were also fitted although many locomotives kept their vacuum ejectors.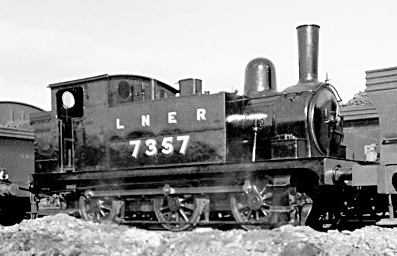 From 1938, a number of J69s had 160psi boilers fitted. They were classified as J67/2 distinguishing them from the original R24 locomotives with the small side tanks (class J67/1). At various other times different boilers were fitted and locomotives would be re-classified accordingly. From 1946, class J69 was given a similar division. J69/1 referred to large side tank locomotives, whilst J69/2 referred to locomotives with small side tanks.
The bulk of the J67s and J69s were allocated to Stratford, with 121 recorded as being allocated there at Grouping (1923). Both passenger and shunting locomotives could also be found at Colchester, Ipswich, Cambridge, King's Lynn, and Peterborough East. The passenger locomotives tended to be slightly more distributed across the GER sheds, and they could also be found at places like Norwich, Yarmouth, and Lowestoft. The Stratford passenger locomotives were mainly used on the 'Jazz' suburban services to Enfield Town and Chingfield. These were very intensive services that included relatively heavy commuter services. At the time no electric service was capable of handling the load, but these small steam engines handled the load very well especially when the relative lack of time for maintenance is taken into account.

In 1925, large numbers of N7 0-6-2T locomotives displaced many of the passenger J67s and J69s from the heavier duties. Hence they were moved to other parts of the LNER system to replace obsolete shunters. During the 1930s through to the 1950s, allocations were spread across the LNER system including sheds in Scotland. The only exception was the North East Area which had a good supply of shunting engines including new J72s. Many of the engines that stayed in the former GE area continued to operate as passenger pilots and for hauling occasional passenger services.
The first withdrawal was J69 No. 7364. This was withdrawn in 1931 due to damage after a collision with J39 No. 1265 at Northumberland Park. Withdrawals began in 1937 and twelve had been withdrawn by 1939. In October 1940, thirteen J69s were purchased by the War Department. Withdrawals did not restart until 1953. With the arrival of diesel shunters, withdrawals were quick. The last J67 was withdrawn in 1958, and the last J69 was withdrawn in 1962.
Technical Details
| | | | |
| --- | --- | --- | --- |
| | | J67 | J69 |
| Cylinders (x2): | (inside) | 16.5x22in. | 16.5x22in. |
| Motion: | | Stephenson | Stephenson |
| Valves: | | Slide | Slide |
| Boiler: | Diameter (max): | 4ft 2in | 4ft 2in |
| | Length: | 9ft 1in | 9ft 1in |
| | Diagram No: | 39 | 37 |
| | Boiler Pressure: | 160 | 180 |
| Heating Surface: | Total: | 987.4 sq.ft. | 996.17 sq.ft. |
| | Firebox: | 78 sq.ft. | 86.77 sq.ft. |
| | Tubes: | 909.4 sq.ft. (227x 1.625in dia.) | 909.4 sq.ft. (227x 1.625in dia.) |
| Grate Area: | | 12.4 sq.ft. | 14.5 sq.ft. |
| Wheels: | | 4ft | 4ft |
| Total Wheelbase: | | 13ft 10in | 13ft 10in |
| Tractive Effort: | (at 85%) | 16,970 lb | 19,091 lb |
| Length: | | 27ft 8in | 27ft 8in |
| Weight: | | 40t | 42t 9cwt |
| Max. Axle Load: | | 14t | 15t 2cwt |
| Water Capacity: | | 1000 gallons | 1200 gallons |
| Coal Capacity: | | 2t 5cwt | 2t 10cwt |
Preservation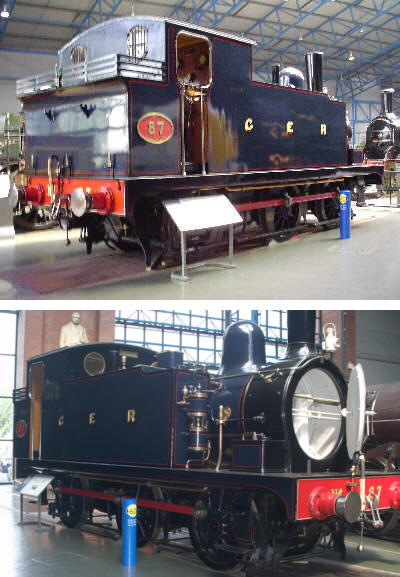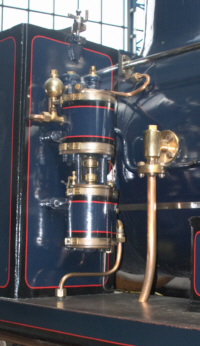 J69/1 No. 7087 has been preserved in the National Collection, and is usually located at the National Railway Museum.
Models
During the 1970s, Graham Farish produced an 0-6-0T that they described as a 'Holden Tank'. This resembled the J67, but was replaced in the Graham Farish range by the larger and more generic "GP Tank".
Finney and Smith produce 3mm scale kits of the J67/1 and J69/1.
Connoisseur, SE Finecast, and DJH all produce 4mm scale (OO gauge) kits of both the J67 and J69. London Road Models also sell a 4mm scale kit of the J69/1.
Connoisseur and ACE Products both sell kits of both the J67 and J69 for 7mm scale (O gauge).
Aster have in the past produced a live steam gauge 1 locomotive that is loosely based on the Holden J67 and J69 tank engines.
Acknowledgements
Thank you to Rob Marsden for the two photographs of the preserved J69.
Thank you to the Mike Morant Collection for the photograph of J69/1 No. 7357 at Eastfield.
Thank you to David Hey for the photograph of J69/1 No. 68492 with J67/1 No. 68511.