The J70 0-6-0 (GER Class C53) Tram Engines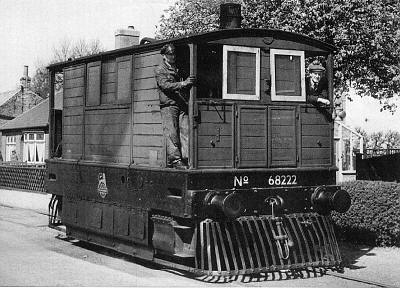 T.W. Worsdell designed the four-wheeled Y6 steam trams for for running on or alongside public roads on the Wisbech & Upwell Tramway. The bulk of this line's traffic was agricultural in nature and hence very seasonal. By the early 20th Century, the Y6s were having trouble handling the peak of the harvest season, so James Holden designed a more powerful 0-6-0 version. These had outside cylinders and Walschaerts valve gear. A boiler of the same size was used, but it worked at a higher pressure and had more tubes fitted. The wheelbase was kept extremely short (6ft 8in) and was only two inches longer than that of the Y6s (6ft 6in).
The wooden body and general appearance was kept the same. When running on public roads, the J70s had to meet the same Board of Trade regulations as the Y6s, and were fitted with cow-catchers, warning bells, spark arrestors, governors set to 8mph, and protective side skirts over the wheels and motion. If the side skirts were fitted, it was generally difficult to tell the new J70s from the older Y6s. The main visual distinguishing feature was the presence of three slotted footsteps at each end of the sides on the J70s. The Y6 had only two footsteps in a rectangular cutout below the side framing.
The steam from the safety valves was piped across the top of the roof to the water tank in an attempt to restrict their noise. Controls were duplicated at both ends of the locomotive. When new, safety chains were fitted to the buffer beams, but in most cases were removed over time. A Westinghouse brake was fitted as standard to the class.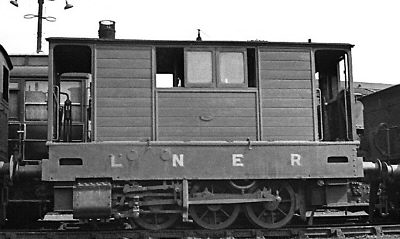 A total of twelve J70s were built at the Great Eastern Railway's (GER) Stratford Works between 1903 and 1921.
The first two engines (135 and 136) worked in Ipswich Dock area, whilst 137 and 138 went to Yarmouth and Vauxhall. Subsequent engines were split between Wisbech (3), Yarmouth (3), and Ipswich (6). No. 7136 was allocated to Colchester Hythe Docks from November 1928 to April 1929, to replace a Y5 'Coffee Pot'. A Sentinel 0-4-0T took over from the J70, but from 1934 a J70 would be always allocated to Colchester as a supplement.
The governors were designed to be disengaged when the trams were not running near public roads. This was typically done when they were travelling on the main line to Stratford for servicing. The journey to Stratford was typically performed light and the J70s could get to run at quite a high speed. As such it often resembled a run-away brake van!
The Yarmouth allocation was reduced in the early 1930s when the Y10 'Super Sentinels' were moved to Yarmouth.
Five were retained at Wisbech after passenger services ceased in 1927. Two were sufficient for the regular freight traffic, but the extra three were kept for the harvest season. Even with the extra locomotives, all five would often be overworked. On one occasion, No. 7131 was recorded leaving Upwell with 48 wagons of about 400 tons of fruit. By Elm Bridge, it was short of water and had to run light to Wisbech to fill up!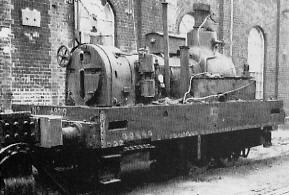 In 1943-4, two J70s were loaned to the Wissington Light Railway, to replace two Y6s which tended to derail on the poor track.
No. 7138 was the first J70 to be withdrawn, in January 1942.
At Nationalisation (1948), Wisbech still had five J70s. Two Drewry 0-6-0 diesel shunters fitted with side skirts were introduced in 1952. Steam workings officially ended on 4th July 1952, although No. 68222 was kept as a spare in case one or both Drewry shunter was out of service. After being used on a number of occasions, No. 68222 finally left Wisbech in March 1953.
By the beginning of 1954, only four J70s remained in service. These were at Colchester, Ipswich (2), and Yarmouth. These were replaced by Drewry diesel shunters shortly afterwards, and all four were withdrawn in 1955.
Technical Details
| | | |
| --- | --- | --- |
| Cylinders (x2): | (outside) | 12x15in. |
| Boiler: | Diameter (max): | 2ft 10.5in |
| | Length: | 6ft 10in |
| Heating Surface: | Total: | 348.08 sq.ft. |
| | Firebox: | 42.08 sq.ft. |
| | Tubes: | 306.00 sq.ft. (102x 1.625in dia.) |
| Grate Area: | | 9.2 sq.ft. |
| Wheels: | | 3ft 1in |
| Total Wheelbase: | | 6ft 8in |
| Tractive Effort: | | 8931 lb (at 85%) |
| Length: | | 20ft 10.5in |
| Weight: | | 27t 1cwt |
| Max. Axle Load: | | 11t 7cwt |
| Water Capacity: | | 625 gallons |
| Coal Capacity: | | 15cwt |
Preservation
None of the J70s survive, but they are kept alive in the Rev. W.Awdry's Railway Stories (aka "Thomas the Tank Engine"). Awdry lived near the Wisbech & Upwell Tramway for a while, and he based Toby the Tram Engine on the J70 class. At least two diesel replicas have has been built. One, location unknown, was based on a Ruston Hornsby 48DS Class that had experienced a major engine failure. Another Toby replica has been built by the East Anglian Railway Museum, based on a Fowler diesel. The East Anglian Railway Museum has also built a replica of the Henrietta GER coach.
Models
There is an N Gauge whitemetal kit of the J70 in the Thameshead range, sold by B.H.Enterprises.
Crownline and Nu-Cast both sell 4mm scale kits of the J70. K's have produced one in the past, but this is no longer available.
Further Information
Martin Clutt's page about the inspiration behind Awdry's Toby and Henrietta
The LNER Encyclopedia also includes an article about the Wisbech & Upwell Tramway.