The Fletcher J76 (NER 124) 0-6-0 Tank Engines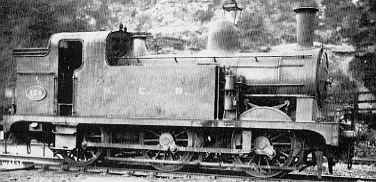 Fletcher's Class 124 (LNER J76) was developed in 1881 from the successful 0-4-4T Bogie Tank Passenger ('BTP'; LNER G6) design. The North Eastern Railway (NER) classified its tank engines as passenger, goods, or shunting engines. It should be noted that the goods category already a variety of different 0-6-0T locomotives including long boilers, bankers, and saddletanks. Although it may have been natural to have developed one of these designs, the fact that the G6 was used instead is probably an indication of their immediate success.
A total of twelve locomotives were built in two batches of six each. These were all built at Darlington between 1881 and 1882.
The J76s were very closely modelled on the G6s and even included a well tank. With a shorter wheelbase, the J76 was forced to have a shorter bunker and well tank. The resulting reduction in coal and water capacity proved restrictive, and extra tanks were fitted. No. 211 was fitted with a saddletank in 1897. This was replaced with side tanks after 1904 but before Grouping (1923). All of the J76s that entered LNER ownership had side tanks fitted before 1923.
Sandboxes were fitted ahead of the leading splasher and behind the driving splasher. The rear sandboxes were moved when the side tanks were fitted. The new sandboxes were usually of a more modern type and fitted beneath the bunker.
The original boilers were very similar to the original boilers fitted to the G6s. They had open domes and two spring balance safety valves. Standard Worsdell (Diagram 68) boilers were fitted between 1892 and 1900, and these had enclosed domes and Ramsbottom safety valves.
Although the J76s were intended as goods locomotives, Westinghouse brakes were fitted to a number of the J76s before 1908. Four were also fitted with steam heating apparatus.
During NER ownership, the J76s were allocated to Stockton, Ferryhill, Darlington, West Auckland, Heaton, and Neville Hill. Transfers were rare. By 1922, five were allocated to Dairycoates for dock work, and No. 171 was became the shed pilot for Alexander Dock. The NER withdrew two J76s before Grouping, leaving ten to enter LNER ownership.
In 1925, the construction of new J72s displaced the Dairycoates J76s to New England and Boston. All ten J76s were withdrawn between 1926 and 1929. No. 598 was sold in November 1926 to the Milford Dock Co. Renamed Ajax, this locomotive was eventually scrapped in 1944.
Technical Details
At Grouping (1923), four of the J76s had 4ft 6in diameter wheels.
| | | |
| --- | --- | --- |
| Cylinders (x2): | (inside) | 17x24in. |
| Motion: | | Stephenson |
| Valves: | | Slide |
| Boiler: | Diameter (max): | 4ft 3in |
| | Length: | 10ft 7in |
| | Boiler Pressure: | 160psi |
| | Diagram No: | 68 |
| Heating Surface: | Total: | 1109 sq.ft. |
| | Firebox: | 84 sq.ft. |
| | Tubes: | 1025 sq.ft. (205x 1.75in dia.) |
| Grate Area: | | 12.8 sq.ft. |
| Wheels: | | 4ft 9in |
| Total Wheelbase: | | 15ft 8in |
| Tractive Effort: | (at 85%) | 16,549 lb |
| Length: | | 30ft 11in |
| Weight: | | 44t 12cwt |
| Max. Axle Load: | | 16t 6cwt |
| Water Capacity: | | 1280 gallons |
| Coal Capacity: | | 1t 7cwt |
Preservation
None of the J76s survived into preservation.
Models
I am not aware of any models of the J76s in any scale.