The W. Worsdell J79 (NER Class H2) 0-6-0 Tank Engines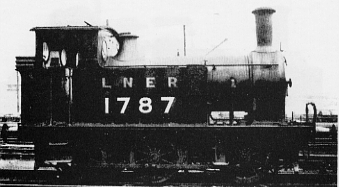 The North Eastern Railway's (NER) Class H2 (LNER J79) initially consisted of two locomotives. These were built in March 1896 at the same time as three Y7 0-4-0T (NER Class H). The design was based on that of the Y7 and J78 0-6-0T crane tank locomotives, and carried the same type of domeless boiler. The cylinders were the same size as the Y7 cylinders. A larger standard-sized coal bunker was fitted, but the water capacity was actually reduced. Both locomotives were built with Westinghouse brakes, and they kept these for their entire lives.
A further locomotive was built in 1907 after W.Worsdell's request for an extra J78 crane tank was turned down. This third J79 only had a hand brake, and spent its early life as a Works shunter. It was classed as Service Stock until 1925.
In 1897, No. 407 was recorded at Scarborough, and No. 1787 was at Gateshead Works. No. 407 was probably employed marshalling carriages for the holiday services. By 1900 they had both been moved to York.
In 1907, No. 407 took over the passenger and goods services on the newly acquired Cawood, Wistow & Selby Light Railway. For these services, larger side tanks were fitted. Petrol-electric railcars had taken over this service by 1908, and the J79s are next recorded at Middlesbrough at Grouping (1923). No. 407 is then recorded helping at the Stockton & Darlington celebrations in 1925, before moving to Middlesbrough. No. 407 spent the rest of its life allocated to Middlesbrough for dock shunting duties, although it was occasionally loaned to the North Sunderland Railway to make up for their rolling stock shortages.
The third J79, No. 1662, was initially allocated to Gateshead for Works and shed shunting. In 1930, it had a vacuum brake fitted and was swapped with No. 1787 at Middlesbrough.
All three J79s were marked for withdrawal in 1935 but they were not actually withdrawn until sales could be finalised. No. 1787 was given to the Bowes Railway in August 1936 as compensation for a locomotive that was run-down and destroyed by an LNER train near Jarrow. This became Bowes No. 5 and was scrapped in 1946.
No. 407 was sold to Whitwood Chemical Co. of Castleford in June 1937. Renamed Jean, No. 407 worked at a number of locations. It finally made its way to NCB Middleton Broom Colliery (Leeds) in 1947. It was dismantled in 1949 and was eventually scrapped by 1954. No. 1662 was purchased by the British Sugar Beet Corporation who used it at their Cantley factory near Norwich. It was withdrawn in 1955 and scrapped by 1957.
Technical Details
The following details are for the heavier J79 with side tanks (No. 407). The larger tank capacity of No. 407 is unknown. The other two J79s had a water capacity of 475 gallons, and this has been recorded here. These two J79s weighed 25 tons and had a maximum axle load of 9 tons 2cwt.
| | | |
| --- | --- | --- |
| Cylinders (x2): | (inside) | 14x20in. |
| Motion: | | Joy |
| Valves: | | Slide |
| Boiler: | Diameter (max): | 3ft 8in |
| | Length: | 6ft 8.5in |
| | Boiler Pressure: | 140psi |
| | Diagram No: | 74 |
| Heating Surface: | Total: | 505 sq.ft. |
| | Firebox: | 57 sq.ft. |
| | Tubes: | 448 sq.ft. (139x 1.75in dia.) |
| Grate Area: | | 11.3 sq.ft. |
| Wheels: | | 3ft 6.25in |
| Total Wheelbase: | | 10ft |
| Tractive Effort: | (at 85%) | 11,041 lb |
| Length: | | 22ft 4in |
| Weight: | | 27t |
| Max. Axle Load: | | 9t 16cwt |
| Water Capacity: | | 475 gallons |
| Coal Capacity: | | 1t 5cwt |
Preservation
None of the J79s survived into preservation.
Models
Finney and Smith produce a 3mm scale kit of the J79.
Connoisseur sells a 7mm scale (O gauge) kit of the J79. Furness Railway Wagon Co have a large side tank version of the J79 in development for 7mm (O gauge).