The Wheatley J81 (NBR Class E) 0-6-0 Tank Engines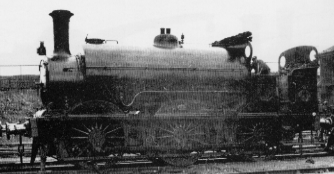 Wheatley came to the North British Railway (NBR) in 1867 and found that most of the locomotives lacked the power for the work that was required of them. He approached the problem of local and branch passenger locomotives in 1870 with his Class E (LNER J86) locomotives. Only two of the J86s were built before the design was modified slightly to produce the J81. The modifications included a different wheel size, wheelbase length, and small differences in boiler dimensions. A total of fifteen J81s were built between 1871 and 1873. Both variations were classified as 'Class E' by the NBR.
The J81s were only built with weather boards and no cab. In later years, some of the J81s were fitted with makeshift cabs. In about 1910, No. 1215 was fitted with a cab similar to the ones used on the Wheatley Y10 0-4-0s.
The J81s were built with hand brakes only, but many were fitted with Westinghouse brakes in the 1890s. In their later years, many of both types were converted to steam brakes.
The J81s were rebuilt with new boilers between 1895 and 1902. The new boilers were of the same size, but the number of tubes was increased from 163 to 171, and the dome was moved further back. New saddle tanks and Holmes-style chimneys were also fitted. The old saddle tanks had many conspicuous rivet heads, whilst the new saddle tanks used countersunk rivets.
The J81s were initially allocated to Edinburgh and Glasgow to work local passenger services. No. 113 was also recorded working the Carlisle to Langholm service.
Eventually they were moved to shunting duties, and were classified as goods engines in the NBR's 1913 classification system. They were renumbered onto the NBR's duplicate list at about this time. The J81s continued to be allocated to the Edinburgh and Glasgow areas for their shunting duties. The ex-Carlisle J81, No. 113, was used as the Waverley Goods Pilot for a while.
Withdrawals started in 1920 and virtually all of the J81s were withdrawn by the end of 1921. Three were withdrawn in 1922, leaving only one J81 to enter LNER ownership. At this time, No. 1216 was allocated to Parkhead for local shunting duties, and was withdrawn in early 1924. On withdrawal, No. 1216 was transferred to the LNER's gas works at Craigentinny for use as a stationary boiler.
Technical Details
| | | |
| --- | --- | --- |
| Cylinders (x2): | (inside) | 17x24in. |
| Motion: | | Stephenson |
| Valves: | | Slide |
| Boiler: | Diameter (max): | 4ft 0.75in |
| | Length: | 9ft 7in |
| | Boiler Pressure: | 140psi |
| Heating Surface: | Total: | 859.36 sq.ft. |
| | Firebox: | 83.70 sq.ft. |
| | Tubes: | 775.66 sq.ft. (171x 1.75in dia.) |
| Grate Area: | | 16 sq.ft. |
| Wheels: | | 5ft |
| Total Wheelbase: | | 14ft 3in |
| Tractive Effort: | (at 85%) | 13,756 lb |
| Length: | | 28ft 5in |
| Weight: | | 35t 14cwt |
| Max. Axle Load: | | 12t 13cwt |
| Water Capacity: | | 740 gallons |
| Coal Capacity: | | ~1ton 10cwt |
Preservation
None of the J81s survived into preservation.
Models
I am not aware of any models of the J81s in any scale.