The Drummond J82 (NBR Class R) 0-6-0T Locomotives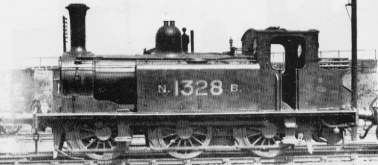 Although Wheatley had introduced a number of 0-6-0ST designs (J81 and J86) for local and branch passenger traffic on the North British Railway (NBR), Drummond found that the NBR required more. He solved this with his first NBR design, the Class R (LNER J82) 0-6-0T. As a student of William Stroudley, Drummond's new design closely followed Brighton practice and was essentially an enlarged version of the famous London Brighton South Coast (LBSC) Class A 'Terriers'. A total of three batches of twenty four locomotives were built between 1875 and 1878.
All of the J82s were rebuilt with new boilers between 1908 and 1910. The new boilers were pitched 3in higher, and fitted with combination injectors. The new boilers had larger fireboxes, but a reduction in tubes from 146 to 142. They were also standard with the boilers used on the rebuilt Drummond D51 4-4-0Ts.
The J82s were built with hand brakes only, but many had steam brakes fitted before 1881. The Westinghouse brake was adopted as the NBR standard in 1881. For a while, some engines had steam brakes for engine braking and Westinghouse brakes for the train. Holmes standardised the issue and ensured that all of the J82s had Westinghouse brakes for both the engine and the train.
The J82s were initially allocated to suburban and local passenger services in the Glasgow and Edinburgh areas, as well as branch line workings elsewhere. The Glasgow locomotives were quickly replaced with other Drummond types. Many of the branch line allocations were to sub-sheds. Of note is the allocation of No. 22 to the Langholm sub-shed to replace horse traction on the Port Carlisle branch.
Although some of the J82s had been moved to shunting and pilot work during the latter years of the NBR, many were still being used for passenger services. Some had returned to Glasgow by this time, and the allocation was: Eastfield (5), St. Margaret's (4), Perth (3), Carlisle (2), Polmont (2), Dunfermline (2), Thornton (2), Haymarket (1), Tweedmouth (1), Parkhead (1), Bathgate (1), and Stirling (1).
The first withdrawal was No. 1290 which was withdrawn in November 1922. The LNER withdraw large numbers of J82s in 1924 and 1925, leaving the last four J82s to be withdrawn in 1926. It is interesting to note that although most of the J82s worked for almost half a century, they were outlived by many of their 'ancestor' Terriers.
Technical Details
| | | |
| --- | --- | --- |
| Cylinders (x2): | (inside) | 15x22in. |
| Motion: | | Stephenson |
| Valves: | | Slide |
| Boiler: | Diameter (max): | 3ft 10in |
| | Length: | 8ft 8.5in |
| | Boiler Pressure: | 140psi |
| | Diagram No: | 86 |
| Heating Surface: | Total: | 666.06 sq.ft. |
| | Firebox: | 79.96 sq.ft. |
| | Tubes: | 586.10 sq.ft. (142x 1.75in dia.) |
| Grate Area: | | 13.75 sq.ft. |
| Wheels: | | 4ft 6in |
| Total Wheelbase: | | 13ft 2in |
| Tractive Effort: | (at 85%) | 10,908 lb |
| Length: | | 28ft 6.5in |
| Weight: | | 36t |
| Max. Axle Load: | | 13t 12cwt |
| Water Capacity: | | 600 gallons |
| Coal Capacity: | | 1t 10cwt |
Preservation
None of the J82 tank locomotives survived into preservation.
Models
London Road Models sell an etched kit of the J82.
Locomotives
Fittingly for locomotives that were based on the practices of Stroudley, Drummond also followed Stroudley's practice of naming engines after places in the vicinity of where they worked. No official record of the J82 names exists, and engines were often re-named when they were moved from one area to another. Hence the following list probably has a number of omissions and errors. The names were removed after 1882 during the tenure of Holmes.
| | | |
| --- | --- | --- |
| Original NBR No. | Original Name | Later Name |
| 165 | Coatbridge | Bo'ness |
| 166 | Bothwell | Newport |
| 259 | Bellshill | Queensferry |
| 284 | Airdrie | Grahamston |
| 241 | Roslin | Bervie |
| 297 | Penicuik | Leith |
| 123 | Westfield | |
| 151 | Dalmuir | Guard Bridge |
| 158 | North Berwick | Meadowbank |
| 161 | Partick | Buckhaven |
| 162 | Milngavie | Loch Leven |
| 274 | Dalkeith | |
| 295 | Bellgrove | Carnoustie |
| 20 | Haddington | |
| 22 | Langholm | |
| 29 | Granton | |
| 49 | Sunnyside | Gretna |
| 96 | Arbroath | |
| 97 | Bonnington | |
| 106 | Slamannan | Tayport |
| 107 | Uddingston | Leuchars |
| 108 | Hamilton | St. Andrews |
| 240 | Coatbridge | Polton |
| 313 | Clydebank | Musselburgh |
| 485 | Yoker | Blairadam |