The Wheatley J85 (NBR Class E) 0-6-0T Locomotives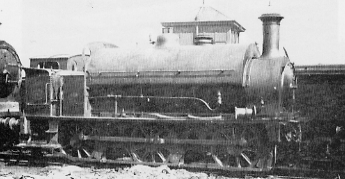 Nine of these locomotives were originally built by Wheatley. They were built as a batch of three in 1870 and a batch of six in 1873. No cab was fitted and the only footplate protection came from one small weatherboard. In common with many of the North British Railway's (NBR) 0-6-0Ts, they were rebuilt by Holmes with new boilers and a number of Holmes' features such as the chimney.
The J85s were built with wooden hand brakes, but cast iron blocks were eventually fitted. Reid fitted steam brakes to eight of the J85s.
The J85s were allocated to various yards in the Edinburgh and Glasgow areas for shunting duties. Withdrawals started in 1919, and eight had been withdrawn by the end of 1921. The sole survivor was No. 1168 which survived into LNER ownership. This was allocated to Eastfield to work as the Sighthill pilot. A member of the original 1870 batch, No. 1168 was finally withdrawn in September 1924.
Technical Details
Cylinders (x2):
(inside)
16x24in.
Motion:
Stephenson
Valves:
Slide
Boiler:
Diameter (max):
4ft 0.75in
Length:
9ft 6in
Boiler Pressure:
140psi
Heating Surface:
Total:
840.63 sq.ft.
Firebox:
84.81 sq.ft.
Tubes:
755.82 sq.ft. (171x 1.75in dia.)
Grate Area:
13.5 sq.ft.
Wheels:
4ft 3in
Total Wheelbase:
14ft
Tractive Effort:
(at 85%)
14,336 lb
Length:
26ft 11.5in
Weight:
34t 4cwt
Max. Axle Load:
12t 6cwt
Water Capacity:
Coal Capacity:
~1t 10cwt
Preservation
None of the J85s survived into preservation.
Models
I am not aware of any models of the J85s in any scale.