The Marriott J93 (M&GN 'Shunting' Class) 0-6-0ST Locomotives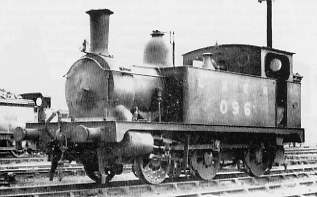 The Midland & Great Northern Joint Railway's (M&GN) 'Shunting' Class (LNER J93) were designed by Marriott and built at the M&GN's Melton Constable's works. In common with many M&GN types, the Shunting Class followed Midland Railway practice and included a number of Derby design features, such as the cab, tanks, and boiler mountings. The boiler drawing was made at Derby in 1896, and the nine locomotives were built at Melton Constable between 1897 and 1905.
Most of the J93s were built carrying the 'Rebuilt Melton Constable' plates, and six of the class (Nos. 93-8) were reputed to have been rebuilt from locomotives that had started out on the Cornwall Minerals Railway (CMR). These were built by Sharp, Stewart & Co. in 1874, and acquired by the Lynn & Fakenham Railway in 1880-1. These were then inherited by the Eastern & Midlands Railway - predecessor of the M&GN. The stock register describes the J93s as new locomotives, and Mr G.B. Clarke (draughtsman to Marriott) is on record as emphatically stating that the J93s were new locomotives. Therefore, J93s Nos. 93-8 should really be considered replacements for the ex-CMR engines. After saying this, there is some evidence that some of the J93s carried ex-CMR wheels at one time or another. These had ten spokes and built-up balance weights, whilst the new wheels had twelve spokes and cast-in crescent weights. Some photographs from the 1940s show individual J93s carrying a mixture of both wheel types!
The boiler design was not standard with Midland types, but it was typical of S.W. Johnson's designs of the 1890s. The boiler was made of three rings and was fitted with two Salter safety valves in the dome. A lock-up valve was also fitted to the firebox. The first five boilers were built at Derby, but all later boilers including replacements are thought to have been built at Melton Constable.
In line with contemporary Midland practice, the J93s had no independent blower and the small ejector had to be used as a small blower. All nine J93s received blowers before they were taken over by the LNER.
Also following Midland practice, the J93s were built with vacuum train brakes and locomotive steam brakes. The vacuum was used to control the steam brake. The vacuum brake pipes were removed from many of the J93s by 1946, although the ejectors remained in place and out of use.
In order to aid coaling at the M&GN's new coaling plants, hoppers were fitted to the J93 bunkers in the early 1930s.
The M&GN locomotives were taken over by the LNER on 1st October 1936, and they were officially added to LNER stock in 1937. The original LNER diagram described them as "Class Shunting Tank", and the classification of "J93" was applied from July 1942.
The J93s were used for shunting and station pilot work at South Lynn, Melton Constable, Norwich City, and Yarmouth Beach. The South Lynn locomotives were also used for trip works to King's Lynn station and harbour. Early in their lives, they also operated some passenger trains between South Lynn and King's Lynn.
The 1937 allocation was: South Lynn (4), Melton Constable (3), and Yarmouth Beach (2). The Melton Constable figure includes the Norwich sub-shed. During LNER ownership, No. 098 was the only J93 to be allocated off the M&GN network, when it was allocated to nearby King's Lynn between September 1939 and June 1940.
Withdrawals started in 1943. Three survived to enter British Railway ownership (1948). They were withdrawn by the end of 1949, still in their wartime "NE" lettering.
Technical Details
| | | |
| --- | --- | --- |
| Cylinders (x2): | (inside) | 16x20in. |
| Motion: | | Stephenson |
| Valves: | | Slide |
| Boiler: | Diameter (max): | 3ft 11in |
| | Length: | 9ft 7in |
| | Boiler Pressure: | 150psi |
| | Diagram No: | 46D |
| Heating Surface: | Total: | 729.8 sq.ft. |
| | Firebox: | 67.2 sq.ft. |
| | Tubes: | 662.6 sq.ft. (145x 1.75in dia.) |
| Grate Area: | | 11.3 sq.ft. |
| Wheels: | | 3ft 7in |
| Total Wheelbase: | | 13ft 9in |
| Tractive Effort: | (at 85%) | 15,181 lb |
| Length: | | 28ft 2in |
| Weight: | | 37t 14cwt |
| Max. Axle Load: | | 14t 2cwt |
| Water Capacity: | | 800 gallons |
| Coal Capacity: | | 1t 10cwt |
Preservation
None of the J93s survived into preservation.
Models
I am not aware of any models of the J93s in any scale.