The Robinson L1/L3 (GCR Class 1B) 2-6-4T Locomotives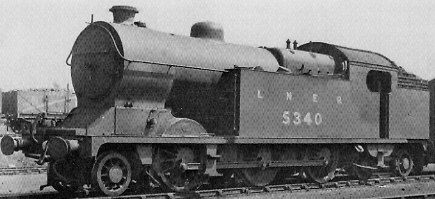 A number of railways tried to use large tank engines to haul heavy goods and mineral traffic, but these engines tended to lacksufficient braking power and fuel capacity. The Great Central Railway (GCR) tried this with their Class 1B 2-6-4T (LNER L1 locomotives). These were also the first 2-6-4T locomotives to enter service in Britain.
Robinson based the L1 design on the M1 0-6-4T locomotives. The tank capacity was kept the same, and the trailing bogie was very similar. A boiler similar to that fitted to the D10 'Director' 4-4-0s was fitted. This larger boiler required the fitting of a leading pony truck. Inside cylinders and piston valves were fitted. A total of twenty L1s were built in four batches between 1914 and 1917.
As with most British 2-6-4T designs, the L1s looked impressive. However, they did not rank amongst Robinson's most aesthetic designs, and they were quickly nicknamed 'Crabs'.
The L1s were built with water pick-up apparatus, but this was removed by the LNER between 1931 and 1934. The LNER made no attempt to bring the L1s within the LNER Composite Loading Gauge. However, low-dome boilers were gradually fitted. This was due to them sharing the same boilers as D10 'Director' 4-4-0s which were modified to fit the Composite Loading Gauge.
The large inside cylinders stressed the axle bearings on the driving axles. At least one of the L1s was fitted with smaller (20in diameter) cylinders in an attempt to relieve this problem. This also reduced the tractive effort from 28,739lb to 26,085lb. No. 5342 definitely received the smaller cylinders in the late 1920s, and records hint that other L1s may have received them. However, the records at Gorton Works are inadequate in this matter and there is no way to be sure. From 1938, No. 5342 was classified as L1/2 to indicate the smaller cylinders.
The L1s also had maintenance short comings. The inside motion was difficult to access, and the ashpan was inaccessible and difficult to clean.
The L1s were intended to haul coal traffic from pits in Nottinghamshire and Derbyshire to the docks at Immingham. Their braking deficiencies became apparent very quickly, and they were quickly re-allocated to other services such as pick-up goods, short colliery trips, and even some passenger services. By Grouping (1923), the L1s were allocated to Annesley, Neasden, Woodford, Langwith, and Gorton. In early 1923, six were allocated to Immingham for shunting and pilot work. They would often be seen propelling coal wagons to the coal drops at Immingham Docks, and shunting fish and goods vans at the Immingham and Grimsby docks. In 1929, seven L1s were allocated to Mexborough to bank coal trains from Wath Yard up to Dunford Bridge.
In 1945, the L1s were reclassified as Class L3 to make room for the new Thompson L1 2-6-4T class.
The first L1 was withdrawn in 1947. The remaining nineteen locomotives survived into British Railways ownership and were withdrawn between 1949 and 1955.
Technical Details
| | | |
| --- | --- | --- |
| Cylinders (x2): | (inside) | 21x26in. |
| Motion: | Stephenson | 10in. piston valves |
| Boiler: | Max. Diameter: | 5ft 3in |
| | Pressure: | 180psi |
| | Diagram No.: | 14 |
| Heating Surface: | Total: | 1752 sq.ft. |
| | Firebox: | 155 sq.ft. |
| | Superheater: | 209 sq.ft. (24x 1.063in) |
| | Tubes: | 972 sq.ft. (157x 1.875in) |
| | Flues: | 416 sq.ft. (24x 5.25in) |
| Grate Area: | | 26.5 sq.ft. |
| Wheels: | Leading: | 3ft |
| | Coupled: | 5ft 1in |
| | Trailing: | 3ft |
| Tractive Effort: | (@ 85% boiler pressure) | 28,759lb |
| Total Wheelbase: | | 37ft 6in |
| Engine Weight: | (full) | 97 tons 9cwt |
| Max. Axle Load: | | 20 tons |
| Coal Capacity: | | 4 tons 10cwt |
| Water Capacity: | | 3000 gallons |
Preservation
The last L1/L3 was withdrawn in 1955, and none survived into preservation.
Models
Langley produce a whitemetal kit of the L1/L3 in N Gauge.
Dean Sidings sell a 4mm scale resin body kit of the L1/L3. A 2mm version is reportedly due for release in 2009.
Kingdom Kits have also produced a 4mm scale kit of the L3, but it is no longer available.
David Andrews Locomotive Kits produce a kit of the L1 for O gauge (7mm scale).