The Kitson M1 (GCR Class D) 0-6-4T Locomotives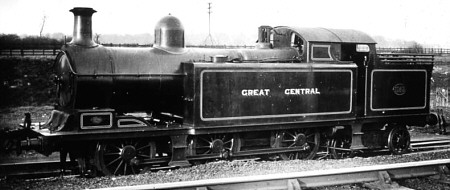 The Lancashire Derbyshire & East Coast Railway (LDECR) was conceived to haul from Derbyshire and Nottinghamshire collieries to the east coast ports, but would eventually only reach Pyewipe. Located west of Lincoln, Pyewipe Junction connected the LDECR to the Great Northern & Great Eastern Joint Line. Coal was then carried to Grimsby over the GNR and Manchester Sheffield & Lincoln Railway (MS&LR). The MS&LR also had direct links to many of the LDECR source collieries, and the resulting compeition resulted in less than perfect relations between the MS&LR and the LDECR. Their relationship improved from 1900, and in 1907 the Great Central Railway (ex- MS&LR) absorbed the LDECR. During this process of improving relationships, the GCR granted the LDECR running powers in July 1901. These powers enabled the LDECR to run coal trains all the way to Grimsby. The LDECR's existing 0-6-2Ts (LNER N6) were inadequate for this new duty, and Kitson was asked to quote for three 0-8-0 tender locomotives similar to the GCR's Class 8A (LNER Q4). The line was being upgraded for such heavy locomotives, but would not be ready until 1904 or 1905; so the order was cancelled and replaced with a new order for six 0-6-4Ts in June 1903. The first six M1s were delivered in 1904 and were followed with an order for three more in 1906.
The design of the M1s appears to have been influenced by Mr Markham, a director of the LDECR. Mr. Markham was also connected to Markham & Co of Chesterfield, an engineering company that also built a few locomotives. Many Kitson features were incorporated, including Allan's straight link motion and a forward extension of the smokebox that was of a smaller diameter than the main smokebox. Other Kitson design characteristics included rounded top edges on the side tanks, and a straight-sided coal bunker that was narrower than the water tanks. Kitson built-up chimneys and Belpaire fireboxes were fitted.
The second batch of three M1s were delivered in the last month of LDECR's independent existence, and incorporated some GCR features including Robinson chimneys, and extended smokeboxes of a more conventional appearance. These three engines were given the temporary numbers of A1, A2, and A3.
Records show that the two batches were built with different numbers of boiler tubes, but it appears that all nine were retubed with 258 tubes. Between 1923 and 1927, LNER-built boilers with 207 tubes were fitted. Although all of these boilers officially worked at 180 psi, the working pressure was reduced to 170 psi before 1910. During World War 1, the pressure was further reduced to 160psi. This is thought to have been due to reduced maintenance resulting in boilers that were in poor condition.
The M1s were maintained at the the LDECR's Tuxford Works until closure by the LNER in May 1927. Doncaster Works was then responsible for maintenance until 1931 when Gorton took over.
The LNER started to fit LNER 'flowerpot' chimneys to the M1s from 1923. This brought the M1s within the LNER Composite Gauge, and was completed by the mid-1930s.
With the exception of two brief allocations by No. 6149 to Ardsley (in 1927) and Lincoln (in 1934), the M1s spent their entire working lives working from the LDECR depots of Langwith and Tuxford. Initially built to haul coal trains to Grimsby, they were quickly displaced by GCR J11 0-6-0s and Q4 0-8-0s when the LDECR was absorbed by the GCR. The M1s moved to a mixture of trip, shunting, and assistance duties. In about 1921, the Langwith M1s were allocated a goods train to Woodford which produced a notorious pyrotechnic display when climbing the long 1:176 gradient south of Leicester. Langwith M1s also acted as pilots near Sheffield Victoria, assisting heavy coal trains towards Dunford Bridge.
No. 6149's allocation to Ardsley was an attempt to keep the Wakefield to Bradford section of the Kings Cross to Leeds expresses on time. This was a success and the M1s were well thought of by the enginemen, but No. 6149 regularly hit the platform at Batley Carr, and was quickly moved back to Tuxford.
Withdrawals start in 1939, but were delayed by Second World War. The last M1 was withdrawn in 1947. No. 6145 was withdrawn in 1941 and was converted for use as a large air reservoir at Gorton Works. The bunker was kept, but the boiler, side tanks, and cab were replaced by the reservoir. It was still in use in 1958, and was probably only scrapped when Gorton Works finally closed.
Technical Details
In 1932 the Diagram 5 boilers were redesignated Diagram 19A.
| | | |
| --- | --- | --- |
| Cylinders (x2): | (inside) | 19x26in. |
| Motion: | Allan straight link | Slide Valves |
| Boiler: | Max. Diameter: | 4ft 9in |
| | Pressure: | 180psi |
| | Diagram No.: | 5 |
| Heating Surface: | Total: | 1464 sq.ft. |
| | Firebox: | 124 sq.ft. |
| | Tubes: | 1340 sq.ft. (207x 2in) |
| Grate Area: | | 21.75 sq.ft. |
| Wheels: | Coupled: | 4ft 9in |
| | Trailing: | 3ft |
| Tractive Effort: | (@ 85% boiler pressure) | 24,850lb |
| Total Wheelbase: | | 29ft 6in |
| Engine Weight: | (full) | 77 tons 11cwt |
| Max. Axle Load: | | 17 tons 13cwt |
| Coal Capacity: | | 4 tons 0cwt |
| Water Capacity: | | 3000 gallons |
Preservation
The last M1 was withdrawn in 1947, and none survived into preservation.
Models

Graham Hughes produce a 2mm scale kit of the M1 designed to fit the Farish 1109 chassis.
For 4mm scale, it is also possible to kit-bash an M1 from the Dave Slater (Dean Sidings) resin body for the Barry Railway 0-6-4T. The is what Morgan Gilbert (of the forums) did to produce the model in the accompanying photograph.
Acknowledgements
Thank you to Morgan Gilbert for the photograph of his 4mm scale model of No. 9082.
Thank you Malcolm Peirson for the photograph of GCR No. 1163.