The M.Stirling N13 (H&BR Class F3) 0-6-2T Locomotives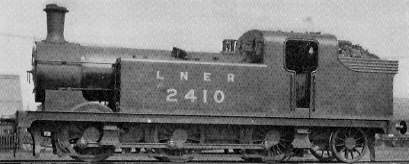 The King George Dock at Hull opened in 1914. A joint project between the Hull & Barnsley Railway (H&BR) and the North Eastern Railway (NER), the docks resulted in a need for more H&BR locomotives. The H&BR was also running all of its original locomotive stock, and a need for probable early replacements was anticipated. The nine N12s at the Cudworth end of the line were proving very capable, so this design was used as a basis for the new locomotives. The largest change was the significant increase in water capacity. This resulted in a slightly higher pitched boiler, and an increased weight. A steam brake was fitted but no vacuum brake. The H&BR chose a different manufacturer, Hawthorn Leslie & Co, who delivered the ten N13s between 1913 and 1914. The first five N13s were considered replacements, and were given existing numbers. The locomotives that already had these numbers had the letter 'A' added.
Between 1926 and 1934, all ten N13s were fitted with Diagram 71B domed boilers. The type was also interchangeable with those on the N12s, J75s, and J80s. As the N13s were the youngest of these classes and remained in service the longest, boilers from withdrawn members of the other classes tended to be re-used on the N13s.
Without vacuum brakes, the N13s were incapable of passenger duties. They were mainly used for shunting the yards and sidings at Springhead, and occasional trip workings to Alexandria Dock or the yards at Dairycoates. Two were allocated to Cudworth, and worked alongside the N12s.
Wartime conditions led to some allocations inland such as Selby and Neville Hill. In 1946, the N13s were divided between Neville Hill (5) and Springhead (5) where they worked for the rest of their lives. All survived into Nationalisation (1948), although one N13 was quickly withdrawn before it received a BR number. The rest of the N13s were withdrawn between 1952 and October 1956. The last N13 to be withdrawn, No. 69114, was also the last H&BR locomotive in service.
Technical Details
| | | |
| --- | --- | --- |
| Cylinders (x2): | (inside) | 18x26in. |
| Motion: | Stephenson | slide valves |
| Boiler: | Max. Diameter: | 4ft 3in |
| | Diagram No.: | 71A |
| | Pressure: | 160psi |
| Heating Surface: | Total: | 1008 sq.ft. |
| | Firebox: | 104 sq.ft. |
| | Tubes: | 904 sq.ft. (191x 1.75in) |
| Grate Area: | | 16.25 sq.ft. |
| Wheels: | Coupled: | 4ft 6in |
| | Trailing: | 3ft 9in |
| Tractive Effort: | (@ 85% boiler pressure) | 21,216lb |
| Total Wheelbase: | | 23ft |
| Engine Weight: | (full) | 61 tons 9cwt |
| Max. Axle Load: | | 16 tons 14cwt |
| Coal Capacity: | | 3 tons 0cwt |
| Water Capacity: | | 2000 gallons |
Preservation
The last N13 was withdrawn in 1956, and none survived into preservation.
Models
I am not aware of any models of the N13 in any scale.