The Parker N4 (GCR Class 9A & 9A Altered) 0-6-2T Locomotives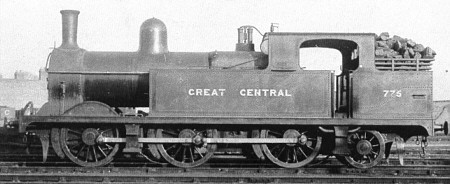 In 1889, the Manchester Sheffield & Lincolnshire Railway (MS&LR, later GCR) had only 54 six-coupled shunting locomotives. Needing something more powerful, Parker designed a standard 0-6-2T locomotive. These had larger wheels, screw reverse gear, and increased coal and water capacities; making them ideal for a much larger range of duties. A total of 182 locomotives were built between 1889 and 1901. The first 55 locomotives had Joy valve gear and round-topped fireboxes. Classified Class 9A by the MS&LR, they became Class N4 under LNER ownership. These were built in four batches between 1889 and 1892. The remaining 129 locomotives had Stephenson link motion and Belpaire fireboxes, and were classified 9C, 9F, and 9O by the MS&LR and N5 by the LNER.
The later N5 locomotives were also built with a slightly longer bunker. This feature was also incorporated into the last batch of fourteen 9As, and these were given the classification of "9A Altered". Initially, the LNER classified these two versions as N4/1 and N4/2 respectively. In 1925, "flowerpot" chimneys were fitted to bring the N4s within the LNER Composite Loading Gauge. The classification was re-arranged. N4/1 & N4/2 were short bunker (9A) locomotives, while N4/3 & N4/4 were long bunker (9A Altered) locomotives. N4/1 & N4/3 exceeded the LNER composite gauge, while N4/2 & N4/4 were within the new loading gauge.
The N4s were very similar to contemporary 0-6-0s (LNER J9 and J13) and 2-4-2Ts (LNER F1). The radial axlebox design was very similar to that used on the F1. Also, in common with the J9s, J13s, and F1s, all of the N4s were reboilered with Belpaire fireboxes. Rebuilding started in 1908, and three remained with their original boilers at Grouping (1923). The last was rebuilt in 1928.
Ramsbottom safety valves were fitted as standard on the original boilers, and most of the Belpaire boilers when first fitted. Ross pop safety valves were gradually fitted over time, and at least one N4 had these fitted on its original round-topped boiler. Most if not all of the N4s that survived into Nationalisation (1948) had been fitted with Ross pop safety valves by 1948.
Most of the N4s spent their entire lives in the Sheffield area covering the colliery and steelworks traffic. They also shunted the many marshalling yards in the area. These locomotives were allocated to Sheffield itself, Barnsley, Mexborough, and Staveley. During the 1920s, a few N4s wandered to Gorton, Lincoln, and Langwith. During the 1930s they were also seen at Leicester, Immingham, Tuxford, and Lincoln. They hardly ever worked west of the Pennines, and never worked south of Leicester.
Withdrawals started in 1932. By 1936, eighteen had been withdrawn and all of the remaining N4s were allocated to the Sheffield and Barnsley area again. At this time, the N4s and N5s were used alongside each other to take empty wagons to the local collieries and to return with full trains. They continued to be used as shunters in the area. With the heavy loads, severe gradients, poorly maintained colliery track, and continuous work; this was a particularly rugged time for the N4s. The fact that they survived well on this work, is a compliment to their design.
Twenty two N4s survived into British Railways ownership (1948), and the last was withdrawn in 1954.
Technical Details
The following details are for the main Class 9A locomotives. The Class 9A Altered engines were slightly heavier at 61tons 19 cwt, due to their longer bunker.
| | | |
| --- | --- | --- |
| Cylinders (x2): | (inside) | 18x26in. |
| Motion: | Joy | Slide Valves |
| Boiler: | Max. Diameter: | 4ft 4in |
| | Pressure: | 160psi |
| | Diagram No.: | 21 |
| Heating Surface: | Total: | 1063 sq.ft. |
| | Firebox: | 99 sq.ft. |
| | Tubes: | 964 sq.ft. (190x 1.75in) |
| Grate Area: | | 18.3 sq.ft. |
| Wheels: | Coupled: | 5ft 1in |
| | Trailing: | 3ft 6in |
| Tractive Effort: | (@ 85% boiler pressure) | 18,781lb |
| Total Wheelbase: | | 22ft 6in |
| Engine Weight: | (full) | 61 tons 10cwt |
| Max. Axle Load: | | 16 tons 15cwt |
| Coal Capacity: | | 2 tons 15cwt |
| Water Capacity: | | 1360 gallons |
Preservation
The last N4 was withdrawn in 1954, and none survived into preservation.
Models
Millholme sell a whitemetal kit of the N4 for 4mm scale (OO gauge).
Gladiator Model Kits sell a 7mm scale (O gauge) kit that builds the N4 or N5 0-6-2T.
Acknowledgements
Thank you to Malcolm Peirson for the photograph of GCR No. 775.