The Hill N7 (GER Class L77) 0-6-2T Locomotives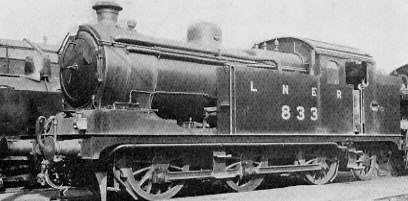 Although the Great Eastern Railway's (GER) London suburban services were amongst the most intense and heavily loaded in the country, the GER operated them with relatively small 2-4-2Ts in the early 1900s. The GER considered electrification in 1902 but this was soon abandoned. To handle the heavier loads, Holden produced a plan for an 0-6-2T in 1907. This was never built, and it was not until 1915 that Hill built two 0-6-2Ts to handle the heavier loads. Superheating was still a new concept so one was superheated as a comparison. No. 1000 was built with a saturated boiler, and No. 1001 was built with a 12-element Robinson superheater. The driving wheels had a relatively small diameter of 4ft 10in, 4in smaller than those on the earlier F4. Walschaerts valve gear, piston valves, and a Belpaire firebox were fitted. Intended to replace a range of 0-4-4Ts and 2-4-2Ts, the N7 had a controlled side traverse to the leading coupled axleboxes in order to provide some flexibility in the wheelbase. This was similar to the mechanism used on the trailing powered axle on the B12. With the same number of axles as the earlier locomotives but with a heavier total weight, the N7s represented a significant increase in adhesive weight.
The boiler was built with two telescoping rings with the larger diameter ring at the front. Both of the original locomotives were fitted with twin anti-vacuum valves on the smokebox behind the chimney, for use with piston valves. On the superheated locomotive, they also performed the function of admitting air to the elements. The boiler feed was using Churchward's arrangement with clack valves on either side of the dome. Four-column Ramsbottom safety valves were fitted in a rectangular casing.
Ten more saturated N7s were built in 1921, and were followed by ten superheated examples in 1923-4. These were all to the original GER design, although the superheaters were increased in size to 18 elements. All of the GER sanctioned locomotives were built at Stratford.
The N7 design impressed the LNER and it was adopted as a Group Standard to complement Gresley's N2 0-6-2T design. The N7s had small wheels and were able to accelerate quickly, making them ideal for suburban services between closely-positioned stations. The LNER built a total of 112 Group Standard N7s between 1925 and 1928 in five batches. These were built at Gorton, Robert Stephenson, W. Beardmore, and Doncaster. By this point, the LNER had stopped building new locomotives at Stratford due to high London wages, and under pressure from the Government who were trying to solve unemployment problems further north. The LNER engines were intended for work in the south and had their boiler mountings and cab cut down to fit the Metropolitan City Widened Lines. They were also left-hand drive.
Condensing gear was fitted to all of the GER locomotives, but was removed from many locomotives during LNER ownership. Some kept their condensing gear for working the East London line via the Thames Tunnel. The remaining condensing gear was removed from all N7s between 1935 and 1938.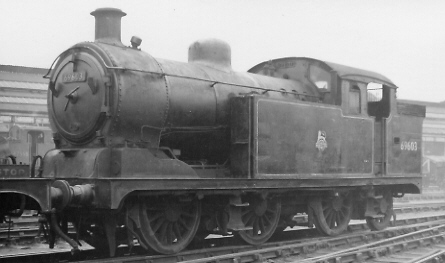 The LNER added a number of modifications to the later batches. Long travel valve gear and a pony trucks were fitted on the last 72 N7s. The last 32 were built at Doncaster and had Doncaster-style round-topped fireboxes, instead of the original Belpaire design. The round-topped boilers were inline with contemporary LNER practice, and were also fitted with 18-element Robinson superheaters.
The LNER had constructed five spare 18-element superheated boilers before the round-topped boiler was adopted. From 1928, these were fitted to the saturated engines. The remaining saturated locomotives were altered to carry 18-element superheaters; and No. 1001's 12-element superheater was upgraded to 18 elements. By September 1931, all 22 GER N7s were fitted with 18-element Robinson superheaters.
The round-topped boiler design became the N7 standard, and was used for all boiler replacements after 1940. Eventually all except two of the Belpaire locomotives would be rebuilt with round-topped boilers.
Many of the later boilers were fitted with Ross pop safety valves instead of the original Ramsbottom valves.
The positioning of the Walschaerts valve gear proved to be problematic. The cramped location resulted in less than ideal linkages and heavy forces acting on parts of the gear. The combination lever pins experienced heavy wear, and the anchor bracket bolts often failed. The problem with the bolts was only solved in the early 1940s when the bolts were replaced with a weld between the anchor bracket and the crosshead. The locomotives with long-travel valve gear also experienced bent valve spindles and even breakage of the anchor bracket. This resulted in a redesign of the bracket for long-travel valve gear locomotives.
The N7 valve gear also suffered under the GE Section practice of coasting with the engine in full gear followed by a sudden change in cut-off at speed. This would often result in a complete failure in the valve motion. During the 1930s, the GE Section had a campaign that attempted to get drivers to coast at half cut-off. This reduced the failures, but they still occurred occasionally. After No. 69721's valve gear "disintegrated" at speed in 1956, the N7s with long travel valve gear were fitted with larger diameter valve spindles and heavier valve guide bushes.
Six sub-classes were used to cover the various variations. The original N7/GE covered the original 22 GER-built locomotives. These had a Belpaire firebox, short travel valve gear, right-hand drive, and fitted the GER loading gauge. Class N7/1 covered the first 50 LNER engines. These were built with left-hand drive and fitted the Metropolitan loading gauge. Class N7/2 covered the next 30 LNER engines and introduced long travel valve gear. Class N7/3 covered the last 32 engines and introduced the round-topped firebox. N7/4 was used to describe the N7/GE locomotives that were rebuilt with round-topped fireboxes. Similarly, N7/5 was used for the N7/1 locomotives that were similarly rebuilt.
The first two locomotives, Nos. 1000 and 1001, were initially put to work on the Enfield and Chingford lines. By 1921, the first twelve engines were being used on the heavier or faster suburban trains operated by the Stratford shed. The next batch were distributed between the West Riding, Stratford, and Hatfield. The four allocated to the West Riding were re-allocated to Neasden during 1924 and 1925 to haul services to the British Empire Exhibition at Wembley. The later Group Standard locomotives were allocated to GN and GE Section suburban services in the London area. As well as the heavier and faster suburban services, the N7s also hauled evening excursions. They were also used on the boat trains from Liverpool Street to Royal Albert Dock.
After World War 2, electrification and the introduction of large numbers of L1 2-6-4Ts resulted in a number of N7s leaving the London area. Allocations away from London were initially to Ipswich, Melton Constable, and Norwich. A number of other allocations to country sheds occurred during the 1950s, including Cambridge, Lincoln, and Staveley. During 1954, four N7s were allocated to Leeds-Bradford and Leeds-Castleford push-pull services as a stop-gap whilst newly introduced diesel multiple units (DMUs) had their teething problems fixed.
The N7s survived on their original suburban London services until displaced by the introduction of DMUs and electrification in the 1950s. Withdrawals started in 1957 and were complete by 1962.
Technical Details
The N7s were fitted with four main boiler variations. Three are listed below. GER No. 1001 was built with a 12-element Robinson superheater. This was to Diagram 30, but had a total heating surface of 1291.7 sq.ft.
Sub-classes N7/2 and N7/3 were fitted with 3ft 6in diameter trailing wheels. Weight and axle loadings of the round top boiler locomotives varied according to the sub-class.
| | | | | |
| --- | --- | --- | --- | --- |
| Boiler Type: | | Saturated | 18-Element Superheater | Round Top |
| Cylinders (x2): | (inside) | 18x24in. | 18x24in. | 18x24in. |
| Motion: | Walschaerts | 9in piston valves | 9in piston valves | 9in piston valves |
| Boiler: | Max. Diameter: | 4ft 9in | 4ft 8in | 4ft 8in |
| | Pressure: | 180psi | 180psi | 180psi |
| | Diagram No.: | 30 | 30 & 98 | 101 |
| Heating Surface: | Total: | 1394.2 sq.ft. | 1102.5 sq.ft. | 1072.3 sq.ft. |
| | Firebox: | 113 sq.ft. | 110.2 sq.ft. | 107.3 sq.ft. |
| | Tubes: | 1281 sq.ft. (282x 1.75in) | 626.9 sq.ft. (138x 1.75in) | 599.6 sq.ft. (132x 1.75in) |
| | Superheater: | | 134.2 sq.ft. (18x 1.1in) | 134.2 sq.ft. (18x 1.1in) |
| | Flues: | | 231.2 sq.ft. (18x 5in) | 231.2 sq.ft. (18x 5in) |
| Grate Area: | | 17.7 sq.ft. | 17.7 sq.ft. | 17.7 sq.ft. |
| Wheels: | Coupled: | 4ft 10in | 4ft 10in | 4ft 10in |
| | Trailing: | 3ft 9in | 3ft 9in | 3ft 9in |
| Tractive Effort: | (@ 85% boiler pressure) | 20,512lb | 20,512lb | 20,512lb |
| Total Wheelbase: | | 23ft | 23ft | 23ft |
| Engine Weight: | (full) | 61 tons 12cwt | 62 tons 5cwt | 61 tons 16cwt / 64 tons |
| Max. Axle Load: | | 16 tons 3cwt | 17 tons 15cwt | 17 tons 8cwt / 18 tons 19cwt |
| Coal Capacity: | | 3 tons 5cwt | 3 tons 5cwt | 3 tons 5cwt |
| Water Capacity: | | 1600 gallons | 1600 gallons | 1600 gallons |
Preservation
Only one N7 has been preserved. No. 7999 (BR No. 69621) is owned by the East Anglia Railway Museum, and is currently on loan to the North Norfolk Railway who have recently overhauled it. Originally numbered 999E, this was the last engine to be built at Stratford Works. In 1989 it was named A.J. Hill in honour of its designer.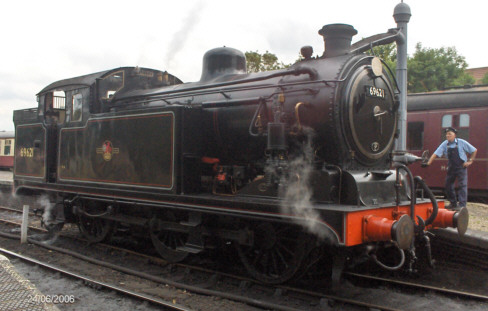 Models
Langley Models sell a whitemetal kit of the N7 for N gauge.
Finney and Smith produce a 3mm scale kit of the N7/3.
SE Finecast sell a 4mm scale kit of the N7. Dean Sidings produce a 4mm scale resin body kit fo the N7. A 2mm version is due to be released in 2009. Wills and Connoisseur have both produced a 4mm scale kit, but these are no longer available.
Connoisseur and ACE Products both sell 7mm scale (O gauge) kits of the N7.
Acknowledgements
Thank you to the P.H. Groom collection for permission to use the above photograph of N7/4 BR No. 69603 at Stratford.
Thank you to Michael Allen for the above photograph of preserved N7 No. 69621 at the North Norfolk Railway.