The W.Worsdell N9 (NER Class N) 0-6-2T Locomotives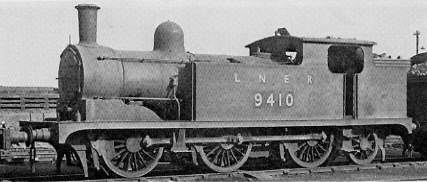 Wilson Worsdell had become the locomotive superintendent by the time the North Eastern Railway (NER) needed extra goods tank locomotives to supplement the N8s. Rather than building further compound N8s, Worsdell chose to adapt the design. Twenty of the new locomotives (NER Class N, LNER N9) were built between 1893 and 1894. They had Stephenson valve gear and simple expansion, but were otherwise very similar to the N8s. The same boiler was fitted and they all had 19x26in cylinders. The front overhang was increased 9in, and a small 130 gallon well tank was added.
The same boiler type was used on the J21, J25, N8, and N10 locomotives. Although boiler exchanges were common between these classes, the N9s only ever received the Diagram 67 and 67A saturated variations. Superheaters were never fitted. All were built with Ramsbottom safety valves, but Ross pop safety valves were fitted to many of the N9 boilers after Grouping (1923). Some of the N9s were withdrawn with Ramsbottom valves still fitted.
The only significant modification to the N9s, was the fitting of N10-style high side tanks These increased the total water capacity from 1371 gallons to 1630 gallons. Three N9s still had their original side tanks at Grouping (1923), and two of these are thought to have been withdrawn with them still intact.
Between 1900 and 1923, air brakes were fitted to ten N9s to allow the movement of fish vans and similar brake-piped vehicles. Vacuum braking apparatus was also added to these locomotives between 1928 and 1931. Six of these eventually lost their original Westinghouse pumps after 1944.
The N9s spent most of their lives working local goods trains in the Hull, Hartlepool, and Darlington areas. The allocation at Grouping (1923) was: Hull Springhead (4), Hull Dairycoates (1), Darlington (2), Barnard Castle (2), West Auckland (2), Blaydon (1), Annfield Plain (2), and East Hartlepool (6). The Hull locomotives were usually used for shunting and working trip goods trains to the various docks. The Darlington locomotives hauled local goods workings, whilst the Hartlepool locomotives were used as dock shunters and for trip workings. Allocations stayed fairly static although small short allocations were recorded to York, Starbeck, Pickering, Northallerton, Stockton, Haverton Hill, West Hartlepool, Borough Gardens, Pelton Level, Consett, Shildon, Hexham, Heaton, Alnmouth, and Tweedmouth.
At the outbreak of war in 1939, attempts were to consolidate classes at specific sheds. The N9s became concentrated at Darlington, Sunderland, and Tyne Dock. Withdrawals started in June 1946. After Nationalisation (1948), all of the surviving N9s were allocated to County Durham. Withdrawals continued, and the last N9 was withdrawn in July 1955.
Technical Details
| | | |
| --- | --- | --- |
| Cylinders (x2): | (inside) | 19x26in. |
| Motion: | Stephenson | slide valves |
| Boiler: | Max. Diameter: | 4ft 3in |
| | Pressure: | 160psi |
| | Diagram No.: | 67 |
| Heating Surface: | Total: | 1133 sq.ft. |
| | Firebox: | 118 sq.ft. |
| | Tubes: | 1025 sq.ft. (205x 1.75in) |
| Grate Area: | | 17.2 sq.ft. |
| Wheels: | Coupled: | 5ft 1.25in |
| | Trailing: | 3ft 9.25in |
| Tractive Effort: | (@ 85% boiler pressure) | 20,840lb |
| Total Wheelbase: | | 22ft 6in |
| Engine Weight: | (full) | 56 tons 10cwt |
| Max. Axle Load: | | 16 tons 4cwt |
| Coal Capacity: | | 2 tons 10cwt |
| Water Capacity: | | 1500 gallons |
Preservation
The last N9 was withdrawn in 1955, and none survived into preservation.
Models
Both London Road Models, Nu-Cast, and Alexander Models sell 4mm scale kits of the N9.
Fourtrack sell a kit of the N9 for 7mm scale (O gauge).