The Riddles 'Austerity' (WD) 2-10-0s

These 'Austerity' 2-10-0 locomotives were developed from the 2-8-0 'WD' locomotives by Riddles at the Ministry of Supply for use by the British Army overseas during World War 2. Two batches were built by the North British Locomotive Company. The first batch of one hundred was delivered between 1943 and 1944, whilst the second batch of fifty was delivered in 1945. During running-in, the LNER received thirteen of the first batch, and twenty of the second batch on loan. The locomotives from the first batch were transferred to the LMS in May 1944, and the locomotives of the second batch were handed back to the War Department (WD) at the end of 1946. All were allocated to March, although occasionally they would move to other sheds in the GE and GN districts.
The 2-10-0 boiler was constructed of three parallel rings, and fitted with a Melesco type superheater. The firegrate was a Hulson rocking type, similar to that fitted to the USATC S160. To simplify maintenance, the 2-10-0 was designed to share many interchangeable parts with the WD 2-8-0 'Austerity', upon which it was based. The first batch of LNER engines were painted khaki-brown, whilst the second batch was khaki-green.
Due to the long wheelbase, the LNER imposed several restrictions on the 2-10-0s. The 2-10-0s were not allowed to use the cross-over tracks between station platforms or use sidings alongside loading banks, due to their significant throw-over on curves.
Of the original batch of 100, one was allocated to the Longmoor Military Railway, and twenty were shipped out to the Middle East. The LMS received the remaining 79 until they were needed in continental Europe in late 1944. A second batch entered service between March and September 1945. One of these (No. 73797) was also allocated to Longmoor, but none of the remainder entered LNER stock lists.
In 1946, the Netherlands State Railways purchased the 2-10-0s that remained in continental Europe. Those in Egypt (sixteen of the twenty Middle East examples) were transferred to Greece.
With Nationalisation in 1948, the British Transport Commission decided to purchase twenty five of the 2-10-0s that were still owned by the War Department. These were officially listed as Running Stock in December 1948, although most were kept in store until 1949-50. These BR examples were allocated to LMS sheds, mainly in Scotland; and survived until withdrawals between 1961 and 1962. The sole Longmoor WD 2-10-0, No. AD600 Gordon was withdrawn in October 1969 when the Longmoor Military Railway was closed.
Technical Details
The LNER never allocated a diagram number for the WD 2-10-0 boiler, but British Railways classified them as "Standard Boiler BR11" from July 1950.
| | | |
| --- | --- | --- |
| Cylinders (x2): | | 19x28in. |
| Motion: | | Walschaerts |
| | Valves: | 10" piston |
| Boiler: | Max. Diameter: | 5ft 9.87in |
| | Pressure: | 225psi |
| Heating Surface: | Total: | 2374 sq.ft. |
| | Firebox: | 192 sq.ft. |
| | Tubes: | 1170 sq.ft. (152x 1.87in) |
| | Flues: | 589 sq.ft. (28x 5.125in) |
| | Superheater: | 423 sq.ft. (32x) |
| Grate Area: | | 40 sq.ft. |
| Wheels: | Leading: | 2ft 9in |
| | Coupled: | 4ft 8.5in |
| Tractive Effort: | (@ 85% boiler pressure) | 34,215lb |
| Wheelbase: | Total: | 57ft 1in |
| | Engine: | 29ft 8in |
| | Tender: | 15ft 9in |
| Weight (full): | Total: | 133 tons 16cwt |
| | Engine: | 78 tons 6cwt |
| | Tender: | 55 tons 10cwt |
| Max. Axle Load: | | 13 tons 9cwt |
Preservation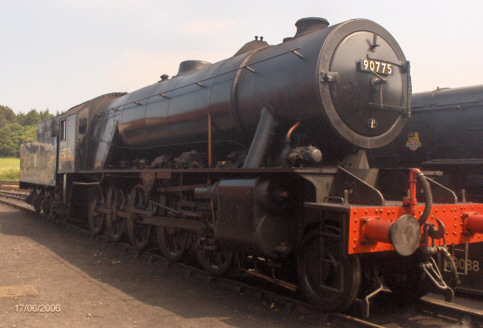 Two British-based WD 2-10-0s have survived into preservation, and one exported WD 2-10-0 has been re-imported and preserved. No. 3672 has been named "Dame Vera Lynn" and is based on the North Yorkshire Moors Railway. Privately owned, it is currently waiting for a major overhaul.
No. WD 600, "Gordon" was based at the Longmoor Military Railway and is still owned by the Ministry of Defence. It is on permanent loan to the Severn Valley Railway, and is in running condition.
No. 3652 was built in 1943, and shipped to the Middle East for wartime work, before being sold to Hellenic State Railways in 1945. In 1984, a group of Mid Hants Railway volunteers re-imported No. 3652 and a substantial set of spare parts. No. 3652 can usually be found in BR livery carrying the number of No. 90775, following on from the BR numbering series. It has also spent some of its preservation years in Longmoor WD livery as WD No. 601. Recently, No. 3652 has operated on the North Norfolk Railway, and in 2006 was purchased by the Midland and Great Northern Joint Railway Society.
Models
DJH produce a kit of the WD 'Austerity' 2-10-0s for OO gauge (4mm scale).
Acknowledgements
Thank you to Michael Allen for the above photograph of preserved ex-HSR WD 2-10-0 No. 90775 at the North Norfolk Railway.
Thank you to Michael Millar for information on No. 73797.