The Gresley O1 (later O3) 2-8-0 Locomotives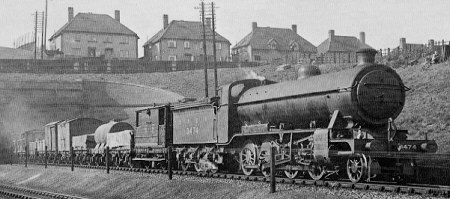 Gresley succeeded Ivatt in 1911, and found the Great Northern Railway's (GNR's) Q1 & Q2 0-8-0 heavy goods engines were being worked to capacity. Coal traffic on the mainline from Grantham to London was particularly heavy, and the GNR sought to reduce the number of mineral trains by increasing train loads. To meet this need, Gresley designed the O1 2-8-0 mineral engine. The first order for five was placed in 1913, and was completed at Doncaster in 1914. The O1s were nicknamed "Tangos" due to their introduction at a time when tango dance was appearing in Britain.
In January 1916, quotations were sought for fifteen more O1s, but World War 1 appears to have intervened and no contracts were issued. However, the GNR really needed the extra capacity and a number of parts including boiler plates, frame plates, and axles, were ordered from the USA in summer 1917. Boiler and engine orders were issued in December 1917 and February 1918 respectively, but the entire construction order was transferred from Doncaster to the North British Locomotive Co. in April 1918. This order represented ten locomotives, and was followed in 1919 by a final order of five. Both orders were delivered in 1919, to give a total of twenty O1s.
The O1 had two 21in diameter cylinders powered by a 5ft 6in diameter boiler which was fitted with a 24-element Robinson superheater. The O1 was Gresley's second design for the GNR and he incorporated a number of features from his first design, the K1 2-6-0. The K1's outside cylinder arrangement with Walschaerts valve gear and 10in piston valves was used. The K1's double-bolster swing-link pony truck design was also used. This added better support for the front-end, but also proved advantageous when traversing the frequent diversions on and off the slow lines on the line to London. The first batch of O1s were fitted with leaf bearing springs on their pony trucks, but these were replaced with helical bearing springs in 1916.
The first batch was fitted with Doncaster-type 'double admission' valves. These were designed to open at the same time, increasing steam admission to the cylinder. This also doubled the effective opening to 'lead' steam which was disadvantageous on starting, so the steam lead was restricted to 0.0625in. The fitting of double admission piston valves tended to result in carbon deposits on the supplementary portways and a loss of power. Hence in 1914-15, the ports were opened up slightly.
The piston valves were originally built with a split ring design that was sprung inside the steam chest liner to make a steamtight fit. This was difficult to lubricate and resulted in excessive wear, as well as a loss of energy. In 1918, No. 460 was fitted with pistons of a Canadian Pacific design with two split rings and a centre ring. Steam tended to leak through the fine gaps between the rings, and it was removed in 1922. After Grouping (1923), the problem was solved by fitting Great Eastern (GER) pattern Knorr-type piston valves to the O1s from 1924.

Both the boiler and cylinders represented significant increases in size. There was doubt as to whether the O1's injectors could feed the large cylinders, so the first five O1s were fitted with Weir feed pumps. These were removed before Grouping in 1923. No. 476 was fitted with a Worthington feed water heater and pump in 1922. This was found to be easy to operate, but economy trials against another O1 were never carried out. It was replaced with a larger pump in December 1924, and this was later removed in May 1927. Between December 1928 and October 1929, four O1s were fitted with Gresham & Craven No. 20 feed water heaters. These had a special coned nozzle that mixed steam with the feed water just before delivery. These were removed between January 1931 and April 1932.
The boiler was based on Ivatt's boiler design for the C1 wide-boilered Atlantic. The dome was moved further back, and the characteristic wide firebox was replaced a long narrow firebox. The boilers were originally fitted with Ramsbottom safety valves, but Ross pop safety valves were fitted from 1924. The same boiler design was used on the later three-cylinder O2 2-8-0s.
These engines were designed to haul the heavy coal traffic from Peterborough to Ferme Park (London). The design load was eighty wagons carrying 1,300 tons, which represented twenty more wagons than a typical Q1/Q2 load. All twenty locomotives were initially allocated to Peterborough (New England shed) to perform this work. By 1920, three were allocated to Colwick to work two coal trains a day from Colwick to New England. The Colwick allocation increased to four by Grouping (1923), but all four moved back to New England in 1925. Four moved back to Colwick in winter 1926, where they would remain until 1934-5. The Colwick locomotives were rarely seen south of Peterborough, but they did occasionally work to Woodford, and to March (via Sleaford and Spalding). As well as coal, they also hauled Lincolnshire potatoes to Kings Cross.
The New England trains also worked northwards to Doncaster, taking empty wagons and returning with full loads. From 1925, most of these Doncaster duties were taken over by O4s.
In 1932 congestion on the GNR main line was becoming a serious problem, and a move towards reducing the number of slow moving coal trains was made. One solution was to haul smaller sixty wagon trains with faster K3 2-6-0s. This eventually led to the displacement of ten O1s from New England to Doncaster. Two also spent six months at Mexborough. The last of the New England O1s were moved from New England to Grantham in November 1942, where they hauled iron ore on the steeply graded branches from Highdyke to Stainby and Sproxton. They also hauled ore trains to Frodingham.
The O1s were occasionally seen further afield, including Gascoigne Wood and even St. Margaret's shed (Edinburgh). Bombing closures during World War 2 resulted in O1s hauling coal trains via Sandy onto the LMS route to Bedford, Bletchley, and Claydon Junction. Wartime also saw O1 coal trips to Stratford.
The O1s were reclassified as Class O3 in February 1944, enabling the 'O1' classification to be used for Thompson's O4 rebuilds.
In 1945, the Grantham iron ore traffic was taken over by O2s, and the entire class was allocated to Doncaster. In 1946, all twenty moved to Frodingham to haul trains to and from the steel works. In 1948, the remaining locomotives moved to Immingham and Retford where they hauled lighter services.
Withdrawals started in 1947. Seventeen engines survived into Nationalisation (1948), with the last four being withdrawn in 1952.
Technical Details
| | | |
| --- | --- | --- |
| Cylinders (x3): | | 21x28in. |
| Motion: | Outside: | Walschaerts |
| | Valves: | 10" piston |
| Boiler: | Max. Diameter: | 5ft 6in |
| | Pressure: | 180psi |
| | Diagram No.: | 2 |
| Heating Surface: | Total: | 2462.5 sq.ft. |
| | Firebox: | 163.5 sq.ft. |
| | Tubes: | 1340.5 sq.ft. (160x 2in) |
| | Flues: | 528 sq.ft. (24x 5.25in) |
| | Superheater: | 430.5 sq.ft. (24x 1.25in) |
| Grate Area: | | 27.5 sq.ft. |
| Wheels: | Leading: | 3ft 2in |
| | Coupled: | 4ft 8in |
| | Tender: | 4ft 2in |
| Tractive Effort: | (@ 85% boiler pressure) | 33,736lb |
| Wheelbase: | Total: | 51ft 4.5in |
| | Engine: | 26ft 4in |
| | Tender: | 13ft 0in |
| Weight (full): | Total: | 119 tons 6cwt |
| | Engine: | 76 tons 4cwt |
| | Tender: | 43 tons 2cwt |
| Max. Axle Load: | | 17 tons 12cwt |
Preservation
None of the O3s survived into preservation.
Models
Little Engines sell a kit of the O1 for OO gauge (4mm scale).
Martin Evans has designed a live steam O1 for 2.5" and 5" gauge. Castings for both are still available. The 2.5" gauge castings are available from the 2.5" Gauge Association.