The Stirling Q10 (H&BR Class A) 0-8-0 Locomotives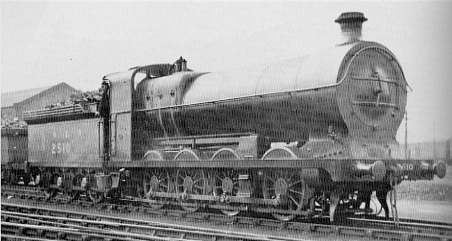 In common with the other railway companies, the Hull & Barnsley Railway (H&BR) saw a rapid increase in coal traffic at the beginning of the 19th Century. In the H&BR's case, this was due to the opening of a number of collieries in South Yorkshire which shipped their coal from Hull's Alexandra Dock. The H&BR initially double-headed 0-6-0 locomotives to haul the coal on their steep line, but this was clearly insufficient. To solve the problem, Matthew Stirling ordered ten large 0-8-0 engines in 1906 from the Yorkshire Engine Co. This order was quickly expanded to fifteen locomotives, all of which were delivered in 1907. Interestingly, there was so much demand on materials and new locomotives that the last five locomotives cost £4,260, compared to only £3,560 for the original ten; even though they were all ordered in the same year.
These Q10 locomotives, followed the tradition of the H&BR's inside cylinder J23 0-6-0. Rather than being just a stretched version of these 0-6-0s, they also had a much larger boiler with an increase in pressure from 175psi to 200psi. The grate area was also increased, and the cylinders were enlarged by 1in. This resulted in an increase in tractive effort of 41% over that of the J23s.
Driver reluctance at operating locomotives with such high boiler pressures, led to them being a paid a special bonus for operating the Q10s. Poor boiler maintenance, especially during World War 1, led to a reduction in the operating boiler pressure to 175psi by the time they entered LNER ownership.
Between 1924 and 1928, the original H&BR domeless boilers were replaced by Darlington-style domed boilers. During these replacements the original domeless Q10s were classified as Q10/1, whilst the new domed Q10s were classified as Q10/2.
Most of the Q10s' work was hauling coal from South Yorkshire to Hull, and returning with empty wagons or imported pit props. By 1919, there are reports of some of the Q10s being on loan to the North Eastern Railway (NER) and these were occasionally reported on the East Coast Mainline north of York.
In the late 1920s, the war surplus O4 RODs were introduced on the old H&BR line, displacing the Q10s. Attempts to find new work for them in places such as Selby, Mexborough, and March were unsuccessful. The depression in trade after 1929 was the final nail in the coffin and all of the Q10s were withdrawn in 1931.
When the Q10s were withdrawn, the relatively new boilers were kept and reused on the Q5 0-8-0 locomotives.
Technical Details
These details represent the Q10s as they entered LNER ownership. Note that they were originally designed to operate at 200psi, but this was reduced between the end of World War 1, and them entering LNER ownership.
| | | |
| --- | --- | --- |
| Cylinders (x2): | | 19x26in. |
| Motion: | Stephenson | slide valves |
| Boiler: | Max. Diameter: | 5ft 6in |
| | Pressure: | 175psi |
| Heating Surface: | Total: | 1861 sq.ft. |
| | Firebox: | 133 sq.ft. |
| | Tubes: | 1728 sq.ft. (229x 2in) |
| Grate Area: | | 22 sq.ft. |
| Wheels: | Coupled: | 4ft 6in |
| Tractive Effort: | 25,860lb | (@ 85% boiler pressure) |
| Wheelbase: | Total: | 40ft 0.4in |
| | Engine: | 16ft 6in |
| | Tender: | 12ft 0in |
| Weight (full): | Total: | 100 tons 19cwt |
| | Engine: | 61 tons 11cwt |
| | Tender: | 39 tons 8cwt |
| Max. Axle Load: | | 16 tons 18cwt |
Preservation
The entire class of Q10 locomotives were withdrawn in 1931, and none survived into preservation.
Models
Zenith Works produce a 4mm scale kit of the Q10.
The late Willie Yeadon is reported to have owned a handbuilt 4mm model of Q10 2509, in LNER livery but in original Belpaire form.