The Ivatt Q1, Q2, and Q3 0-8-0 'Long Tom' Locomotives

In the 19th Century, the Great Northern Railway (GNR) had tried grouping the coal traffic between Peterborough and London into 50-wagon trains, but these were not successful due to the lack of refuge sidings and the difficult of shunting these heavy trains. By 1900, shunting locomotives had become more powerful and refuge sidings were generally longer, so Ivatt design his GNR Class K1 (LNER Class Q1 and Q2) 0-8-0 to haul heavy 60-wagon coal trains along this route. These used a boiler based on the C2 4-4-2 'Klondyke' boiler but with a shallower dustpan. It also incorporated slide valves and 19.75in cylinders. The cylinder diameter changed during the building of the first locomotives, but by 1913 they were all recorded as 20in diameter. Due to their prominent long boilers, the GNR Class K1s quickly acquired the nickname of "Long-tom".

A total of 55 locomotives in seven batches were built between 1901 and 1909. In 1908, No. 417 was rebuilt with a Schmidt superheater and with piston valves. Five of the last batch of ten locomotives were built in this form. Over time, most of the original saturated boilers would be replaced with superheaters. The last conversion occurred in 1920, leaving eight locomotives which would remain saturated for the rest of their lives. During the 1920s, most of the Schmidt superheaters would be replaced by the LNER-standard Robinson superheaters. Eventually fourteen locomotives would be fitted with piston valves, and all of these had superheated boilers. At Grouping, the slide valve locomotives (saturated and superheated boilers) were classified as Q1, whilst the piston valve locomotives (all superheated boilers) were classified as Q2.
In 1913, Gresley fitted his 'Doncaster' superheater design to No. 445. The Doncaster superheater attempted to improve on the Schmidt and Robinson types by having separate headers for the saturated and superheated chambers, and had already been fitted to the J6 0-6-0 class. No. 445 would be the only "Long Tom" to be fitted with the Doncaster superheater.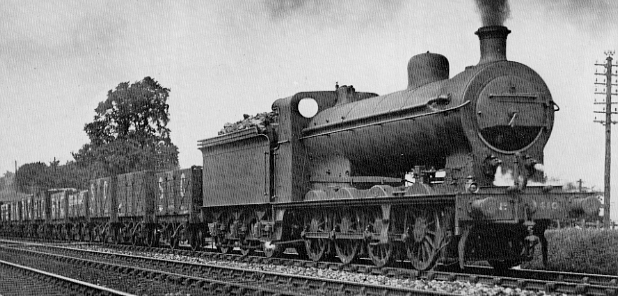 In 1914, Gresley rebuilt No. 420 with a 5ft 6in boiler of the type used on his new K2 2-6-0. The original plan was to fit his Doncaster straight-tube superheater (as with No. 445), but a Robinson superheater would be fitted instead. An order was placed to convert ten more of the 'Long Toms', but this was cancelled and the new boilers were fitted to the new K2 2-6-0s. No. 445 remained the only locomotive with this boiler, and was given the LNER classification of Q3.
The "Long Toms" were built to haul coal from the coal fields in Nottinghamshire, Derbyshire, and South Yorkshire to London, and they did this successfully for most of their lives. Previously, J3 and J4 0-6-0 locomotives had been struggling with the rapidly increasing coal loads; so the new 0-8-0s were very welcome. Locomotives were initially allocated to Doncaster, Colwick, and Peterborough.
In 1917, ten "Long Toms" were loaned to the North Eastern Railway (NER) to replace their own Q5s which had been moved to France. These were returned by 1920. In the meantime, a new line had opened between Langley Junction and Cuffley which took much of the Q1/Q2 traffic off the mainline. Also they began to be replaced by Gresley 2-8-0s (O1s and O2s). As these new 2-8-0s arrived, the Q1s and Q2s tended to move north to the Nottingham and West Riding areas. By the early 1920s, the "Long Toms" were allocated to Peterborough, Colwick, and Ardsley.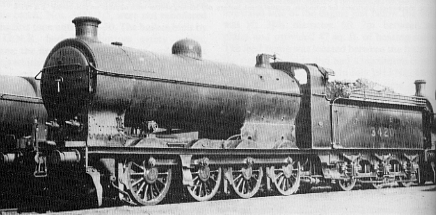 As well as pulling their traditional coal trains, during the 1920s the "Long Toms" operated a number of other services. Some of the Ardsley engines operated night goods services to Hull. They had a reputation of having thirsty requirements on these services and acquired the local name of "Sea Pigs". The "Long Toms" also became associated with the evening "Keighley Wringer" service from Keighley to Wrenthorpe yard, which acquired its name due to the carriage of the large numbers of household wringing machines manufactured in Keighley.
Withdrawals started in 1926, with priority being given to the locomotives with saturated boilers. All of the saturated boiler locomotives had been scrapped by 1931, with the remaining Q1s and Q2s becoming extinct in 1935. The Q3 was scrapped in 1937. The West Riding "Long Toms" (including the Q3) were replaced by Q4s which could fit on Ardsley's turntable - unlike the new 2-8-0s.
Technical Details
The following details for Class Q1 are for the superheated version. Only seven members of the Q1 class remained saturated during LNER ownership.
| | | | | |
| --- | --- | --- | --- | --- |
| | | Q1 | Q2 | Q3 |
| Cylinders (x2): | (inside) | 20x26in. | 21x26in. | 21x26in. |
| Motion: | Stephenson | slide valves | 8" piston valves | 8.75" piston valves |
| Boiler: | Max. Diameter: | 4ft 8in | 4ft 8in | 5ft 6in |
| | Pressure: | 170psi | 170psi | 170psi |
| | Diagram No.: | 4 | 4 | 3 |
| Heating Surface: | Total: | 1370.75 sq.ft. | 1370.75 sq.ft. | 1934.5 sq.ft. |
| | Firebox: | 135.5 sq.ft. | 135.5 sq.ft. | 152.0 sq.ft. |
| | Tubes: | 660.25 sq.ft. (97x 2in) | 660.25 sq.ft. (97x 2in) | 1082.0 sq.ft. (197x 1.75in) |
| | Flues: | 321.0 sq.ft. (18x 5.25in) | 321.0 sq.ft. (18x 5.25in) | 395.5 sq.ft. (24x 5.25in) |
| | Superheater: | 254.0 sq.ft. | 254.0 sq.ft. | 305.0 sq.ft. |
| Grate Area: | | 24.5 sq.ft. | 24.5 sq.ft. | 24 sq.ft. |
| Wheels: | Coupled: | 4ft 8in | 4ft 8in | 4ft 8in |
| Tractive Effort: | (@ 85% boiler pressure) | 26,835lb | 29,580lb | 29,580lb |
| Wheelbase: | Total: | 41ft 4in | 41ft 4in | 41ft 4in |
| | Engine: | 17ft 8in | 17ft 8in | 17ft 8in |
| | Tender: | 13ft | 13ft | 13ft |
| Weight (full): | Total: | 96 tons 12cwt | 101 tons 7cwt | 101 tons 7cwt |
| | Engine: | 55 tons 14cwt | 58 tons 5cwt | 60 tons 9cwt |
| | Tender: | 40 tons 18cwt | 43 tons 2cwt | 40 tons 18cwt |
| Max. Axle Load: | | 15 tons | 15 tons 9cwt | 16 tons 9cwt |
Preservation
The last of the "Long Toms" was withdrawn in 1937 and none have survived into preservation.
Models
Union Mills sell an N Gauge model of the Q2. This could probably be easily adapted to be a Q1 or a Q3.
Zenith Works produce 4mm scale kits of both the Q1 and the Q2. Nu-Cast and Cotswold have both produced kits of the Q1/Q2 for OO gauge (4mm scale). It is unknown if the Cotswold kit is still available. The NuCast moulds need renewal and is no longer considered economic. London Road Models also sell a 4mm scale etched brass/nickel-silver kit of the Q2.
Gladiator sell a kit of the Q1 for 7mm scale (O gauge).
Acknowledgements
Thank you to Mike Morant Collection for the colour illustration of Q1 No. 401.